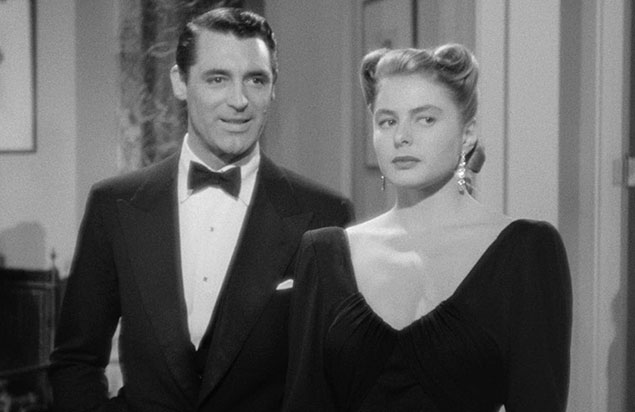 Notorious
August 12 – August 15, 2019 · view days & times
Price: $10 regular | $8 student & senior* | $7.50 ArtsQuest Member
Venue: Frank Banko Alehouse Cinemas
1946 | NR | Run time: 1 hr 42 min
Director: Alfred Hitchcock
Stars: Cary Grant, Ingrid Bergman, Claude Rains
With this twisted love story, Alfred Hitchcock summoned darker shades of suspense and passion by casting two of Hollywood's most beloved stars starkly against type. Ingrid Bergman plays Alicia, an alluring woman with a checkered past recruited by Devlin (Cary Grant), a suave, mysterious intelligence agent, to spy for the U.S. Only after she has fallen for Devlin does she learn that her mission is to seduce a Nazi industrialist (Claude Rains) hiding out in South America. Coupling inventive cinematography with brilliantly subtle turns from his mesmerizing leads, Hitchcock orchestrates an anguished romance shot through with deception and moral ambiguity. A thriller of rare perfection, Notorious represents a pinnacle of both its director's legendary career and classic Hollywood cinema.
*Student & senior discounts apply at the box office only
Buy Tickets
Monday, August 12 | 5:30 p.m.
Tuesday, August 13 | 12 p.m.
Wednesday, August 14 | 3 p.m.
Thursday, August 15 | 7:45 p.m.
Schedule
Venue Information
Frank Banko Alehouse Cinemas
ArtsQuest Center
101 Founders Way
Bethlehem, PA 18015
610-297-7100
map & directions