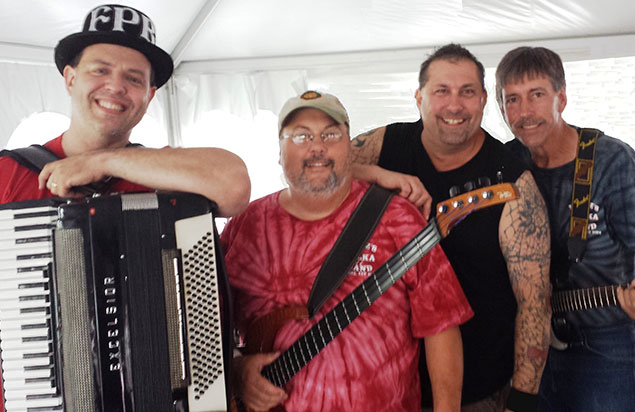 Fritz's Polka Band
Friday, October 4 · view days & times
Venue: Oktoberfest

FREE
Location: Yuengling Biergarten on Air Products Town Square
Fritz's Polka Band (FPB) was formed in 1978 by lead accordionist, the late Fred Scherz Sr., and his eight-year old son, Fritz, for whom the band was named. Sadly, Fred passed away on November 14, 2009, but FPB has vowed to carry on his legacy! Playing everything from modern-style polka to country to rock and even blues, FPB performs an eclectic mix of musical styles! FPB is NOT an oompa pa band or the stereotypical "polka" band. In fact, FPB is known for breaking the "polka" stereotype. FPB is the first polka band to perform at a Woodstock Festival (Woodstock '99)! On October 7, 2010, FPB was inducted into the Syracuse Area Music Hall of Fame! FPB was sponsored by Jagermeister for over 12 years and then sponsored by Coldcock Whiskey for four years.
Fritz's Polka Band has made 19 recordings, which have achieved international airplay. Individuals of the band, and the band itself, have received some prestigious honors. As a group, FPB has performed on stage with "Canada's Polka King," Walter Ostanek (Grammy winner), "America's Polka King," the late Frank Yankovic (Grammy winner), LynnMarie Rink (Grammy nominee), and Glen Burtnik. Individually, Fritz has performed on-stage with Steve Augeri (former lead singer of Journey) and Charles Giordano (current accordionist/keyboardist for Bruce Springsteen). FPB has performed at B.B. King's Club (2003), The China Club (2006), and The Metropolitan Club (2007) too! FPB even appears on "The Manchurian Candidate" DVD, released by Paramount Pictures in 2004! In 2011, FPB had two different songs appear in episodes of the hit cable TV show, 'Breaking Bad', which airs on AMC.
Additionally, Fritz's Polka Band has shared the stage with Skid Row, Sean Kingston, New Boyz, Jimmy Sturr (Grammy winner), and BeauSoleil (Grammy winner), to name a few. FPB has played at: Woodstock '99, the New York State Fair, regional and county fairs, ethnic events, colleges, concerts, social occasions, corporate events, weddings, anniversaries, benefits, and multiple times at Musikfest (the largest free festival in the United States!).
Schedule
Venue Information
Oktoberfest
711 E. First St.
Bethlehem, PA 18015
610-332-1300
map & directions