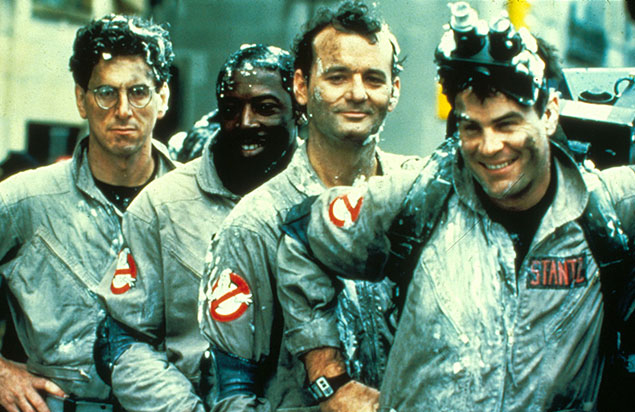 Ghostbusters 1 & 2 Double Feature
Thursday, October 31 · view days & times
Price: $13 regular | $11 student & senior* | $10.50 ArtsQuest Member
Venue: Frank Banko Alehouse Cinemas
On Halloween the Frank Banko Alehouse Cinemas is proud to present the ultimate double feature... Ghostbusters 1 & 2 back-to-back. One ticket gets you in to both films!
Ghostbusters (1984)
Directed by: Ivan Reitman
Starring: Bill Murray, Dan Aykroyd, Sigourney Weaver, Harold Ramis, Rick Moranis, Ernie Hudson
PG | 1 hr 45 min
After the members of a team of scientists (Harold Ramis, Dan Aykroyd, Bill Murray) lose their cushy positions at a university in New York City, they decide to become "ghostbusters" to wage a high-tech battle with the supernatural for money. They stumble upon a gateway to another dimension, a doorway that will release evil upon the city. The Ghostbusters must now save New York from complete destruction.
Ghostbusters II (1989)
PG | 1 hr 48 min
After saving New York City from a ghost attack, the Ghostbusters -- a team of spirit exterminators -- is disbanded for demolishing parts of the city during the battle. But when Ghostbuster Peter Venkman (Bill Murray) learns that spirits have taken an interest in his son, the men launch a rogue ghost-chasing mission. The quest quickly goes awry, landing them in court. But when the ghosts turn on the judge, he issues an order allowing the Ghostbusters to get back to work.
Please note: There will be a 10 minute intermission between films.
*Student & senior discounts apply at the box office only
Schedule
Venue Information
Frank Banko Alehouse Cinemas
ArtsQuest Center
101 Founders Way
Bethlehem, PA 18015
610-297-7100
map & directions