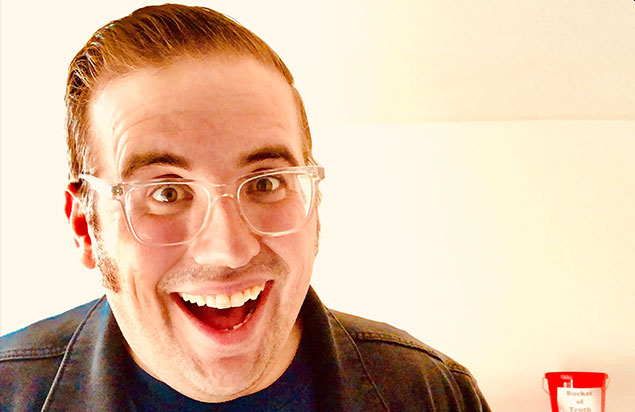 Improv 301: Macroscenes with Justin Passino
Tuesday, June 2 · view days & times
Price: $159 | $139 ArtsQuest Member
Venue: Visual Arts Classroom
Tuesdays, June 2–July 21 |7-9:30 p.m.
Grad Show: July 23, 8 p.m., Frank Banko Alehouse Cinemas
*Grad shows are subject to change.
The Macroscene is an improv-form consisting of one unbroken series of scenes all taking place in one large macro-location (a mall, a hospital, an amusement park, etc.). No edits, no tag-outs, no swinging doors. Instead, we'll use organic transitions to follow characters to new locations where we'll discover other new characters who will show us even more new locations all located inside this one larger macro-location.
If our set is taking place at a baseball stadium, maybe we begin with a parent & child sitting in the stands watching the game. Suddenly a fight breaks out a few seats behind them. One of the men fighting rolls down the stairs and into the person selling peanuts who falls onto the field. Two players watch the commotion from the dug-out and have a conversation about their fear of an alien invasion. One player leaves and the camera/audience follows him to the locker room where the coach is giving an inspirational speech. We then follow the coach to the parking lot where he's making a large bet against his own team. Hovering just above the stadium, two aliens in a spaceship plan their attack...but not before the bottom of the 9th.
This form is all about sharing focus and making organic connections between your scenes so you can build a whole world on stage that will WOW your audience.
Taking Improv 301 qualifies students to audition for the Improv Comedy Power Hour!
Pre-requisite for Improv 301: Students are expected to have completed ArtsQuest's Improv 201 before beginning this class. If you have not taken Improv 201 with ArtsQuest but have other experience (Upright Citizen's Brigade, Philly Improv Theater, etc) and want to enroll in 301, please contact Ryan Hill at rhill@artsquest.org.
If you enroll in 301 without having completed 201 or received approval to enroll, you may be removed from the class at the discretion of the instructor and/or administration.
If you'd like to take this class but do not have the means, we encourage you to apply for an ArtsQuest Comedy Class Scholarship.
Students must be 18 or older by the first day of class. Instructor may change based on availability.
Justin Passino has been performing comedy in the Lehigh Valley since 2016. He's trained at the Upright Citizens Brigade Theater in NY and is currently a student of the UCB Improv Academy. Some past instructors include John Timothy, James Dwyer, Cathryn Moudon, Alexandra Dickson and Nicole Drespel.
In addition to doing a bunch of shows in the Lehigh Valley, he's performed at multiple festivals in Baltimore, DC and NYC with his improv teams Staycation, Cat Sweaters and The Great Old Ones. You can catch him the first Saturday of every month at SteelStacks in Staycation: Improvised Television. You can also find him on the internet in the web-series Trashburgh and on multiple podcasts, including Staycation Indoors and Amusing Ourselves to Death.
In his spare time, he writes and performs music under the moniker Pretty Lousy. Sometimes he sits at home and stares at his dead house plants. On even rarer occasions, he sleeps.
Schedule
Venue Information
Visual Arts Classroom
Banana Factory
25 W Third Street
Bethlehem, PA 18015
610-332-1300
map & directions