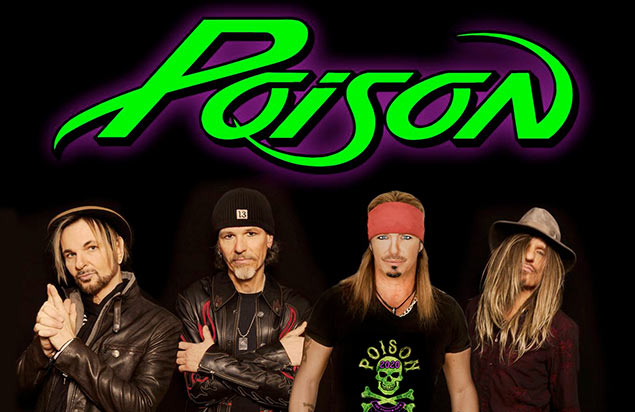 Postponed - POISON
Friday, August 7 · view days & times
Price: $39-$79 | Steel Terrace: $199
Venue: Wind Creek Steel Stage at PNC Plaza
Poison Front Row Meet & Greet "Talk Dirty To Me" VIP Package - $750 plus fees and tax
(1) FRONT ROW ticket (distributed day of show)
Meet & Greet with Poison
Personal Photograph with Poison
Poison VIP Merchandise – exclusive to VIP packages
Commemorative Poison VIP Meet & Greet Laminate
On- Site Greeter
Poison Meet & Greet "Nothin' But A Good Time" VIP Package - $600 plus fees and tax
(1) Reserved Ticket in the first 10 rows (distributed day of show)
Meet & Greet with Poison
Personal Photograph with Poison
Poison VIP Merchandise – exclusive to VIP packages
Commemorative Poison VIP Meet & Greet Laminate
On- Site Greeter
*Please note the meet & greet may happen as early as 4 pm on show day
Poison "Every Rose Has Its Thorn" VIP Package - $218 plus fees and tax
(1) Reserved ticket (distributed day of show)
Poison Merchandise – Exclusive to VIP packages
Commemorative Poison VIP Laminate
On- Site Greeter
Gates: 6 p.m. | Show: 7 p.m.
*Times subject to change
In its all original line up, Poison (Bret Michaels, C.C. DeVille, Bobby Dall and Rikki Rockett) has kept it rocking, real and relevant by bringing their style, unbelievable live energy and hit songs to the big stage. Relentless from the ground up and forged in the hell fires of the Pennsylvania and Los Angeles club scenes, they smashed their way up as an independent band who bet on themselves.
One-part song and one-part party, Poison performs a no-holds-barred, full throttle and totally energetic live show. However, they have earned this expertise by paying their dues performing in small bars and night clubs throughout the upper east coast. When they were up-and-coming, it was tough to perform original music in bars, so they set their sights on creating original material and heading west to tackle the clubs of Los Angeles that welcomed original artists and where they hoped to land a record deal.
They sold everything they owned, put all their money into a van with their equipment, some gas and food, then drove from Pennsylvania to California where they ended up settling down in a broken down warehouse behind a dry cleaner in downtown Los Angeles. It was there that they truly forged their identity, mixing street-level glam and a passion for good songwriting with diehard work ethic. Eventually, the band would be voted best live band, several years in a row, by throwing mega concerts and parties - an attitude that has held true to today.
Poison eventually ended up forming their own record label, Cyanide Music, along with an independent distributor in Enigma records. They then broke the gates wide-open with their first album "Look What The Cat Dragged In." Selling over 3 million copies of an independent album which included big hits "Talk Dirty To Me," "I Won't Forget You," "Cry Tough," "I Want Action" and the underground smash "Look What The Cat Dragged In," they were soon picked up by Capitol Records and beat the sophomore jinx by releasing the #1 smash "Every Rose Has Its Thorn." Written by singer/songwriter and front man Michaels, the song would remain atop the pop, rock and country charts for three months consecutively. The song became a major crossover hit, blasting its way to the top instantaneously and creating the sound of a new era. Also from the album, "Open Up and Say…Ahh!," sold 8 million copies out of the gate and spawned other hit singles "Fallen Angel," "Nothin' But A Good Time" and "Your Mama Don't Dance." Followed up by the multi-platinum album "Flesh & Blood," Poison again lit up the charts with several more smash hit singles including "Unskinny Bop," "Something To Believe In" and more.
As a life-long victim of Type 1 juvenile diabetes, Michaels was recently awarded Humanitarian of the Year, at the 88th Annual Hollywood Christmas Parade, for his philanthropic work. He also suffered a subarachnoid brain hemorrhage in 2010 and had a heart surgery, all of which inspired him to form the Life Rocks Foundation. In addition, Michaels likes to celebrate our veterans and first responders on-stage nightly, keeping all politics aside, just showing genuine respect for the heroes.
Over his career, Michaels has brought in millions of fans from various demographics through Poison and his solo career with the Bret Michaels Band (BMB). He has also made countless TV appearances including on VH1's "Rock of Love," which brought in millions of viewers and a new generation of fans, including high school and college students, as well as winning "Celebrity Apprentice."
Michaels maintains the same fire from when he first started. With a controversial yet highest-selling cover of Billboard Magazine, he remains a bad boy with a heart of gold. He has also carved out an incredible social media network with enhanced engagement across Facebook, Twitter, Instagram and YouTube which will serve as platform for an upcoming streaming show.
Michaels vows to bring the hottest live show to the stage this summer.
Partners
Media Partners
Schedule
Venue Information
Wind Creek Steel Stage at PNC Plaza
Musikfest
SteelStacks Campus (South Side)
Bethlehem, PA 18015
610-332-1300
map & directions