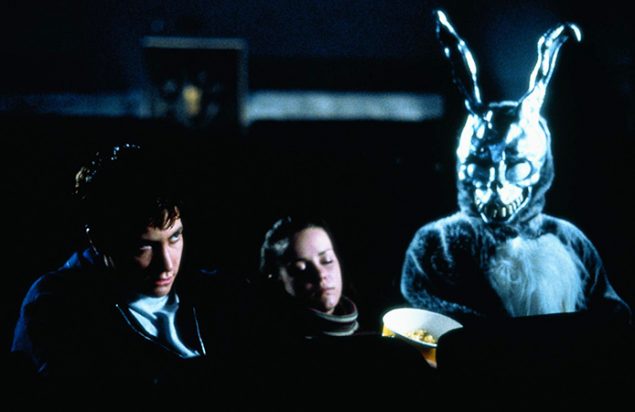 NCC Film Club: Donnie Darko
Wednesday, September 30 · view days & times
Venue: Frank Banko Alehouse Cinemas

FREE
2001 | R | 1 hr 53 min
Director: Richard Kelly
Stars: Jake Gyllenhaal, Jena Malone, Mary McDonnell
"If revisiting an old movie is a bit like going back in time, that sense of disorientation is doubled in DONNIE DARKO. A haunted miasma of youthful alienation, suburban malaise, cosmic upheaval and 1980s pop-cultural infatuation, writer-director Richard Kelly's captivatingly strange 2001 debut plays more than ever like its own suspended-in-time artifact." -- Justin Chang, L.A. Times
Before STRANGER THINGS combined science fiction, Spielbergian touches and '80s nostalgia to much acclaim, Richard Kelly set the high-water mark with this debut feature. Initially beset with distribution problems, it would slowly find its audience and emerge as arguably the first cult classic of the new millennium.
Described by its director as ''The Catcher in the Rye as told by Philip K. Dick'', DONNIE DARKO stars Jake and Maggie Gyllenhaal, Patrick Swayze, Drew Barrymore, Mary McDonnell, Katharine Ross and Noah Wyle.
In its thirteenth year in existence the Northampton Community College Film Club is dedicated to providing students who love film and the filmmaker's art opportunities to watch and discuss film classics both new and old, support student filmmakers, and sharing films with their community on-campus and beyond. Each semester screenings at The Frank Banko Alehouse Cinema serve as the club's primary community outreach activity. The NCC Film Club is pleased to partner with ArtsQuest to bring these free film screenings to Bethlehem.
Schedule
Venue Information
Frank Banko Alehouse Cinemas
ArtsQuest Center
101 Founders Way
Bethlehem, PA 18015
610-297-7100
map & directions