Rent the Theater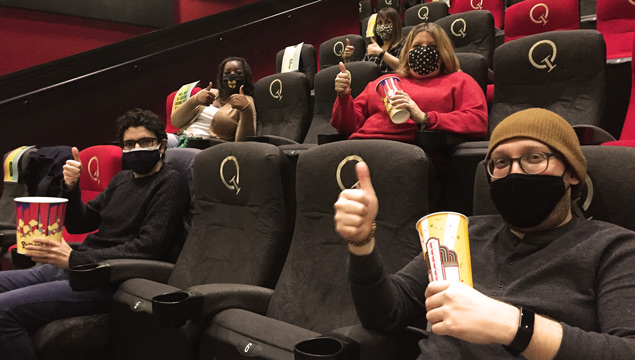 The Frank Banko Alehouse Cinemas are now accepting private rental requests for groups up to and including 50 people or less! Groups renting one of the two available cinemas will be granted a 3-hour period to watch any movie they've provided, chosen from the FBAC's inventory, or selected from available streaming services. Pricing for each 3-hour block is $199 / $149 for ArtsQuest Members / $99 for any group including at least one frontline worker. Food and beverage are available upon request via à la carte pricing. Anyone looking to apply for a rental slot must fill out the form below.
ArtsQuest, in recognition of the incredible efforts that have been put forth by frontline workers since the beginning of the COVID-19 pandemic, is offering this 50% discount hoping that the same people who have carried us through one of the toughest times in modern history will take this opportunity to relax with friends and family. Groups looking to obtain this discount will be asked to send a photo of an active ID as proof of frontline employment, which is categorized under many different industries, including, but not limited to:
Medical and Healthcare Services
Food Service
Transportation
Maintenance
Finance
Housekeeping
Animal Services
Public Safety
Childcare
Teachers
Anyone with questions as to whether their job qualifies as frontline should contact ArtsQuest Programming Manager Anthony DeSanctis at adesanctis@artsquest.org.
As with all programming at the ArtsQuest Center, these rentals will be handled in strict accordance with all appropriate CDC guidelines. Guests will be required to wear masks in all public areas and strongly encouraged to wear masks in the cinemas unless actively eating or drinking. Electrostatic sprayers will be used to clean the cinemas before and after every rental.
Are you looking to rent the cinemas for your corporate event or meeting? Contact Shannon Vinci at svinci@artsquest.org.