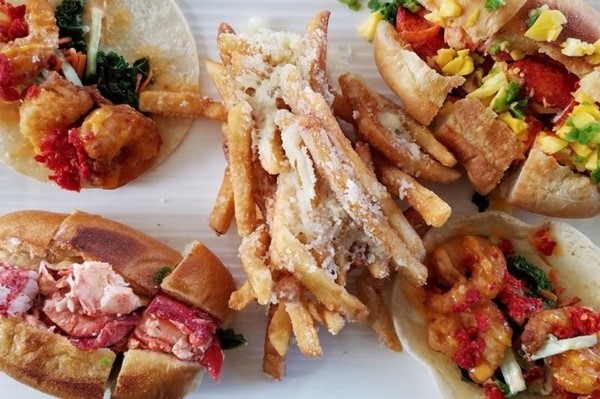 Defending Champ Surf and Turf Truck Returns to SteelStacks for 2017 Food Truck Border Brawl
By Emily Cummins, Public Relations Coordinator
Named one of the best food trucks in the nation by The Daily Meal, one of the best food trucks to have at your wedding by NJ Bride and "Best Overall Food Truck" at the inaugural Food Truck Border Brawl at SteelStacks, Surf and Turf Truck of Hamilton, N.J. is popular to say the least.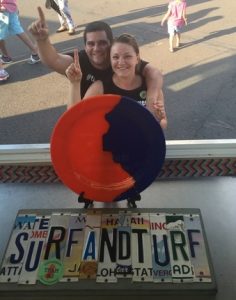 Serving up lobster, steak and veggies rolls, as well as sides like Parmesan truffle fries and breakfast sandwiches with pork roll, its menu runs the gamut of flavor including every combination from hot and cold to sweet and spicy.
The truck was started by Cindy Matas and brother-in-law Adam Browne in 2012, and just five years later, the family business has expanded to a second truck in Tampa, Fla. and several "brick and mortar" establishments led by Matas's fiancé Mike Barlettano including the new The Surf and Turf Market in Philadelphia.
"It's a full service seafood market, with 100% fresh seafood that I handpick and cut every morning, and we plan to open two more locations in 2018," says Barlettano, who's also a licensed U.S. Coast Guard Captain and charter boat operator.
While the truck is mainly booked for private catering like weddings and parties, Barlettano says they do participate in select festivals.
"I love the Food Truck Border Brawl," says Barlettano. "Our truck straddles Pennsylvania and New Jersey all the time, so we have the pleasure to know most of the trucks from both areas, but it's a great way for some of the north Jersey trucks to get to know the PA trucks and vice versa. There's nothing wrong with a little competition, and in the end it gives the customers an even better experience."
Defending its title at the 2017 Food Truck Border Brawl, Surf and Turf Truck will face 19 dynamic mobile eateries from the Keystone and Garden states who will serve up delicious eats including Wisconsin fried cheese curds, sweet and savory empanadas, gourmet cupcakes and Korean fusion like dumpling bowls and kimchi fries.
In 2016, more than 6,000 people turned out for the Food Truck Border Brawl, and Barlettano says the crowd devoured more than 800 rolls in addition to countless orders of firecracker shrimp tacos and the triple-decker lobster grilled cheese.
Prepping that much food in a short amount of time is stressful on any chef, but inside the truck, the heat is on.
"Our truck is a very intimate experience to say the least! Everyone better like each other because it's very close quarters," Barlettano says. "But it makes you work more efficiently, and adapt to the limited amount of space. One thing we do have on our truck is a lot of refrigeration, so we are able to keep our product as fresh as possible."
His personal favorite on the menu? The BLT lobster roll.
"Who doesn't love buttery lobster with bacon and truffle oil," he says. "We believe in simple combinations that play off each other well."
For those interested in testing their skills at home, Surf and Turf Truck offers an easy recipe for its Signature Warm lobster roll.
"Get some fresh lobster, heat it in some butter, and steam some kale in citrus water. Put the kale and lobster on a toasted bun of your choice, and top with fresh chopped mango and jalapeno," Barlettano says.
Or do the next best thing, and get a fresh lobster roll in person when Surf and Turf Truck returns for the Food Truck Border Brawl, presented by Provident Bank, June 10 at SteelStacks.
Food Truck Border Brawl
Saturday, June 10
Noon-3 p.m. & 5-8 p.m.
PNC Plaza
presented by Provident Bank