Team Building Workshops
Comedy Workshop
Improvisation is an art form and also a practice with benefits for the workplace! Through our improv workshops, you and your team can learn fun-filled exercises that will build confidence, improve communication, and spark creativity and collaboration.
Plus, we can now offer these sessions via Zoom! Contact us to see how ArtsQuest can help you build a stronger team today.
"We have used improvisation to help our leaders enhance their mental and verbal agility through ArtsQuest for a number of years now – even this year, via a Zoom session! The improv session has become a "must have" in our programming because it builds individuals as well as teams, and is great fun."
-Ann Raines, Director, Leadership Learning and Development, Northampton Community College
"That was soooooooo much fun. I learned ways to be more present virtually and who knew you could mind meld over Zoom. I have been better able to connect with video conferencing participants since. Highly recommend this for team building, much needed laughter, and skill building around interpersonal communication and creativity."
– Richard Liu, Associate Director, Global Marketing
Group pre-registration required; please write to Addyson Young at ayoung@artsquest.org to learn more.
Team Building Opportunities at the Banana Factory Arts Center
ArtsQuest can provide you with an exciting, hands-on art experience for your co-workers, family or friends, during which you learn directly from our nationally known artists to create lifelong memories and masterpieces! For booking information and more, contact the Visual Arts and Education Coordinator @ 610-332-1300 or visualarts@artsquest.org.
PRINT MAKING
Learn to create your own stamps, handmade cards, and fine art prints. Afterwards participants can exchange cards or prints and leave with a complete set!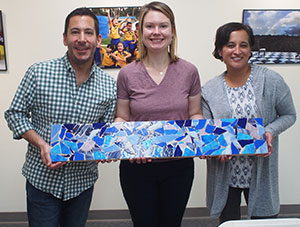 COLORFUL MOSAICS
Groups may create a collaborative mosaic that they design themselves using individual tiles to create a larger piece.
MIXED MEDIA PAINTING
With the assistance of our teaching artist, learn how to complete a colorful painting in acrylics and then coat it with modeling paste at the end to make it look like an authentic oil painting.

WALL HANGINGS & WEAVINGS
Sift through piles of fabric, vintage lace, twigs, brass elements, buttons, and feathers to construct a beautiful dream catcher or weaving for your home or office!

CERAMICS
If you've ever wanted make your own functional ceramics to use at home, this is the perfect opportunity. Students will turn a slab clay into something fab using stamps, underglazes and molds. Get messy and find out for yourself why our ceramics classes are always sold out!

BANANA FACTORY TOUR
Explore the history, beautiful facilities and creative environment which formerly was an actual Banana Distribution warehouse in the 1800's, a car dealership and a garment factory! You´ll see gallery spaces, art studios including ceramics and glass, and stroll through our floors of artists´ studios to view their artwork, ask them about their influences and learn about the variety of ways people create art.
Hot Glass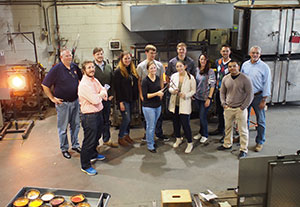 HOT GLASS PARTY
The Hot Glass Party allows each participant to make their own glass item with the guidance of our staff artists. Having up to 3 participants working (individually) at a time, we can do as many as 9 people per hour. This party involves closing the Glass Studio for the exclusive use of your group. They can go onto the shop floor (in limited numbers at a time for safety purposes) to watch each other, take photos, etc. Items may take 24 hours to cool down, so they could be picked up or shipped after that takes place.
HOT GLASS COLLABORATION
This activity is an efficient way for groups of 20-40 to allow each person to be involved hands-on as they make a single piece. The staff artists create a cylinder of glass, roughly 6″ diameter and 12″ tall, then each participant would create their own 'stamp' (medallion) of glass on the outside of the cylinder. They would select from 5-10 different stamp designs (Bethlehem Star, sunburst, paw prints, spirals, etc), select the color of their glass 'medallion', and choose the location on the cylinder. In an assembly-line format, they would cycle through the shop to add color to their glass, place the glass on the cylinder, then stamp it while it is still molten. This entire process would take roughly 2 hours for a group of 20.
WALL PLATE INSTALLATION
Designed as a true team building activity, each person is part of the entire process of designing, developing, and creating a glass installation for your office. Prior to coming to the glass studio, the full team would decide where the installation will go; how big, how many plates, color scheme, etc. Once at the studio, each person would make a plate, assisted by our staff artists. When all plates are back at the workplace, the team decides the overall shape of the installation; the height, width, margins, placement of all plates in relation to each other. The final installation serves as a daily reminder of what an effective team can create, as well as a reminder of the skills (communication, common purpose, conflict resolution, trust, respect, etc.) necessary for a team to be successful. Installation cost is not included.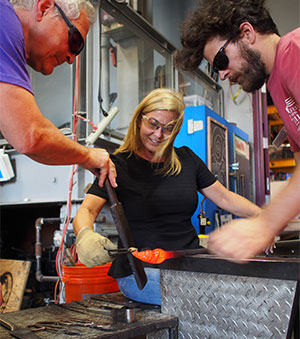 GLASS BLOWING DEMONSTRATION
The Glass Studio artists can do a 60-minute Demonstration, making a larger (typically 15-20" tall) item, and explaining the techniques involved as they go through it. They include 3-4 places where an audience member can assist, such as adding a glass stripe, helping shape the object, and so forth. Such a demonstration can accommodate up to 30 viewers. Once done, the piece would be available for sale at 50% of the determined retail value, which is typically in the $250-$350 range.

WHY CHOOSE US?
ArtsQuest can provide you with an exciting, hands-on art experience during which you learn directly from our nationally known teaching artists! Each experience is designed to ignite your team's creativity, strengthen their working relationships, and encourage collaboration and open communication. In the process, you will have a great time and create unforgettable memories. All classes take place at the Banana Factory Arts Center, a unique community resource that advances contemporary visual art in Bethlehem by connecting artists and communities in unexpected ways. As an open forum for exploring the artistic process, the Banana Factory Arts Center fosters creativity through making, learning about, seeing and discussing art – all under one roof.
For booking information and more, contact the Visual Arts and Education Coordinator @ 610-332-1300 or visualarts@artsquest.org.