Weddings
Host your special day at the ArtsQuest Center! Our venue offers breathtaking floor to ceiling views of the iconic Bethlehem Steel Blast Furnaces, serving as a beautiful backdrop for the beginning of your love story and a view your guests will never forget!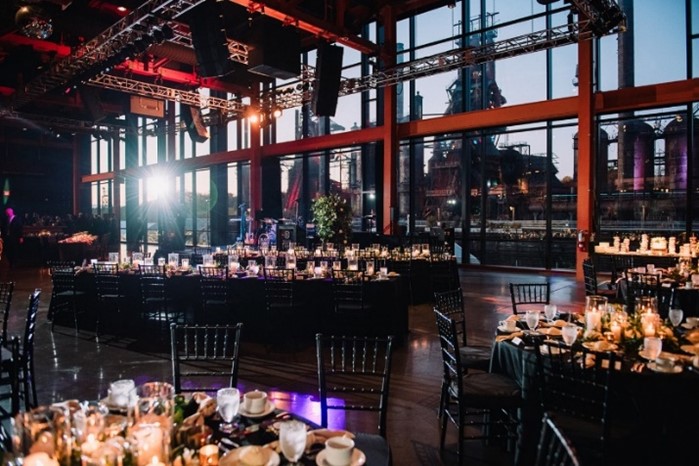 The Basics
We are so excited you are considering the ArtsQuest Center as the location for your wedding celebration! Below are a few steps to assist you in planning your wedding with us!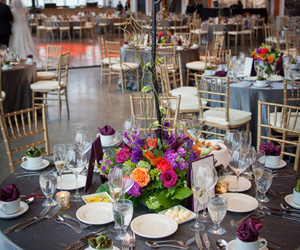 Check availability at the ArtsQuest Center by filling out the form below
CONTACT OUR TEAM
Schedule a tour with our Hospitality Professionals and put your wedding date on hold
Sign the contract and make a non-refundable deposit to officially reserve your date
To rent a space at the ArtsQuest Center, you must be an ArtsQuest Member or donate to ArtSmart, ArtsQuest's afterschool art enrichment program. For more information on Membership levels and benefits, please visit ArtsQuest Membership. To donate to ArtSmart, please clickhere Thank you!
Schedule a menu tasting with our hospitality professionals about six months prior to your wedding date. During your tasting, we will confirm the menu selections and review additional wedding details together.
In the months leading up to your wedding day, our hospitality professionals will work with you to review all details including wedding timelines, menu selections, diagrams, vendor information and more!
The week of your wedding you will work with our hospitality professionals to confirm your final guest count, review your wedding timeline and details and drop off your personal items including décor, favors, etc.
On your wedding day – relax and enjoy every moment! Our team will be by your side through it all!
OUR RECEPTION VENUES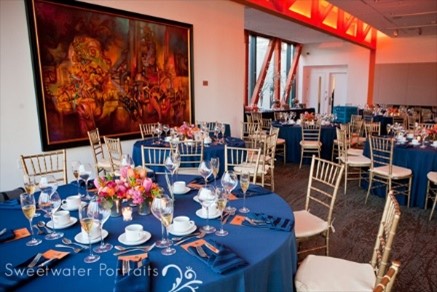 The Blast Furnace Room is located on the second floor of the ArtsQuest Center. This room is 3,460 square feet and can hold up to 180 guests for a sit-down reception with a dance floor. This room can also be a great option for an indoor ceremony, and can seat up to 300 guests, theater style.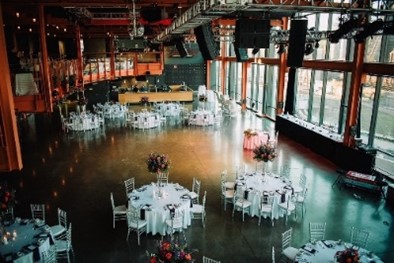 The Musikfest Café is located on the 3rd floor of the ArtsQuest Center with a 4th floor balcony overlooking the space. The room is 7,310 square feet and can accommodate groups of 150-400+. This room can also be used as a dual ceremony and reception space, with the ceremony taking place in the center of the room which then transforms into your dance floor.
This space rents for $400 an hour with a two-hour set up fee and one hour break down fee added to the event time. This fee includes our house linens, tables, chairs, and china. This room features state of the art sound and light systems as well as a removable stage for a live band – audio visual fees apply when renting this space. On a Friday evening there is a $25,000 minimum and on a Saturday evening there is a $30,000 minimum (including facility fees, food, beverage, tax, and administrative fees) for the space.
FACILITY AND STAFF FEES
Download our event facility and staff fee guidelines below to view more detailed information about our facility and fees. All facility rentals will include an additional two hours of setup and one hour of breakdown time. 24-hour holds are available – applicable fees will apply. *Additional set-up or decorating fees may apply*
Facility and Staff Fee Guidelines
OUR CEREMONY VENUES
ArtsQuest is happy to host your ceremony prior to your reception. Ceremony fees are a flat fee of $1,000 and include set up and break down of the space and chairs. We have a variety of options available for your ceremony including: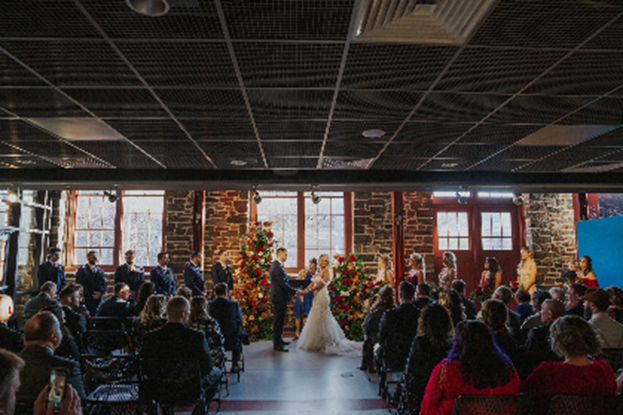 The Visitors Center is located across the street from the ArtsQuest Center at the start of the Blast Furnaces on SteelStacks Campus. This space is approximately 1,500 square feet and can hold up to 140 guests for a ceremony.
PNC PLAZA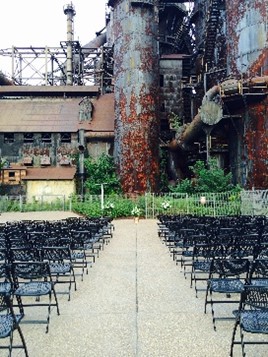 PNC Plaza is located behind the Visitors Center at the start of the Blast Furnaces on SteelStacks Campus.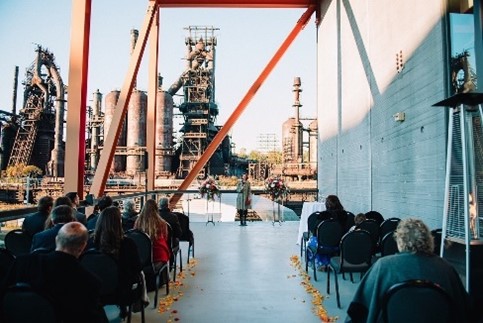 The Wind Creek Deck is a beautiful location for an intimate outdoor ceremony with a spectacular view of the Blast Furnaces, Levitt Pavilion and South Mountain. This venue can accommodates up to 130 guests for a seated ceremony and is available during warm weather months – May through October.
OUR MENUS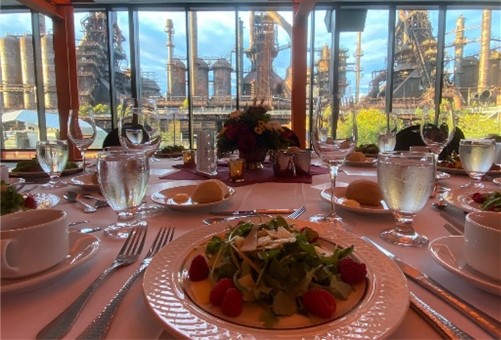 Our professional culinary team is proud to provide a variety of cuisine, sure to please you and your guests! From barbeque to fine dining, our team can customize the menu to your preferences. Special dietary requests can be included in all menu plans. Menu design and details must be confirmed 30 days in advance of all events. Look over our current catering menu below to get an idea of our offerings!
CONTACT OUR TEAM
Complete the form below to connect with one of our hospitality professionals and learn more about hosting your event at the ArtsQuest Center!
TESTIMONIALS FROM OUR COUPLES
"Our wedding day was exactly as we imagined and then some. Susan and the rest of the staff were incredible in making the day run smoothly and feel stress free. Our guests raved to us about the venue and the food. We postponed our wedding one year because of the pandemic and Susan and the team easily swapped dates and kept us in the loop as protocols during the pandemic changed. We would highly recommend ArtsQuest as a fun, unique and accommodating place to celebrate your wedding. The SteelStacks already had a special place in our hearts, now even more so."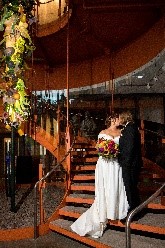 Monica and Doug
"The SteelStacks is the coolest place to host an event. We wanted something different than your typical wedding venue, and as soon as we saw this place, we knew it was the one. We had our wedding in the Musikfest Cafe, and our ceremony on the Wind Creek Deck, and it was perfect. The style and design of the rooms/grounds are amazing. The staff was incredibly helpful during the whole process of planning all the way up until after our wedding was over, especially since we had to delay our party due to covid. Everything went smoothly without any issues. All of our guests stayed at the Wind Creek Casino which made for an awesome after party. We could not have asked for a better place to have our wedding and would highly recommend the Steel Stacks to anyone who is looking to have their wedding somewhere unique and special. We love coming back for all the different events and the SteelStacks has become a special place to us."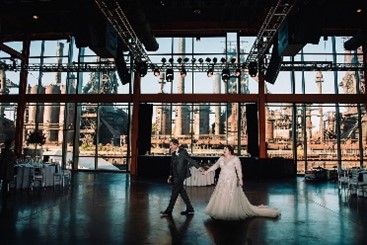 Melissa and Joel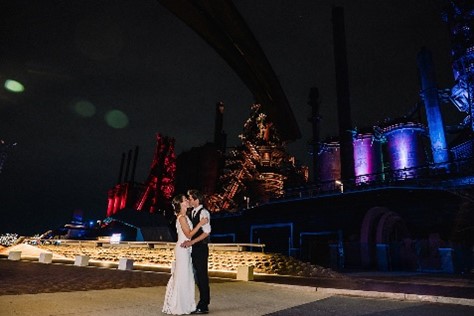 Chandler and Joey
"From our initial meeting to the moments after the ceremony, Susan, Adrienne and the AQ staff made it simply seamless. The preparation and planning for a wedding is rather extensive, and this team was nothing short of amazing. The iconic SteelStacks as the background for the ceremony and reception were picture-perfect; absolutely stunning. Getting married, in this exact spot, felt so right — and for that, we are forever grateful! Out of all the beautiful venues in the Lehigh Valley, my wife and I truly believe we made the right decision in choosing AQ/Steel Stacks for hosting one of the most important days of our lives."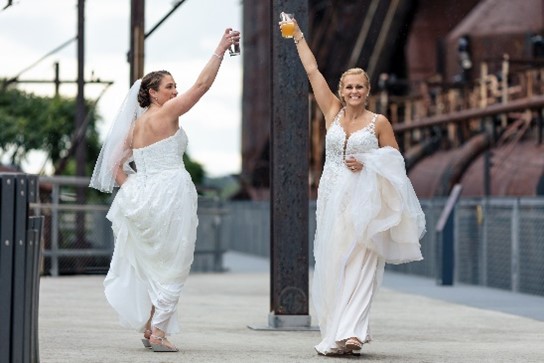 Sara and Kelsey
From start to finish, our wedding experience at the ArtsQuest Center was OUTSTANDING!

This venue is impressive! It successfully and artfully ties together a modern aesthetic with the preservation of the history of the Bethlehem Steel operations. It is an expansive space with soaring ceiling heights and a full wall of floor-to-ceiling windows overlooking the SteelStacks, which are works of art in themselves. Our wedding celebration utilized three floors of the building, with the marriage ceremony in the Blast Furnace Room and the cocktail hour and reception in the Musikfest Café, including the outdoor heated deck and the fourth-floor balcony.

The most important part of the process is the planning and execution, as it is the foundation for a successful event. We worked with Susan Drexinger, whose experience in this industry was priceless. Susan has a caring and calming personality, and she handled the process with ease and created a truly enjoyable planning experience. Susan and her team at the ArtsQuest Center were easily reachable and responsive during the whole process. They cared about our event and every detail, even down to our request to add crispy onions on top of the Red Wine Braised Beef Short Ribs and extra cheese in the Chicken Roulade Fontina!

The ArtsQuest Center offers an expansive menu which was customizable to our requests. We chose a cocktail menu of passed hors d'oeuvres and stationary stations, which were artfully displayed throughout the space to accommodate the guests. The entrees were skillfully prepared and presented, and were absolutely delicious, as commented by our guests throughout the evening. And there are several large full-service bars with an impressive selection of beer on tap and top-shelf liquors, so no waiting on long lines to get your cocktail!

We would be remiss to not mention the professional sound system, lighting and acoustics in the room, as well as the talented technical team. All too often at wedding receptions, the band is so loud that conversation at the tables is impossible. But that's not an issue at ArtsQuest where their sound system fills the space while also allowing for conversation at the tables. This detail is often not even considered when choosing a space, but it's hugely important to enjoying the day.

Our wedding day at the ArtsQuest Center was flawless, the perfect execution of our vision, and a wonderful memory of an unforgettable day.
Rich & Julie
Marissa and Brett
"We cannot thank the management and staff enough for making our daughter's wedding a truly wonderful experience at the Blast Furnace room and Musikfest Café. We had heard that ArtsQuest does an amazing job but we were blown away at the attention to detail, friendliness, competence and quality of the event. If you are looking for a memorable day for your wedding in which every detail is handled professionally, please consider ArtsQuest. They are top notch."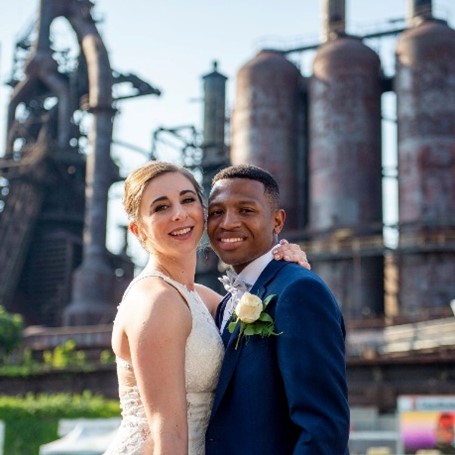 Mike and Laurie
"The hospitality team at ArtsQuest went above and beyond to make our wedding day memorable. Planning our wedding from several thousand miles away seemed easy! Susan and her team we able to communicate with us and execute every detail flawlessly. The venue is versatile and beautiful."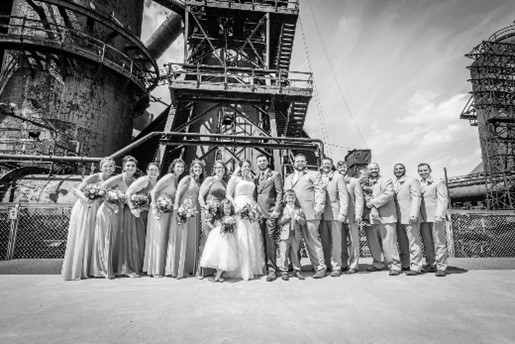 "Susan was like my fairy god mother that waived her magic wand and made the hurricane disaster go away. She saved my wedding!"
"Susan helped make our day a memorable experience. The SteelStacks building is truly a unique venue for any event!"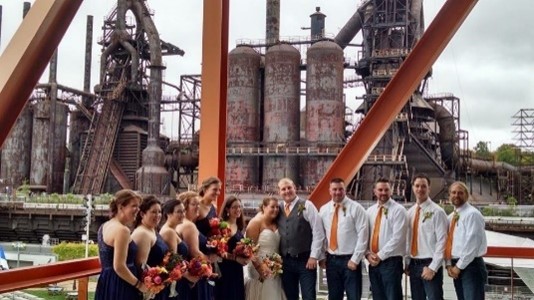 Rebekah & Richie
"I think the biggest thing we can say about that painting (by Celebration Paintings) and our day this year is, "Love is never cancelled!"
Thank you again so much for much for all your help and hard work. We loved our intimate day so much!"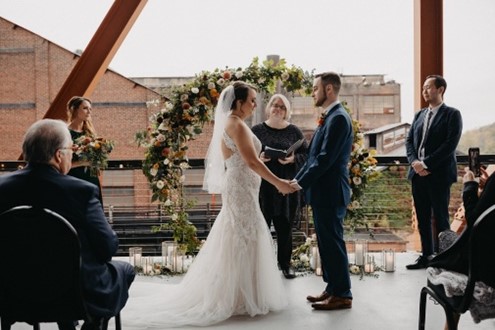 Kendall & Brett