Here's what some of our customers are saying about their experiences at SteelStacks:
Video by Abominable Productions.
SteelStacks named Best place to get married in Pennsylvania by Orbitz
Combining a sleek modern style with the romantic charm of the past, ArtsQuest's SteelStacks in Bethlehem (about 1.5 hours outside Philadelphia) is the perfect place to bring family and friends together as you celebrate new beginnings. The ten-acre campus is all set against the remarkable backdrop of the iconic Bethlehem Steel Blast Furnaces.
"We just hosted the most magical wedding reception in the Musikfest Café at the SteelStacks! The venue is spectacular - with floor to ceiling windows overlooking the SteelStacks. The food and drinks were great. And our guests can't stop raving about the whole experience. Not only were the results fantastic but the process of planning the event was actually fun. Susan and Adrienne are so knowledgeable and helpful, you'll actually enjoy the planning."
"To say that it has been a pleasure working with Susan and the ArtsQuest family is an understatement. The moment my fiance and I reached out to their team in regard to hosting a large wedding reception, I knew we made the right decision. Susan and her team were very responsive throughout the entire process, and we felt comfortable asking questions and receiving the team's guidance. Not only is the venue absolutely stunning with massive glass windows overlooking the steel stacks, but it also offers an incredible menu. Although Covid-19 had different plans for our (canceled) 200 person wedding reception, the ArtsQuest team offered our deposit back, which many venues wouldn't dare to do. My fiance and I are very confident we will find a reason to host another celebration at the venue in the future. Thank you to Susan and the ArtsQuest team for going above and beyond throughout the entire planning process. I would absolutely recommend ArtsQuest's venue to any soon-to-be bride, without question."
Abigail R. Keefe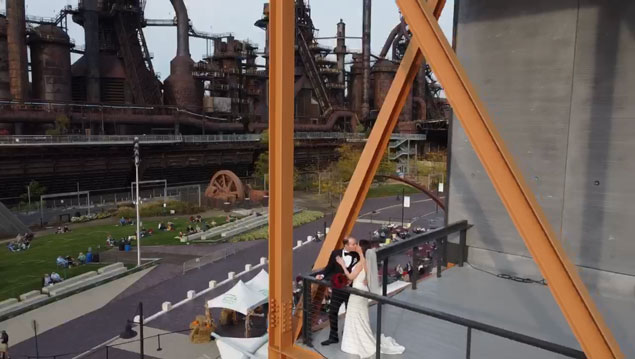 "We were so happy to have booked ArtsQuest Center at SteelStacks for our venue for both our ceremony and reception for our October 2020 wedding. It was our first choice and with both of us having spent significant portions of our life in the Lehigh Valley, we knew that it would provide the perfect backdrop for an amazing night."
"We worked with the wedding coordinator, Terry Blackman, to shape our vision into reality. It was the same weekend as the planned Oktoberfest activities, and Terry was excellent about providing flexibility to make sure it would all work. We excitedly signed our contract in February 2020, and began to round out all of our other vendors, among which was a 9-person band for the reception."
"Then — the coronavirus pandemic happened. Still hopeful that things would clear up by October, we had our tasting on the first day that Pennsylvania went to green, June 26th. At the tasting, Susan Drexinger was extremely well-versed in all of the evolving regulations and how ArtsQuest was accommodating them."
"As we moved through July, it became increasingly apparent that we would have to modify our planned 100+ attendee wedding + cocktail hour + reception. Terry was great with providing a variety of different options and we finally settled on a beautiful, intimate 15-person wedding in the Blast Furnace room."
"Everything with the rehearsal went very smoothly, from the room setup, to the music to be played, to the timing and flow of the ceremony. Terry was great at explaining to everyone their parts and keeping things organized."
"On the day of the ceremony, we had perfect fall weather and an amazing, beautiful, intimate ceremony with our closest family and friends. We were able to get beautiful photographs in the Blast Furnace Room, as well as the roof deck, and had the trestle all to ourselves to capture unforgettable memories."
"Despite having to change our original plans, everyone leaned in to the situation and made their best efforts to accommodate and ensure a beautiful day. We had an amazing time and will be forever thankful to Terry, her team, and ArtsQuest for making our dream a reality."
Sean and Michelle Crawford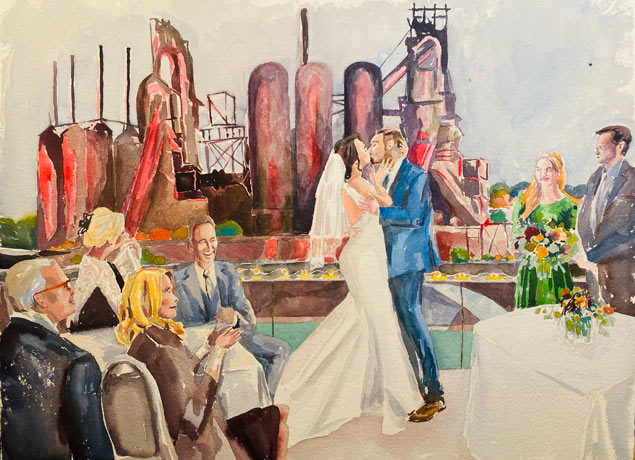 Painting by Celebration Paintings
"I think the biggest thing we can say about that painting and our day this year is, "Love is never cancelled!"
Thank you again so much for much for all your help and hard work. We loved our intimate day so much!
Kendall & Brett
Video by John Appleton Weddings.
"As soon as we looked at ArtsQuest, we knew it was the right venue for our wedding! We were looking for a space that would feel fun and modern, and of course ArtsQuest fit that aesthetic perfectly. We found the events staff incredibly easy to work with, helpful, and they seemed genuinely happy for us which made us feel really special. (The braised short ribs on the ArtsQuest menu ended up being a delicious bonus on top of these other pros!)."
Emily and Brittany
"Susan was like my fairy god mother that waived her magic wand and made the hurricane disaster go away. She saved my wedding!" "Susan helped make our day a memorable experience. The SteelStacks building is truly a unique venue for any event!"
Rebekah & Richie Repasch
"We cannot thank the management and staff enough for making our daughter's wedding a truly wonderful experience at the Blast Furnace room and Musikfest Café. We had heard that ArtsQuest does an amazing job but we were blown away at the attention to detail, friendliness, competence and quality of the event. If you are looking for a memorable day for your wedding in which every detail is handled professionally, please consider ArtsQuest. They are top notch."
Mike and Laurie Flynn
"The hospitality team at ArtsQuest went above and beyond to make our wedding day memorable. Planning our wedding from several thousand miles away seemed easy! Susan and her team we able to communicate with us and execute every detail flawlessly. The venue is versatile and beautiful."
"HMK has hosted a variety of seminars and client events at ArtsQuest over the years. Whether it's an early morning workshop with a breakfast buffet or an evening reception with dinner and cocktails, everyone on the event staff does an outstanding job with customer service. Knowledgeable technical assistants are readily available and food servers are well trained and friendly. And the Blast Furnace Room was the ideal location for our office Christmas Party. It is spacious yet intimate, beautifully decorated; and of course, the back drop of the Bethlehem Steel blast furnaces is priceless."
Maureen O'Meara
Director, Business Development
HMK Insurance
"The attentiveness of the staff, quality of the food, and outstanding view contributed to the success of our event. Our out-of-town guests were impressed by the historic steel stacks and how the Center compliments the site. We highly recommend ArtsQuest Center at SteelStacks to anyone who wants a memorable experience at a unique venue that offers outstanding service!"
Alvin H. Butz, Inc.
"My event planning staff and I were extremely pleased with the facility. It is, after all, the newest, most stylish, and exciting venue in the Valley. But beyond that, the professional staff and event design and execution assistance was outstanding. The lunch itself was outstanding (a simple turkey club wrap was delicious and accompanied by home made chips and pasta salad) and got rave reviews from our attendees. Further, the design of the meal service, preset before guests entered the room, allowed for particularly stealthy service that was so quiet and unobtrusive to the meeting that it was obvious and another source of good comments by attendees."
Frank V. Facchiano
Executive Vice President, Member Relations & Operations
Greater Lehigh Valley Chamber of Commerce
"I have been to nearly 700 concerts around the region and across the country in dozens of venues and have not experienced a facility that rivals the ArtsQuest Center for atmosphere, acoustics, food & beverage options, friendliness of staff and even cleanliness of the bathrooms. I will not hesitate to make the 75-minute drive from my home to attend another event at your facility. You have a new supporter for life."
Brian McGovern
To book your event or for more information about the ArtsQuest Center at SteelStacks, please complete an online inquiry form or contact us at 610-332-1300. A member of our team will respond to you within two business days.