ArtsQuest Creator Program
Are you a social media creator with a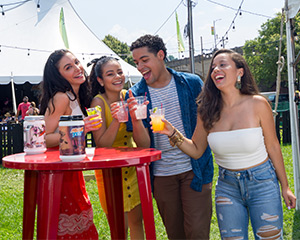 strong and dedicated following? If so, ArtsQuest's Influencer Program is the perfect opportunity for you! We are looking for hardworking creatives who are willing to share photos and videos of our events and/or merchandise on their social platforms in exchange for concert and event review tickets, VIP opportunities, merchandise, personalized promo codes and more! Interested in becoming an ArtsQuest Influencer? Here's how to apply:
1. Qualifications:
Have more than 5,000+ followers combined (this includes Instagram, TikTok, Facebook, etc.)
Age 21+
Have an interest in one of the following topics: family, festivals, food, music, travel, fashion or photography
Open to traveling to our location in Bethlehem, PA (if you are in the Northeast)
All agreed upon photos or videos must be posted on your social page(s) within 7 days (unless otherwise noted)
You must tag us in your shared photo using the appropriate social media platform
Where applicable, you must hashtag #ad or #promoted in your post
2. Complete Our General Interest Survey HERE
3. How We Use Your Submitted Media:
ArtsQuest reserves the right to collect photos and/or posts from your social pages(s) and repost these pictures or videos on our social media networks, website and/or marketing materials.
What's Next?
Once you have completed and submitted your survey, we will review and contact you if we have a campaign match to your interest.
Have additional questions or concerns? Please contact: hcummings@artsquest.org