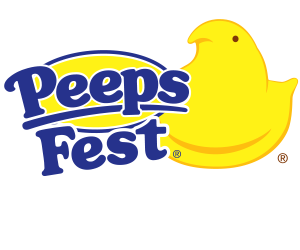 PEEPSFEST®
December 30 & 31 | 3-6 p.m.
Ring in the New Year with a sweet celebration at PEEPSFEST® from 3 – 6 p.m. on Fri., Dec. 30 or Sat., Dec. 31. The event will be held outside with family-friendly activities and fireworks following the annual PEEPS® Chick Drop on both Friday and Saturday. To celebrate Just Born Quality Confection's 100th anniversary, attendees will get a sneak peep of the tasty new flavor offerings that are hitting store shelves for the 2023 Easter season! As per tradition, the massive PEEPS® Chick, weighing in at 400 pounds and standing 4 feet and 9 inches tall, will descend for the countdown to the New Year at 5:35 p.m., on both Dec. 30 and Dec. 31, followed by a stunning display of fireworks.
This year's festival will take place entirely outdoors and tickets will be required to ensure a safe and quality experience for all in attendance. Tickets, which can be purchased for $5 per person, are limited and include Just Born Quality Confections goodie bags for all kids under 12, one coupon to redeem a free s'mores kit for all kids under 12, live musical performances and entertainment, and PEEPS® sampling stations. Everyone's favorite event, the PEEPS® Chick Drop, will take place each day at 5:35 p.m.
The whole family can also enjoy activities like the PEEPSFEST® Scavenger Hunt, the Leaning Tower of PEEPS®, cornhole, Giant Jenga and crafts by local groups from around the Lehigh Valley.
Looking for an extra special addition to the annual tradition, register for a skate session at The Ice Rink at SteelStacks presented by Lehigh Valley Reilly Children's Hospital. For a $10 ticket up grade, families can book a skate session between 3 and 4:30 p.m. on both days.
Activities and crafts provided by the following groups and organizations:
Tootsee The Clown and Friends (12/30 & 12/31)
Northeast Community Center (12/30 & 12/31)
United Way (12/30 & 12/31)
Shanthi Project (12/30 & 12/31)
Mikayla's Voice (12/30 & 12/31)
The Banana Factory Arts Center (12/30 & 12/31)
PBS (12/30 & 12/31)
Valley Youth House (12/30)
Miss Pennsylvania (12/31)
Lehigh Valley Health Network (12/30)
Urban Air Adventure Park (12/30 & 12/31)
Lehigh Valley Press (12/30 & 12/31)
ArtSkills (12/30)
Music and entertainment will be enjoyed both days!
Lolly Hopwood; 3-4 p.m. (12/30 & 12/31)
DJ Wesley Works; 4-4:30 p.m.
Eddy Ray Magic; 4:30-5 p.m.
DJ Wesley Works; 5:00 up until the PEEPS® Chick drops at 5:35 p.m.!
Enjoy coffee and warm drinks provided by Uncommon Grounds, both days of the event!
Friday, December 30
$5 general admission
$5 PEEPSONALITY® Family Fun Run/Walk
$10 Ticket upgrade for ice skating sessions at SteelStacks Ice Rink
Buy Ice Skating Ticket Upgrade - December 30
Buy Tickets - PEEPSONALITY® Family Fun Run/Walk
PEEPSONALITY® Family Fun Run/Walk
December 30, 2022 1L30 p.m.
1:30 p.m. doors (early entry to PEEPSFEST®)
Just under 1-mile course, map & route details shared soon!
Access to unique PEEPS® sampling flavors
Crafts available from the Banana Factory Arts Center to create wearable items to express your PEEPSONALITY® during the walk .
Entertainment throughout campus provided by DJ Wesley Works with dance party to end the Family Fun Run/Walk.
Participants may enjoy a complimentary cup of hot chocolate compete with PEEPS® marshmallow topper following the race.
Photos with Lehigh Valley mascots like The PEEPS® Chick, Telebear, Corey, Andy the Aardvark, Della the Mule and more!
Awards given out to participants with the most PEEPSONALITY®
Saturday, December 31
$5 general admission
$10 Ticket upgrade for ice skating sessions at SteelStacks Ice Rink
Buy Ice Skating Ticket Upgrade - December 31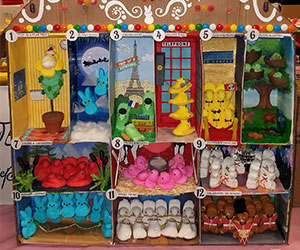 PEEPSFEST Sponsors
Broadcast Sponsor