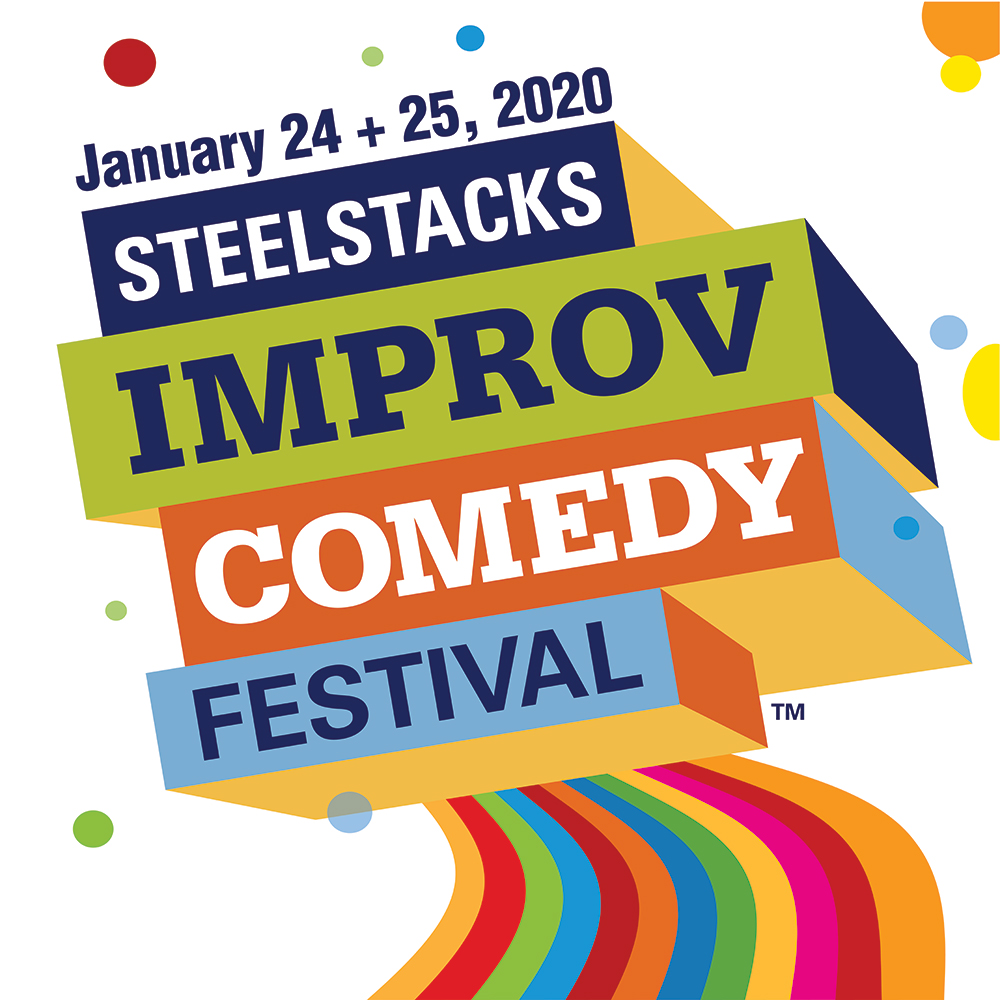 SteelStacks Improv Comedy Festival
January 24 & 25, 2020

ArtsQuest Center
SteelStacks
Bethlehem, PA
The SteelStacks Improv Comedy Festival is two days of almost-but-not-quite non-stop improv comedy in Bethlehem, PA. Each day features a marathon-style lineup of sets by performers from around the world.
The 2020 edition of the festival will feature a headline performances from Baby Wants Candy and Asian AF – The Hit Asian American Variety Show!
Improv Team Submissions for SSICF2020
Early Bird Submission ($20) Deadline: Friday, October 11th, 11:59pm, EST
Regular Submission ($25) Deadline: Friday, November 8th, 11:59pm, EST
The submission period has ended.
Baby Wants Candy is one of the most popular and critically acclaimed comedy ensembles in the world. The group has performed more than 3,000 completely improvised musicals to thousands of fans from Chicago to New York to Singapore to Scotland. Entirely based on audience suggestion and accompanied by a full band, the show is a roller-coaster ride of spontaneously choreographed dance numbers, rhyming verses and witty, jaw-dropping comedy. Each performance is the opening and closing night of that performance.
"BEST COMEDY IN CHICAGO!" – Chicago Magazine
"TRULY AMAZING! CRITICS' PICK!" – The New York Times
"HIGHLY RECOMMENDED!" – The Onion
Baby Want Candy has helped launch the careers of some of the top comedic talent in the US. BWC cast & alumni include Aidy Bryant (Saturday Night Live), Jack McBrayer (30 Rock), Peter Gwinn (Colbert Report), Thomas Middleditch (HBO's Silicon Valley), Lauren Conlan Adams (The Unbreakable Kimmy Schmidt), Jessica McKenna (Off Book!), Nicole Parker (Elephaba in Wicked on Broadway) and many more. Band members/alumni include Garry W. Tallent of Bruce Springsteen and the E Street Band; Mark Pender of Conan's Max Weinberg 7 and Bruce Springsteen and the Seeger Sessions Band; and Johnny Pisano of the Jesse Malin Band and The Marky Ramone Band.
Asian AF – The Hit Asian American Variety Show! (NY, LA)
ASIAN AF (Asian As F***) is the premier Asian American variety show at the UCB Theatre. After the incredible success of SCARLETT JOHANSSON PRESENTS, the first Asian American improv show at the UCB Theatre (and also the most attended show at UCB), Asian AF was created as a way to showcase even more comedic Asian American talent. Asian AF spotlights the best Asian American actors, stand-up comedians, improvisers, sketch performers, musicians, dancers, & storytellers. The show has been featured on several news sites such as NBC News, ABC News, LA Times, NY Times, Google, ATTN, Splitsider, Gizmodo, Indiewire, and many more.
Due to its immense popularity in Los Angeles, ASIAN AF was brought out to New York in June 2017. SCARLETT JOHANSSON PRESENTS also debuted at UCBTNY for the 19th Annual Del Close Marathon in the same month. Asian AF has the unique honor of being the first ever UCBTLA show to become a monthly show in New York at the UCB Theatre. Dan Lee served as the original lead producer & host of Asian AF New York. The show has become a huge success with sold out shows every month, including a special performance at the famous Signature Theatre off Broadway.
#SSICF On The Social Medias
We're on Facebook at
facebook.com/steelstacksimprovcomedyfestival
and you can tweet in our general direction at
@SteelStacks
.