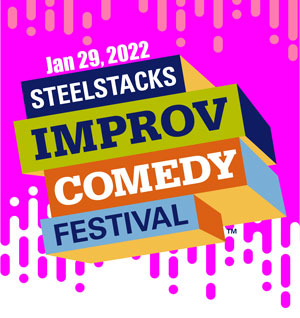 SteelStacks Improv Comedy Festival 2022
The 9th annual #SSICF
January 29, 2022
The SteelStacks Improv Comedy Festival is back for 2022, live and in-person, with headliners Monique Moses and Raymond Cordova from Astronomy Club!
Our 9th annual festival features more than 20 teams coming from New York, DC, Boston, Baltimore, and right here in the Lehigh Valley, presented in marathon style for nine hours on January 29th!
In Advance: $19 | $17 Ages 25 & under and senior | $16 ArtsQuest Member
Day of: $22 | $20 Ages 25 & under and senior | $19 ArtsQuest Member
Face coverings will be required at this event for anyone in the showroom other than performers actively on stage.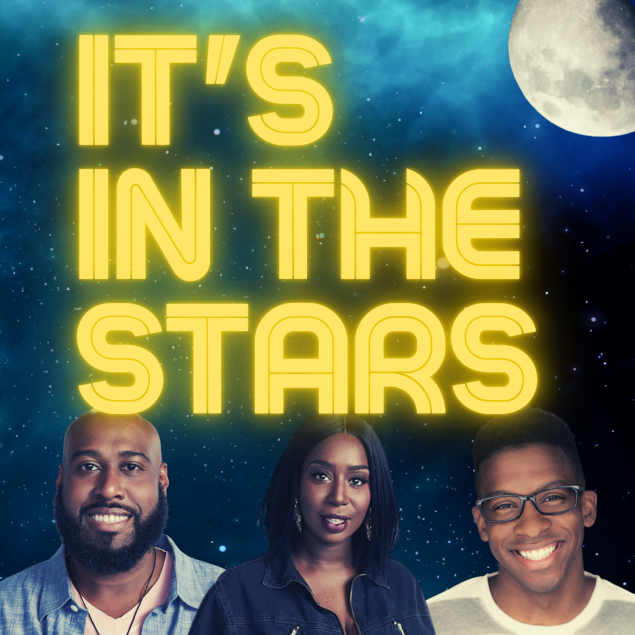 Have you ever had a moment that felt destined? A coincidence too big to be an accident, that it must have been written... in the stars?? Astronomy Club's Ray Cordova, Monique Moses and James III will reveal the meaning behind it all, by taking your serendipitous moments to create a very funny (and maybe fateful) fully improvised evening of comedy.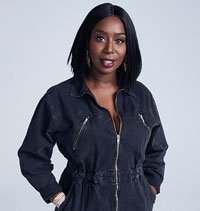 Monique Moses is a Canadian born writer, director and actor based in Brooklyn NY. A long time performer and teacher at New York's Upright Citizen's Brigade Theater (UCB), she has directed sketch and taught improv at venues all over NYC, including the PIT, The Magnet Theater, The Academy For Teachers and children's media and literacy company the Story Pirates. She has written for and starred in content for IFC Comedy Cribs, Comedy Central, Netflix, NBC Universal and Peacock, most recently writing for Big Mouth spin off Human Resources, The Kid's Tonight Show and Adult Swim's Teenage Euthanasia.
As a member of all black comedy team Astronomy Club, she co-created 'Astronomy Club The Sketch Show', which premiered on Netflix in 2019 to stellar reviews from Variety, Vulture and Rotten Tomatoes. Astronomy Club The Sketch Show was named one of 2019's best sketch comedy shows by Paste Magazine.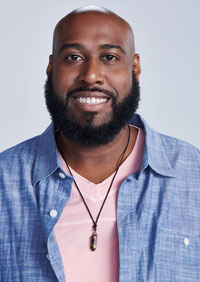 Ray Cordova is an actor, writer and comedian born and raised in New York City. His work can be seen on Netflix (Astronomy Club: The Sketch Show), Comedy Central (Alternatino), Starz (Raising Canan) and many other networks.
He also performs and teaches improv anywhere they will have him including but not limited to theatres such as, the Upright Citizens Brigade, The Pit, Magnet and random places like a subway platform, my mom's retirement party and even Google HQ!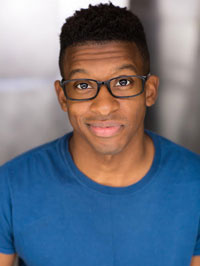 James III is best known for co-creating and co-starring in the Netflix sketch series, Astronomy Club. He's written for Human Resources (Netflix), All That (Nickelodeon), Adam Ruins Everything (truTV), and appeared in the Miley Cyrus episode of Black Mirror (with Miley Cryus). He's also written feature films for Tyler Perry Studios and Marginal Media.
Schedule
4:45-5 p.m. The Opening 'Yes, And' Ceremony
5-5:20 p.m. Trash and Cash
5:20-5:40 p.m. Model Citizen
5:40-6 p.m. LIP Service
6-6:20 p.m. Barn People
6:20-6:40 p.m. Staycation
6:40-7 p.m. Creamy and Crunchy
7-7:20 p.m. Big Whoop
7:20-7:40 p.m. The Great Old Ones
7:40-8 p.m. Neighbors
8-8:20 p.m. We're Good You're Great
8:20-8:40 p.m. Breakfast Boys
8:40-9 p.m. Synced Up
9-9:30 p.m. Chucho
9:30-10:30 p.m. It's in the Starts ft. Members of Astronomy Club
10:30-10:50 p.m. Naughty by Nurture
10:50-11:10 p.m. Throw Like a Girl
11:10-11:30 p.m. Cat and Vegas and the Temple of Boom
11:30-11:50 p.m. Hot Pursuit
11:50 p.m.-12:10 a.m. Improv Rebound Society (IRS)
12:10-12:30 a.m. Go Dummy
12:30-1:30 a.m. BIT SHOWS
Workshops
There are currently no events scheduled. Please view the full calendar for all upcoming events!
HEALTH AND SAFETY GUIDELINES
The health and safety of our patrons, vendors, volunteers, staff, and everyone attending our campus, buildings, and events is of the utmost importance to ArtsQuest and we have established a number of best practices and procedures based on guidelines from the CDC, City of Bethlehem and the Commonwealth of Pennsylvania. Please visit artsquest.org/safety to view our current health and safety guidelines.