A Stand-up Guy: An Interview with Tom Green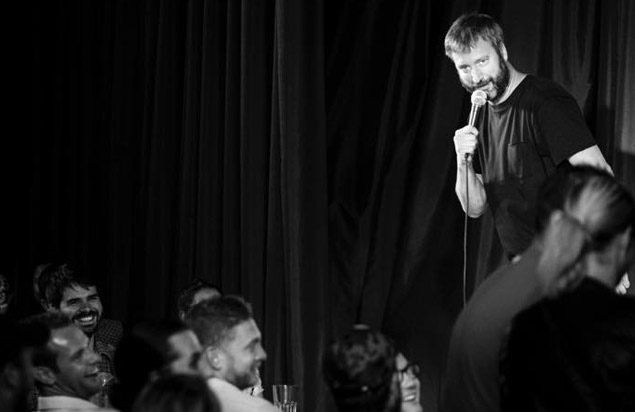 By Ben Youngerman, ArtsQuest Marketing Manager
You know Tom Green from his innovative, anything-goes run as the most unpredictable personality on MTV, and his unforgettable, deliciously loony roles in uproarious film comedies including Road Trip and Freddy Got Fingered. The multi-talented Canadian comedian, actor and broadcaster was a viral sensation before the dawn of social media.
Currently, in the role of a stand-up comedian, Tom Green travels the country connecting with fans and cultivating a new generation of followers.
Before he comes to the Musikfest Cafe presented by Yuengling on October 22, Green spoke with us on his way back from vacation while getting ready to hit the road on another stand-up tour!
ArtsQuest: We're excited to have you kick off and headline our inaugural SteelStacks Comedy Week in October! Have you been to our neck of the woods before?
Tom Green: You know what, I was in Bethlehem earlier this year. But it was Bethlehem, Palestine.
AQ: In Bethlehem, PA you'll be playing in front of the Bethlehem Steel Blast Furnaces where they made steel for World War II, the Golden Gate Bridge and the Empire State Building.
TG: That's amazing. That sounds like a great history there. It'll be neat to see that.
AQ: Most people know you from television and films. What is your background with stand-up comedy?
TG: I've basically been on tour for ten years now, pretty much full-time. I haven't seen my home in ten years; I've been touring so much. I've been doing 300 shows a year, frankly, doing more stand-up comedy than most stand-up comedians working today.
I started doing stand-up comedy thirty years ago when I was a teenager in Canada. I wasn't actually touring or doing stand-up while I was doing The Tom Green show on MTV so a lot of people at that time may not have known me as a stand-up comic.
But it's going great, I'm having a blast. I'm fortunate enough to have incredible fans all around the country and all around the world who have been very supportive of my stand-up. I have sort of a cult following for certain things I did over the years like my movies Freddy Got Fingered and Road Trip and The Tom Green Show. But also I have a whole new fan base who basically know me for my stand-up now.
AQ: What do you enjoy most about stand-up?
TG: Well, just performing itself is a real adrenaline rush. It's very active and exhilarating thing to do more so than making a television show or making a film. You know, it's exciting and you almost literally get addicted to it.
But I certainly love seeing new places. Like I said, I was just in Bethlehem, Palestine and touring all over the U.K., Australia, Scandinavia and all over the United States and Canada. It's great going to new places I haven't performed before. Meeting new people in different parts of the country who have grown up watching my show and movies and are now seeing me on stage for the first time. It's a lot of fun!
AQ: I was a fan of your MTV show when it originally aired. I recently re-watched some of your Tom Green Show field pieces on YouTube. I found them to be just as enjoyable in 2017. Was the goal to make a show that had that evergreen material?
The show was considered, I'm told, to be ahead of its time. We were doing self-contained, outrageous comedy video pranks and sketches sort of before anyone else was doing that guerilla format, homemade video. So it's sort of worked perfectly for the YouTube generation, if you want to call it that.
I think it's been a big factor in making my touring successful because there's so many different things I've done over the years where those videos have that evergreen quality like you mentioned. They're almost brand new again to a whole new generation of people right now. So it's a lot of fun.
AQ: What was the creative process for The Tom Green Show? How much of it was planned in advance and how much was you improvising in the moment?
TG: I'd say if you wanted to break it down it was 50/50. We would always create a scenario or stunt or sometimes it would revolve around a costume or revolve around a concept or a location for a prank. Then I would go out and improvise within that. Other times we would go out on a road trip and just travel around America and just look for outrageous or weird things. So it was a bit of both, you know? I think the show was a mixture of what we picked up when we were on the road shooting the stuff we planned. We had writers that were back at the studio. I worked with the writers and I wrote a very large portion of the show myself. Before we went to MTV we did the show for five years and I wrote the whole show myself with a couple of my friends and edited the show myself. It was a mixture of all sorts of things.
AQ: Your Instagram feed has been a lot of fun to follow. What's it like having a production crew in the palm of your hand, nowadays?
Yeah, you know, it's amazing. I grew up shooting video and studied broadcasting at school. I think it's helpful when you're shooting video with your phone to have a little bit of understanding of filmmaking and editing and shooting. But if you have at least a limited ability you're able to make some pretty cool movies just inside your phone.
Whenever I travel I shoot these little short films, just with my phone and edit them in my phone and post them every day. It's pretty cool. I'll be shooting some stuff for sure when I'm out in Pennsylvania, absolutely!
AQ: What are your thoughts on social media and the viral culture we have today?
TG: I have a love-hate relationship with social media. I talk about this in my stand-up regularly. I think there's a lot of humor to be mined from how social media has changed our lives. I'm sort of, in many ways, addicted to it, frankly, because I use it for my touring to promote my shows and let people know when I'm in their city. I also love making videos and really like photography. So I'm on there so often.
But you see all the different pitfalls from it, frankly, just from the sheer amount of time you become consumed in your phone. It's a cause of constant annoyance to me because I'm literally angry at myself for being on my phone so much. You just find your self addicted to, you know, let me read my comments on my Instagram page on the last video I made. I'm a 46-year-old man and I'm looking at my Instagram page like I'm a teenage girl. Frankly, it's a little bit embarrassing.
But, you know, I'm happy that I'm 46-years-old. I'm happy that I lived the first 30 years of my life without a cell phone. The first 35 years of my life without social media. I think I have a perspective that is good. I incorporate that into my show and draw comparisons between what life was before the internet, before cell phones. It's definitely a great source of material. I think so many people are addicted to their phones these days and addicted to their social media and updating their pages and what they're doing. Me included. I'm just getting back from a vacation now in Costa Rica and every day I'm posting some little tidbit of information. "Look, a lizard! There's a lizard!" It is fun but it becomes all-consuming and maybe a bit too much.
AQ: Through the years you were on a lot of late night programs. What's your favorite late night memory that you have?
TG: I have a few favorite memories, it's hard to pick which one stands out the most.
I'll say I was a huge David Letterman fan. I got to guest host The Late Show with David Letterman once. I got to host Saturday Night Live. I was a frequent guest on The Tonight Show with Jay Leno, I was on there over 25 times. I feel very fortunate that I kind of lived my dream as a kid just to be a guest on Letterman and then I got to host the show and I got to host SNL. It's been an incredible opportunity to do all of those things.
AQ: What is it about Canada that produces so many ground-breaking comedians?
My observation on it is, that as Canadians, we are different. We're very proud to be different, you know. We don't consider ourselves to be the same culture. There are so many parallels and things that are similar about Canadian culture. We watch a lot of the same television shows, sports, things like that. We also have many differences: we are big hockey fans, we were growing up in a very brutally cold winter environment which perhaps hardens you. It forces you to look for humor in things. I also think we have a British sensibility and a British sense of humor that is incorporated into our personalities. As well as French-Canadian sense of humor that is very silly.
Then from my own personal experience doing stand-up comedy and television and music in Canada. I was 28-years-old when I was picked up by MTV and moved to the U.S. at that point. I had been experimenting with comedy since I was 15. So for years I had actually been getting up on stage performing in Canada before anybody south of the border had even heard of anything I had done before. That's true of all the Canadian actors and comedians you've heard of. They all worked in Canada before so the first time they come out and are seen in the U.S. they maybe have had a little more practice, tried a few things, experimented and failed a little bit more than people who are just starting out. So I think that's also helpful, as well. It's just sort of a great launching pad for so many great Canadian comedians.
We also grow up looking up to people who made it in Hollywood. I grew up watching so many Canadian people like Dan Aykroyd, Martin Short, Jim Carrey, Mike Myers, Lorne Michaels and all those Canadian people in comedy who have done incredible things. You grow up as a kid seeing that and aspiring to follow in their footsteps so I think there's a lot of that, too.
AQ: Anything else you'd like to tell the fine folks of Bethlehem before you visit for SteelStacks Comedy Week on October 22?
TG: We're gonna have a great time! Follow my Instagram, because like I said, I'm on there all day. C'mon down to the show, we're gonna have a fun time!