Käthe Wohlfahrt Unveils Limited-Edition Ornament to Celebrate Christkindlmarkt Bethlehem's 25th Anniversary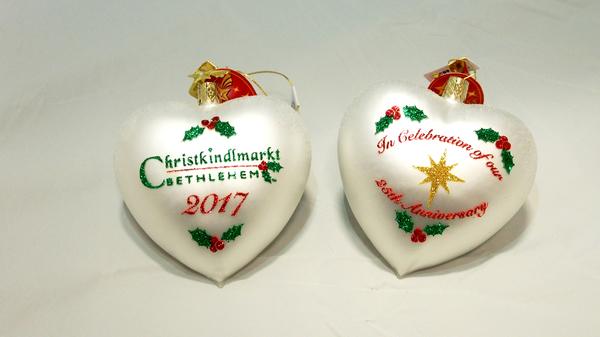 As Christkindlmarkt Bethlehem gets set to celebrate its Silver Anniversary this holiday season, the popular holiday marketplace and renowned German ornament Käthe Wohlfahrt are pleased to announce a limited-edition Christkindlmarkt 25th Anniversary Ornament to commemorate the special occasion. The 25th anniversary ornament – the first ever created by Käthe Wohlfahrt exclusively for a North American Christmas market – is on sale now for $19.99 plus tax at www.christmascity.org and the ArtsQuest Center Stacks Shop, 101 Founders Way, Bethlehem. It will also be available at Christkindlmarkt Bethlehem, 645 E. First St., Bethlehem, when the event kicks off its 2017 run starting Nov. 17.
Famous for its nutcrackers, incense smokers, pyramids, schwibbogens, and wood, glass and pewter ornaments, Käthe Wohlfahrt is the premier source of high-quality Christmas items handcrafted in Germany. Preserving and supporting traditional German craftsmanship since 1977, the company offers its exclusive products to North American customers through its website, www.ChristmasFromGermany.com, and at Christmas markets throughout the U.S and Canada. At Christkindlmarkt Bethlehem, attendees will find more than 2,000 Käthe Wohlfahrt products ranging from nutcrackers and incense smokers, to a large selection of handcrafted ornaments.
"We're thrilled to work with the nonprofit ArtsQuest on this special collectible, since Käthe Wohlfahrt has been attending Christkindlmarkt Bethlehem longer than any other holiday market in North America," says Steve Thoreson, President of Käthe Wohlfahrt North America. "In celebration of our longstanding relationship and the 25th year of Christkindlmarkt Bethlehem, we are proud to offer our first-ever custom designed ornament for a North American Christmas market."
Established in 1993 by ArtsQuest, Christkindlmarkt Bethlehem is a one-of-a-kind family event that brings the spirit of Bethlehem alive with the season. Twice named one of the best holiday markets in the U.S. by Travel + Leisure, the event showcases a diverse array of artisans and vendors, attracting visitors from near and far with its combination of old-world charm and its unique shopping experience. In addition to aisle upon aisle of handmade works by the nation's finest artisans, the market features a German St. Nicholas, glassblowing demonstrations, live holiday music and authentic German favorites like wursts, strudel and lebkuchen.
Christkindlmarkt 2017 dates are Nov. 17-19 and 24-26; Nov. 30-Dec. 3; and Dec. 7-10, 14-17 and 21-23. For more information, visit www.christmascity.org/christkindlmarkt/.