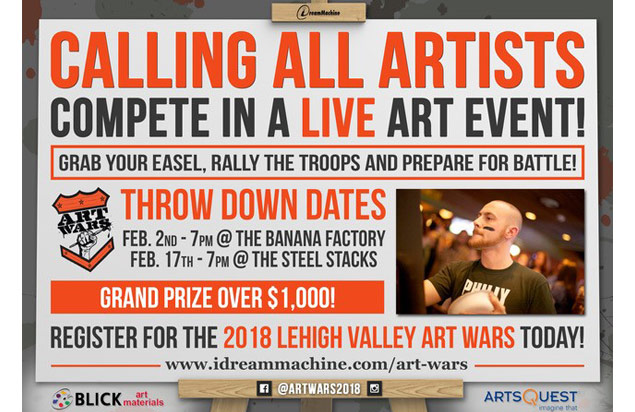 Lehigh Valley Art Wars Throw Down (Round One)
Friday, February 2 · view days & times
Venue: Banana Factory
Art Wars are live events, held in different cities throughout the United States. The goal is to provide an entertainment experience by getting the artist out of the studio and sharing their creative workflow with an audience.
Sixteen Art Warriors are chosen by public voting at an open-call "Throw Down". Art Wars is a round robin type of tournament where four artists compete at each battle. Two artists from each one move on to the next round. The sixteen artists are narrowed down to eight, to four, and eventually to one winner.
At each battle the artists have two hours to create their piece of work based on a theme provided just before the countdown begins. The artwork is then voted on by the audience and a secret jury. A voting ticket is $5, and half of the ticket sales at each event are split between the four artists competing, the remainder funds the grand prize of at least $1000.
Interested Artists can apply to participate here: http://idreammachine.com/art-wars/
Video overview: https://vimeo.com/246429890
Schedule
Venue Information
Banana Factory
25 W. Third Street
Bethlehem, PA 18015
610-332-1300
map & directions