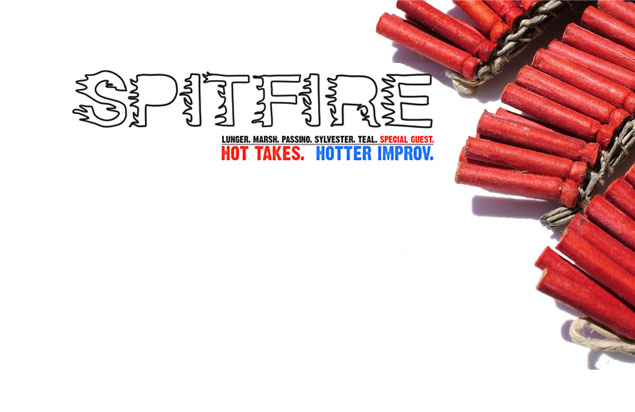 Spitfire
June 15 – December 21, 2018 · view days & times
Price: $7 | $6.50 students & seniors | $6 ArtsQuest Member
Venue: Frank Banko Alehouse Cinemas

Buy Tickets
Doors: 10:15 pm | Show: 10:30 pm
Spitfire is a comedy show full of hot takes and even hotter improv!
Each show is completely improvised and features hot takes on audience-determined topics, delivered by a very special guest, which are then transformed into improvised, comedic gold. It's fast-paced, laughter-fueled mayhem that will kick the crap out of your terrible day (or make your already good day even better).
Starring Jon Lunger, Cindy Marsh, Justin Passino, Erica Sylvester, and Addyson Teal.
May's special guest is Steve Kleinedler! Steve will be teaching the workshop "Strong Initiations" on Saturday.
Steve has been improvising on and off for the past 35 years and consistently since 2000. He graduated from the Players Workshop of Second City in 1987 and from ImprovBoston in 2002. He taught at ImprovBoston from 2003-2011, and has taught at PHIT since moving to Philadelphia in 2011. He's taught workshops in Baltimore (BIF), Boston, Chapel Hill (NCCAF), Chicago, Detroit (DIF), Providence (PIF), Philadelphia, Pittsburgh (PCF), San Juan, and Sarasota. For ImprovBoston he directed the Improv Boston Family Show, the sketch team The Ruckus, the improvised Shakespearean show The Robert Cycle, and the Memento-inspired BackStory. Currently for PHIT he co-hosts The Dean's List and directs With Mirth & Laughter, an improvised show in the style of Shakespeare. He also coaches indie team Neighborhood Watch.
This show will contain adult language and/or situations. Anyone coming in between the ages of 13 and 17 must be accompanied by a parent or guardian. No child 12 or under will be admitted.
Schedule
Venue Information
Frank Banko Alehouse Cinemas
ArtsQuest Center
101 Founders Way
Bethlehem, PA 18015
610-297-7100
map & directions