Top Songs of 2015:
ArtsQuest Staff Picks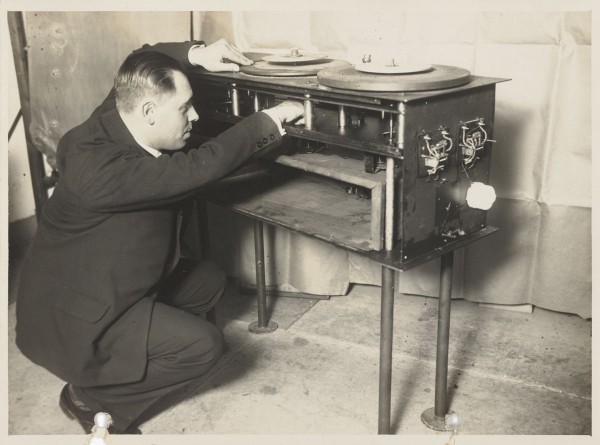 None of the ArtsQuest staff would work here if they didn't live for music and the arts. To share our passion, we put together a list of top song choices from 2015. We hope you'll enjoy our eclectic mix of musical tastes and discover some great new tunes.
EDITOR'S NOTE: Since he's in charge of booking most of our acts throughout the year, we let Patrick pick his Top 5 and gave him top billing. The rest of our staff picked their favorite song and they're listed in order of when the pick was submitted (slackers are at the bottom).
CLICK HERE FOR OUR SPOTIFY PLAYLIST
Patrick Brogan – Senior Vice President of Programming
1. MisterWives – "Our Own House"
I can't stop playing this song. In truth, I can't stop playing this whole album (Reflections, Not Your Way, Best I Can Do all solid entries competing for this spot) of which I am choosing the title track as my favorite single of the year. It is playful and fun, catchy, and simply makes me want to dance. I can't sit still listening to this song. It was an instant hit with my three kids too and has been regularly requested by them alongside Taylor Swift & Meghan Trainor in the car. And I can't get enough of Mandy Lee, the lead singer for MisterWives, you can't take your eyes off of her and her bandmates as they have fun through the whole video.
2. Nathaniel Rateliff & the Night Sweats – "S.O.B."
I love funky, soulful, Americana rock music like St. Paul & the Broken Bones, Sharon Jones & the Dap Kings, and along comes this single this year from breakout artist Nathaniel Rateliff. A little country, a little soul, a little rock, it is a fun jaunt into a nostalgic sound of American music. His vocals are gritty and the band is barroom hot. I can listen over and over again.
3. Florence & the Machine – "Ship To Wreck"
If you know me, you know my passion for Flo. We're on a first name basis, obviously. This driving rock anthem is filled with big chords and gutty emotions. It is catchy, yet powerful and even angry. I find it hauntingly beautiful, stunning, and the next level of sophisticated pop from Florence & her band.
4. The Wombats – "Give Me A Try"
While their album Glitterbug came out early in 2015, my favorite song off of it was a single as early as 2013 Your Body Is A Weapon, so I picked my favorite single from the album released this year –Give Me A Try. I like it for the sing-song bridge to the chorus and the drop that starts the chorus. That whole section from "London can try….…the drug that doesn't bite" is just fun and I particularly love the more acoustic rep of it later in the song. In a current wave of Brit rock bands, The Wombats turned in a solid album at the start of the year.
5. The Weeknd – "Can't Feel My Face"
This is my most pop entry in a year of some great pop from Mark Ronson to Drake to another favorite of mine Selena Gomez (can't stop playing her songs right now), but The Weeknd ruled the year break-out pop wise with Beauty Behind The Madness. While I loved the sultry and suggestive Earned It, Can't Feel My Face is the party anthem of late summer for me.
Ben Youngerman – Marketing Manager
Ghost – "Cirice"
Ghost is the total package. Their imagery and music is interwoven to create the ultimate musical experience. The Swedish doom metal band may look scary, but the mix of melody and traditional metal sound remind me of a more modern Blue Oyster Cult/Black Sabbath hybrid. From their incredible 3rd album, "Cirice" is a GRAMMY nominee for "Best Metal Performance". They got the chance to perform the song on national television for Stephen Colbert, a rarity for metal bands nowadays.
Brittany DeSantis – Graphic Design Assistant
Pentatonix – "Sing"
Its catchy, and always make me want to get up and dance. As someone who sings everywhere I go (loudly, quietly, publicly or to myself at my desk or in the car), "Sing" just resonates with me because it expresses perfectly how I feel whenever I sing or listen to music. It lifts my spirit and just makes me feel lighter, like I can handle anything.
Chris Stubbe – Volunteer & Internship Programs Coordinator
Eagles of Death Metal – "Save a Prayer"
This album is by far my favorite release in a year of amazing albums across the board. It was really difficult for me to make a choice regarding which song to pick, but I ended up with Save a Prayer because a) Duran Duran played Musikfest this year and absolutely killed it! One of the best shows I've seen in years, and b) This rendition is haunting and beautiful. It's worth noting that Duran Duran and EODM have recently declared that all of the proceeds from this song will go to charity in light of the Bataclan shooting in Paris this year.
Michelle Veresink Richmond – Membership Manager
Hamilton (The Musical) – "My Shot"
The music for the whole musical Hamilton is just amazing. The lead actor and composer Lin-Manuel Miranda has such a talent for sewing together these awesome melodic ideas and words. On top of that, I love that it takes history and presents it in a very new and interesting way. The songs are just so complex and I hear something new in them every time I listen.
Kailee Baylor – Public Relations Coordinator
Smallpools – "Killer Whales"
I am in love with this song. No matter what my day was like, this song always makes me want to dance. Definitely turn-it-up-so-loudly-that-everyone-on-the-bus-can-hear-it-and-stares-at-you-but-you-don't-care-because-it's-so-catchy worthy.
Ryan Hill – Programming Director
Hot Chip – "Dancing in the Dark"
I know it's a little cheap to pick a cover as your favorite song for a whole year in which a lot of great original music was made (I specifically liked the new Chvrches, Father John Misty, and Grimes releases), but I put this song on repeat for a good month or so, which I hadn't done with any other 2015 release. Bonus points for throwing in LCD Soundsystem's "All My Friends" into the mix, and for providing a excellent counterpoint to Pete Yorn's stripped down version of "Dancing in the Dark" from 10 years ago.
Russ Waterhouse – Operations Assistant
Kurt Vile – "Pretty Pimpin"
I've been listening to Kurt Vile's music for a long time, and "Pretty Pimpin" is up there with his early classics. I was hooked the first time I heard it.
Hilary Harper – Sr. Manager of Visual Arts
St. Paul & The Broken Bones – "Call Me"
I'm loving this on-going resurgence of artists who could have been recording decades ago.
Jon Lunger – Marketing Director
Nathaniel Rateliff & The Night Sweats – "S.O.B."
Asa former saxophone player, I've always got my ears open for pop songs that utilize horn sections. Additionally, I was one of those guys who lost his mind when the "Oh Brother Where Art Thou" soundtrack came out. This track is so fun – it brings that folky Appalachian thing together with Nuevo-soul goodness. Plus, it kinda swears a little bit (by 1960s standards, at least). Also, I'm a sucker for large groups clapping in unison.
Nicole Dotta – Director of New Business Development
Thomas Rhett – "Crash and Burn"
Tt makes me (and my 3 year old) break out in spontaneous dance anytime we hear it!
Mike Matuczinski – Web Development Manager
Sister Sparrow & The Dirty Birds – "Mama Knows"
With a throwback mix of R& B, soul, funk and blues how can you not like Sister Sparrow and the Dirty Birds? Their song 'Mama Knows' gets my vote. The super sticky chorus of 'You ain't got love then you ain't got nothin' is icing on the cake. Here's a live version that's almost as good as their SteelStacks performance.
Jimil Ataman – Volunteer & Internship Program Coordinator
Courtney Barnett – "Elevator Operator"
The whole album (I Just Sit and Think, And Sometimes I Just Sit) is really great, but this song is my favorite because it highlights her unique ability to write a song better than most people write novels.
Emily Martin Fickes – Marketing & Development Coordinator
Father John Misty – "I Love You, Honey Bear"
This concept album is a raw account of Josh Tillman's personal life and relationship with his wife Emma. You can really feel the love in the most honest way. Its adorable and entrancing, and surely not lacking soul.
Rebecca Hannon – Retail Operations Manager
twenty one pilots – "Tear in My Heart"
I just got into them last year and they have quickly become my favorite band! They are going to be HUGE- keep an eye out for them!
Nicole Willers – Ticket Services Manager
Bomba Estéreo – "Mar (Lo Que Siento)"
The passion in Bomba Estéreo's music for me transcends past language barriers as you can feel the music and loose yourself in it. But what is special about this particular song is the lyrics. She talks about "flying around the world non-stop when it was found inside what he wanted close to my happiness will live in a House by the sea" meaning she is searching all over the world for what has been right in front of her all along, in a little house by the sea……. "only what I feel is only a moment" – all I can think is Pura Vida (enjoy life)!
Curt Mosel – SVP of Marketing & Corporate Partnerships
X Ambassadors – "Renegades"
I like the message about overcoming challenges.
Autumn Fink – Customer Experience Representative
WALK THE MOON – "Shut Up and Dance"
It's a catchy dancefloor hit with a frequent chorus and a bop-worthy drop, but I think that the true magic and fun of "Shut Up and Dance" is the memory it inspires in me. I just graduated from college, and for the close-knit DeSales Theatre Class of 2015, it was "our song." Somewhere in the beat and the surface lyric was a confidence that seemed to overwhelm all of us. Anything was possible if we just allowed ourselves to be swept away by a dream or passion. Now we're scattered from Bethlehem to Broadway between East and West coasts and across the pond, but life is happening for all of us!
Chuck Kuczynski – Director of Donor Relations
JJ Grey & Mofro – "Every Minute"
Good old soulful southern sermon to the people, it's a song that lives as a reminder to focus on the good that is around us everyday. Derek Trucks offering his talents to a ballad about how much we have within us. You can almost feel the warm rays shining through in this song. Makes me smile on a cloudy day.
Lauren McAloon – Performing Arts Coordinator
The Japanese House – "Sugar Pill"
Captivating from the her first note! The Japanese House is brilliant and I can never stop listening to each song.
Andrew Suborits – IT Assistant
Muse – "Reapers"
This is my favorite song from 2015 because it's just an intense, fast-paced rock song. It has a powerful riffs and a face melting guitar solo.
Helen Smith – Programming Specialist
Foals – "Mountain at My Gates"
One of many favorites from 2015…the lyrics are absorbing and I love the build-up to the end. I'm also a sucker for that psychedelic guitar sound.
Rhonda Gillespie – VP of Finance
Phillip Sayce – "Out of My Mind"
I love this guy and happened to just stumble across him on YouTube one day, then realized he had an album coming out in 2015, "Influence". This is Philip Sayce (from Canada, former guitar player for Melissa Etheridge and also with Jeff Healey). This video clip is one of my faves of 2015 because it is one off his new album and demonstrates the power this guy (and his trio) have. This guy live is something to see and hear if you're a blues/rock/psychedelic blues fan.
Cindy Karchner – VP of Human Resources
The Mavericks – "All Night Long"
Stacie Brennan – Senior Director of Visual Arts Education
Leon Bridges – "Smooth Sailin'"
I love the way Leon Bridges infuses multiple music genres and bridges old school and contemporary music.