Top Songs of 2016:
ArtsQuest Staff Picks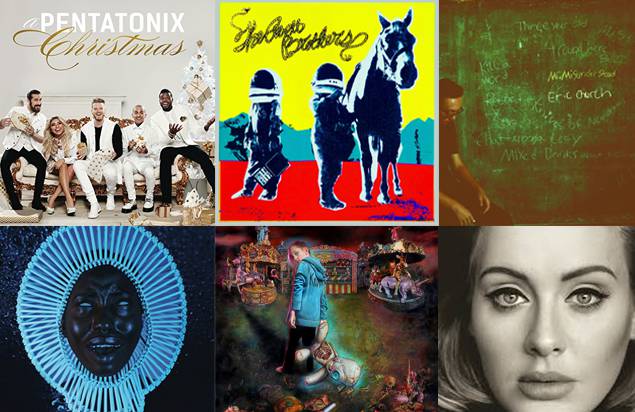 None of the ArtsQuest staff would work here if they didn't live for music and the arts. To share our passion, we put together a list of top song choices from 2016. We hope you'll enjoy our eclectic mix of musical tastes and discover some great new tunes.
EDITOR'S NOTE: Since he's in charge of booking our major acts throughout the year, we let Patrick pick his Top 5 and gave him top billing. The rest of our staff picked their favorite song and they're listed in order of when the pick was submitted (slackers are at the bottom).
CLICK HERE FOR OUR SPOTIFY PLAYLIST
Patrick Brogan – Chief Programming Officer & Manager of the ArtsQuest Center
1. The Record Company – "Off The Ground"
It's gritty, a little dirty, blues, soul, rock and roll. I want to hear this in a bar room somewhere. The slide guitar licks as well as distorted bass and drums run in stark contrast to some of the more clean pop songs on my list, but I'm digging The Record Company's sound just as much. Frontman Chris Vos, who grew up on a dairy farm in Wisconson, has vocals filled with determination and power.
2. Mondo Cozmo – "Shine"
It's a sing-a-long anthem. Joshua Ostrander (of Eastern Conference Champions) is here with his group Mondo Cozmo and they could easily take SiriusXM Radio by storm with some of their singles like Shine or Hold On To Me. But their live show is supposedly one that knocks it completely out of the park so look for them on festival lineups all over the country in 2017. See for yourself!
3. Hippo Campus – "Suicide Saturday"
Refreshing in rhythm, though not necessarily in message, this single is one of the catchiest refrains of the year for me that I have somewhat regularly found myself humming. Hippo Campus, from Minnesota, has another single "South" equally worth checking out with some beautiful, sweeping melodies.
4. The Avett Brothers – "Ain't No Man"
It's no secret I'm a fan of the indie folk rockers from Mount Pleasant, NC. This year's release of "True Sadness" featured some great singles very much in the vein of their music like Fisher Road to Hollywood and my kids' favorite on the album Smithsonian. But it was the slightly pop gospel feel of "Ain't No Man" that I had on repeat for much of the spring/summer after its release. It's a fun, uplifting, sing-along which captures a bit of the Avetts' live show magic. Plus the video is one of the more entertaining they have every put out.
5. Two Door Cinema Club – "Bad Decisions"
A heavy 80's influence from these Irish indie rockers, it's a beat that moves you from start to finish through the song. I like the guitar line along with the synth throughout. Bad Decisions devolves into a bit of a messy party anthem in parts and, typical of TDCC, keeps your feet moving the whole time.
Ben Youngerman – Marketing Manager
Korn – "Rotting in Vain"
20+ years after their eponymous debut reinvented heavy music, Korn is still bringing the brutality. When most of their nu-metal contemporaries have fallen, Korn's album "The Serenity of Suffering" is the band's best work since 2002. The Grammy-nominated lead single "Rotting in Vain" has all the elements of a great Korn track: an eerie buildup, killer riffs, Jonathan Davis's scat vocals and passionate lyrics. It's a fresh take on their classic sound that has amped up this Korn kid for two decades.
Jon Lunger – Director of Marketing
Kyle Dixon & Michael Stein – "Stranger Things (Main Theme)"
Holy. Crap. This. Show. Is. Everything. If you haven't watched this Netflix show yet, what are you waiting for? Also where have you been all year? It's John Carpenter meets Stephen King meets Steven Spielberg. The eerie synth theme perfectly captures the vibe of the show, but what I really love is the remix of Childish Gambino on top of it.
Nicholas Michael – Business Development Manager
Parquet Courts – "Human Performance"
It is a flawless tune. Quirky, silky, smooth and jagged all in one place. Best single from the best album that I have heard all year.
Alexis Slavish – Ticket Services Assistant
Adele – "Hello"
I just like Adele's music!
Chris Stubbe – Volunteer & Internship Programs Manager
Childish Gambino – "Boogieman"
2016 seems to be the year where Hip Hop and R&B began to make a conscious effort of getting back to their roots; from funk influences in R&B releases like Bruno Mars and The Weeknd, to a return of the poetic flow and heavy jazz roots within Kendrick Lamar and Frank Ocean's latest. Childish Gambino takes all of these influences and lays them out in "Awaken, My Love!" a flawless 49-minute album that exudes nostalgia. "Boogieman" itself stands out to me the most for it's undeniable Frank Zappa inspired oddness.
Helen Smith – Talent Buyer
Wild Nothing – "To Know You"
"To Know You" is such a cool song from this year. Wild Nothing's whole album, "Life of Pause," is an outstanding work of artistry in the music world in my opinion, but this particular song stands on its own. I picture myself in a club in the 80's dancing to it. I defy anyone NOT to dance to it! Its airy melody and synths drive the listener along like they're in their car in some John Hughes movie. Then they crack a smirk and the credits start rolling. I'm also a big fan of the melodic line that's reminiscent of Talk Talk's "It's My Life." Synths forever.
Joann Ring – Director, Office of the President
Adele – "Sweetest Devotion"
First of all, Adele's voice is unparalleled. But the lyrics on this show empowerment over past emotions while still being vulnerable to share those emotions and discover new ones.
Emily Cummins – Public Relations Coordinator
Bruno Mars – "24K Magic"
No shame. The only thing bad about this song is that it came out too late to be my summer jam. Homage-pop, electro-funk revival… I don't care what you call it, I love it.
Cory Stelzman – Performing Arts Coordinator
Lucius – "Almost Makes Me Wish For Rain"
Picking one song from 2016 was near impossible, but I ultimately landed on this song because it has a bunch of qualities that are important to me. First, it's catchy and one of those songs I could probably play in a room full of people with different musical interests and it wouldn't be skipped for Taylor Swift (I hope). Second, I can listen to it repeatedly and then come back to it a week or so later and still not be sick of it! (Cool.) Third, I saw them perform this song this past year at SXSW and it was all around awesome. Their whole look and sound is fun and unique.
Linda Colonna – Accounts Payable Specialist
Broods – "Free"
It has been quite the year of sifting for me, and this song has been a go to of mine through all of my expected (and unexpected) losses this year. On the other side of each situation, however, came an immense amount of freedom. She captures the mix of emotions so perfectly in this song and because of that, and many other reasons I cannot disclose, this is my favorite song of 2016. Enjoy!
Rhonda Gillespie – VP of Finance & Controller
Tedeschi Trucks Band – "Anyhow"
Tedeschi Trucks is one of my favorite bands, and this tune is certainly one of my most played in 2016. I can listen to it over and over, and never get sick of it. It's about loving again after betrayal and while the message itself is a great one, Susan Tedeschi's voice is also just so pure and full of emotion, backed by those horns and her husband Derek Trucks' slide guitar – you cannot help but get lost in all that raw talent and almost forget about the lyrics. I stumbled upon this video which actually made me love the song even more. You feel like you are right there with them, chilling out in their studio watching these gifted musicians all around you doing their thing. This tune is an instant mood lifter for me.
Abby Cooke – Human Resources Assistant
Pentatonix – "Hallelujah"
I love acapella music, and this cover by Pentatonix is absolutely chilling. Every time I listen to this song I get goosebumps from the harmonies. Bottom line: it's awesome.
Stacie Brennan – Sr. Director of Visual Arts
Aurora – "Lucky"
A favorite song for our family. The lyrics and melody are very inspirational and uplifting. I love hearing my little girls sing the lyrics around the house.
Michelle Veresink Richmond – Membership Manager
Andrew McMahon in the Wilderness – "Fire Escape"
I have loved Andrew's music since his Something Corporate days when I was in high school and college. I have loved watching his career develop and listening to all of the new music that he created at every stage. I love this song because it has a bit of a catchy new vibe to it, but yet it is so authentic and true to the musician he has always been.
Teena Renfrow – Box Office Manager
Eric Church – "Record Year"
I heard this song the first time on an awards show and it immediately grabbed me. It reminds me of growing up with my parents flipping thru their 45's, never listening to the whole song but Dad putting one on and Mom just getting into dancing to it until he pulled it off to put another one on. Even now when I visit, he still loves putting on different vinyl listening to snippets of them. Even though it is a sad song, so many of these musicians were a part of my childhood and besides really loving the sound of it, it is sentimental for me.
Brittany DeSantis – Graphic Design Assistant
Te Vaka & Lin-Manuel Miranda – "We Know the Way" from Disney's Moana
I love the rhythm of the song and the native language used in the beginning. There is just something about listening to music where I don't understand the lyrics that makes me appreciate it more as a whole. I also adore the lyrics in English in the second half of the song and the message it has, speaking to the heart of the wanderers and travelers. It is the perfect song for this film, encompassing the core themes of adventures and home. The music also supports the lyrics well, the Island/Tribal feel of the drums in the beginning give it a cultural taste and set the tone, and then the addition of strings and various instruments throughout the first verse building up to the end makes me feel like I'm about to go on an adventure.
Hillary Harper – Senior Manager of Visual Arts
Childish Gambino – "Redbone"
This whole album was a shock to my system. After loving Donald Glover on Community, hearing these songs was like finding out your crush nurses sick puppies back to health ON TOP OF being a stone fox. Good stuff.
Mike Matuczinski – Web Development Manager
Metallica – "Spit Out the Bone"
Someone had to do it. A return to form for the band and the songwriting duo of Hetfield/Ulrich. Big riffs, great guitar harmonies and one of the best vocal performances the band has put to tape… or computer. Not perfect but what is?
Angel Gable – Graphic Arts Manager
Bishop Briggs – "River"
There's just something about the vocals on this song. They're strong, raw and primal. The song is sticky, gets caught in your head. It makes me want to crank the volume in the car and sing.
Matthew Gotzon – Partnership Activation Specialist
Childish Gambino – "California"
If you know anything about Childish Gambino (Donald Glover) it's that he is incredibly talented in every spectrum of entertainment. He wrote for 30 Rock, acted on Community, had an hour-long stand up special, has made several Rap/Hip-Hop albums and mixtapes, and most recently created/wrote/directed/acted in the spectacular show Atlanta. Yet it's still surprising to see that he could come out with a funk album and absolutely crush it. "California" is one on my favorites from the "Awaken, My Love" album, but I suggest you listen to it all!
Ryan Hill – Programming Director
Chance the Rapper feat. Saba – "Angels"
Maybe I needed my favorite song in a total ****box of a year to be upbeat, or maybe this track is just damn solid. It's actually both of those things.
Nicole Dotta – Director of New Business Development
Old Dominion – "Snapback"
Old Dominion is without question my favorite band of 2016. Every song is playful and fun, especially one of their biggest hits of 2016, "Snapback." The song's lyrics are clever and catchy and was the #1 requested tune this summer by my little boys.
Kassie Hilgert – President & CEO
Mondo Cozmo – "Shine"
Growing up in the rock opera era, this songs harkens back to some of those tracks with the choir backing up the chorus. His voice, with its overtones of Bob Dylan, is restrained and soulful with lyrics that are at once melancholy and hopeful. From a brass section to a grinding guitar solo, this song covers and evokes a range of emotions.
Gerard Longo – Event Staff
The Wayside Shakeup – "Stay Up"
As anyone who contributes to the local music scene would know, chasing our passions requires a lot of late nights and long drives, which often affects our relationships with the ones we care about most. Philly's The Wayside Shakeup captured that brilliantly behind the sensitive, yet rugged vocals of Rob Volansky and the horn accents of Swift Technique's Greg Rosen.
Lisa Harms – Director of Education & Outreach
Bon Iver – "22 (Over Soon)"
Haunting and cryptic, the songs on Bon Iver's latest album conjure up a broad range of emotions. Sometimes soothing, sometimes unsettling, the melody of 22 (Over Soon) draws you in and stays with you.
Chuck Kuczynski – Director of Donor Relations
Hamilton Leithauser and Rostam – "Peaceful Morning"
The twang of a plucked banjo, depth of vocal harmonies, the subtle acoustic bass in the background, elements that speak to experiences and memories of places and people, all with the anticipation of the next meeting. There is a warmth in the crooning vocals of former Walkmen front man, Hamilton Leithauser while Rostam (of Vampire Weekend) has helped produce an inspiring narrative of timeless adventure, ghosts of a previous life, existence of a future filled with relationships, inspiration, hope, and boundless positivity waiting to be found in the next encounter or radiant dream.
BONUS SPOTIFY PLAYLIST!