Race Your Dog in the Annual Dachshund Races at Oktoberfest at SteelStacks Oct. 8, 14 & 15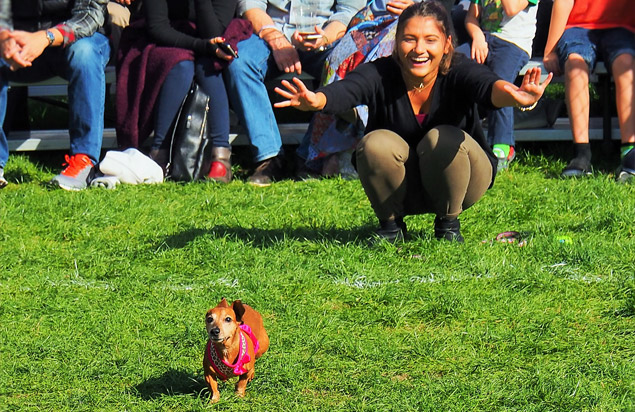 Photo: David Happel
September 8, 2017
On your bark! Get set! Register! The annual running of the wiener dogs is back at Oktoberfest at SteelStacks with more furry fun than ever as ArtsQuest adds a third dachshund race for 2017. Join in the festivities by entering your fast, four-legged friend in the popular and absolutely unforgettable Dachshund Races Oct. 8 & 15, 3 p.m., and Oct. 14, 4:30 p.m.
The registration fee is $15 per dachshund and pre-registered dogs receive a doggie bag featuring pet-themed gifts. To register, visit steelstacks.org/oktoberfest. The event is limited to 50 dogs per race.
On race day, check-in begins one hour before the event. To compete in the races, dogs must be dachshunds or closely resemble dachshunds. If the excitement of a bunch of racing puppies isn't enough, the first, second and third place winners of each 50-foot race will win puppy pride, bragging rights and an Oktoberfest Dachshund prize package!
Now in its 7th year, Oktoberfest is a free festival that features German food, beer and live music, as well as attractions like the Great Lakes Timber Show, the Burning Hearts Fire Show, the Hasselhoff-Off, the new Hobby Horse Bonanza and more. Festival dates are Oct. 6–8 & 13-15. Hours are Fridays, 5-10 p.m.; Saturdays, noon-10 p.m.; and Sundays, noon-6 p.m. Partners helping to make the free event possible include D.G. Yuengling & Son, as well as Adams Outdoor Advertising, Service Electric Cable TV & Communications and 99.9 The Hawk.