SoccerFest & Viewing Party Returning to SteelStacks for World Cup Russia in 2018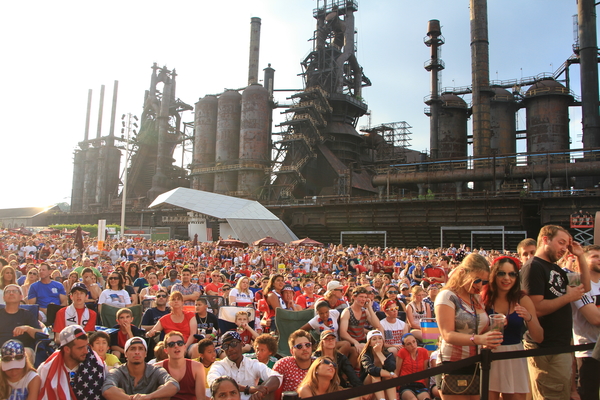 Community invited to watch U.S.A.'s matches Oct. 6 & 10 at SteelStacks as the team fights for a berth in soccer's biggest tournament
October 2, 2017
Following successful runs in 2014 and '15, the popular Lehigh Valley SoccerFest & Viewing Party at SteelStacks will return in 2018 to showcase all the action from World Cup Russia on the giant outdoor screens at SteelStacks. And, to help the region get pumped for next year's World Cup action, the community is invited to gather at SteelStacks later this week to cheer the U.S. Men's National Team on to victory as it fights to earn a spot in soccer's premier tourney.
The last two U.S.A. qualifying matches for the 2018 World Cup – Oct. 6, 7 p.m., vs. Panama and Oct. 10, 8 p.m., against Trinidad & Tobago – will be shown on the large outdoor television screens at the Levitt Pavilion and PBS39 on the SteelStacks campus. Oct. 6 also marks the opening night of the Oktoberfest 2017 festival on the SteelStacks campus, with plenty of food, fun and festivities taking place throughout the evening.
Launched in 2014, the Lehigh Valley SoccerFest & Viewing Party aired the matches from World Cup Brazil that year on a giant outdoor television screen set up on the SteelStacks campus. As the U.S. battled Portugal, Ghana and Germany in the preliminary round, crowds of up to 10,000 people gathered on the campus to show their support for the team. The following year, SteelStacks also hosted a Women's World Cup viewing party, with more than 8,500 people turning out to watch the U.S. women's team defeat Japan on July 5.
"The Lehigh Valley SoccerFest & Viewing Party at SteelStacks brought our community together en masse for a unique celebration of sports and culture," says ArtsQuest Chief Operating Officer Curt Mosel. "As in 2014 and '15, we will be seeking approval to be designated as an official FIFA World Cup viewing event."
"We were beyond thrilled how the community so readily embraced this new festival a few years ago, with more than 50,000 people attending the viewing party during its 2014 run. Their enthusiasm and their support helped garner national media attention for Bethlehem and the Lehigh Valley, with coverage via ESPN, USA Today and a number of other prominent media outlets. We've just begun planning for 2018, and we're hoping that everyone will come out Friday to cheer the U.S.A. on to victory and let us know how excited they are about the return of SoccerFest."
World Cup Russia is set for June 14-July 15, 2018. During the 2018 SoccerFest & Viewing Party, SteelStacks will air all of the matches from Russia on the campus' outdoor screens (screens and locations TBD). In addition, the festival will offer a variety of soccer and family related programming including live music, arts and soccer clinics, including a free soccer clinic for children with disabilities. Among the partners already confirmed to participate in SoccerFest 2018 are Discover Lehigh Valley, Klunk & Millan Advertising, Garfield Group and Lehigh Valley United.
"The Lehigh Valley SoccerFest showcases the incredible cultural diversity and passion of our visitors and local residents," says Discover Lehigh Valley President Mike Stershic. "We score a goal any time we have the opportunity to demonstrate to our visitors the Lehigh Valley's passion for soccer, as well as its ability to bring together diverse groups of people for sport and fun."
Additional details on the Lehigh Valley SoccerFest will be announced over the coming months. For more information, visit www.discoverlehighvalley.com/soccerfest or like www.facebook.com/LVsoccerfest/.