PEEPSFEST: A Sweet Celebration!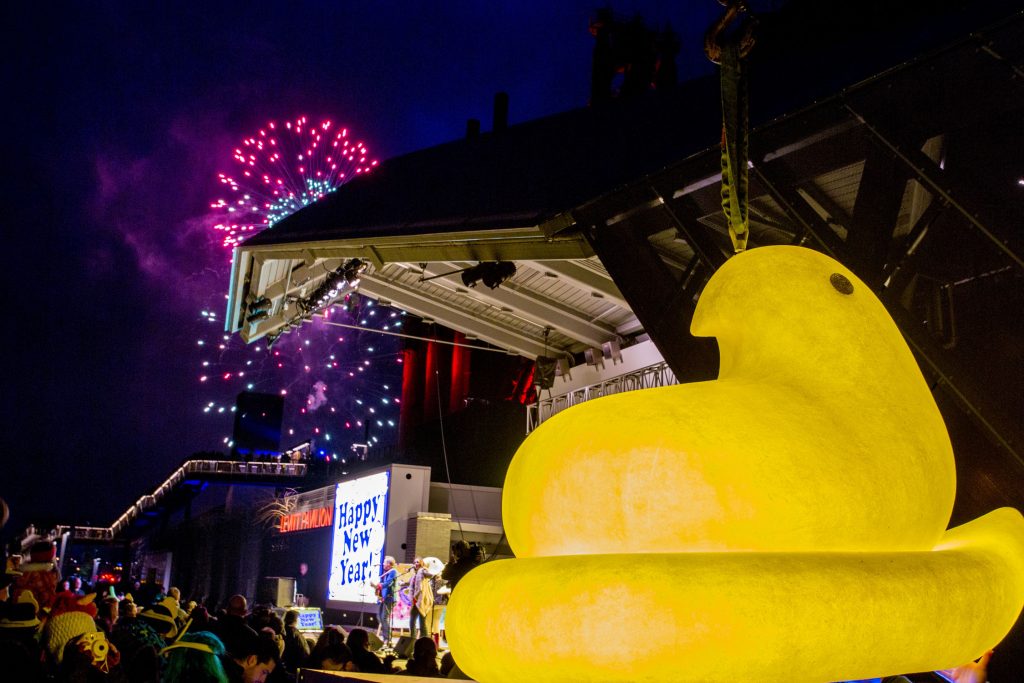 In Atlanta, Ga. they drop a peach, in Boise, Idaho it's a potato, cheese gets dropped in Plymouth Wis. and in Bethlehem, Penn. Just Born Quality Confections and ArtsQuest drop a 400-pound PEEPS® chick.
Calling Bethlehem home, Just Born is a third generation, family-owned candy manufacturer that has been in business since 1923 and is known for iconic brands including PEEPS® Brand Marshmallow Candies, star of the annual New Year's celebration PEEPSFEST® at SteelStacks.
The two-day festival is a fun-filled family event that features the popular PEEPFEST® Mascot Dash, PEEPS® s'mores, plus crafts and music for kids all before the world-famous PEEPS® Chick Drop and fireworks show at the base of Bethlehem Steel's iconic blast furnaces.
ArtsQuest spoke with Matthew J. Pye, Just Born Quality Confections Vice President of Sales & Marketing, about the evolution of Bethlehem's sweetest festival and here's what he had to say.
AQ: Everyone is familiar with the PEEPS® Chick at Easter, but you actually make PEEPS® year-round. How many do you produce every year?
MP: We produce two billion PEEPS® every year in all different shapes, colors and flavors for all seasons right here in our factory in Bethlehem.
AQ: Do you have a favorite kind or flavor?
MP: I love our new PEEPS® Filled Delights™ Vanilla Caramel Brownie Flavored Marshmallow Chicks, which are vanilla flavored marshmallow chicks with a delicious ribbon of creamy caramel filling inside, dipped in milk chocolate. Yum!
AQ: For the past nine years, you've partnered with ArtsQuest on PEEPSFEST®. Why is Just Born so committed to the event?
MP: Just Born Quality Confections is a third generation family owned company since 1923 and the makers of the iconic PEEPS® Brand, which is so much a part of family seasonal celebrations – especially Easter.  We are committed to PEEPSFEST® as a way to say thank you to families and our community, and to celebrate the fun and love of the PEEPS® Brand through partnering with ArtsQuest to put on the premier kids and family New Year's Eve festival and celebration.
AQ: The festival continues to grow in size, with more than 10,000 people attending each of the past few years? What's the most important thing this event offers the community?
MP: Parents are looking for something to do with their kids since everyone is home for the holidays.  PEEPSFEST® is a two-day festival with lots of free and fun kid-centered activities that culminates with live music, the PEEPS® Chick Drop and fireworks at the family friendly time of 5 p.m..  It has become a family New Year's Eve tradition.
AQ: As you travel the country, do you have a lot of people point out to you that we drop a giant PEEPS Chick in Bethlehem on New Year's Eve?
MP: Yes.  Every year, more and more media outlets across the country run a story on Top 10 things dropped on New Year's Eve around the country and the PEEPS® Chick Drop at PEEPSFEST® is always ranked in the Top 5.
AQ: Last question…what's the coolest thing you've ever seen done with a PEEP?
MP: People express their Peepsonality in many cool ways like sculptures, dioramas, recipes, crafts and wacky experiments.  PEEPS® Jousting in a microwave is still one of the coolest things I have seen.