Ask Her Another: An Interview with Ophira Eisenberg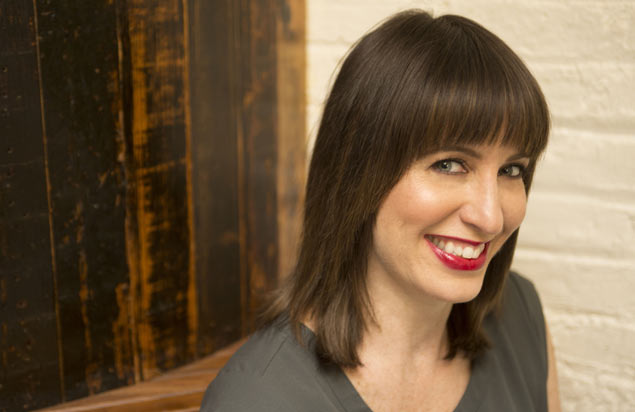 By Ben Youngerman, ArtsQuest Marketing Manager
Ophira Eisenberg is an entertainer who refuses to be defined by one talent. She's the host of NPR's Ask Me Another, she tours as a professional comedian, she reveals personal anecdotes as a storyteller and she's a published author of the memoir Screw Everyone: Sleeping My Way to Monogamy. Plus, she's a new mom of a darling baby boy. It amazes us that she had time to talk about her stand-up performance at SteelStacks on March 2.
We spoke with Eisenberg before the holidays about her professional endeavors and got to flip the script on the radio trivia host…
ArtsQuest: Thanks for taking the time to talk with us! Happy almost Hanukkah! How are you celebrating this year?
Ophira Eisenberg: Usually we do some sort of Hanukkah party with my husband's parents who live in this area. But actually, we're going to visit my mother who lives in Calgary and we're going to fly there tomorrow night…So we're going to light some candles and we're going to make some latkes. My husband is really into making the latkes. Even though it's not a Challah-like holiday, I have these memories of my mother, who's now 88, making amazing Challah growing up and I asked her to bring out the recipe, and I was like "let's make some bread." It's actually because I've been watching The Great British Bake Off and I've become obsessed that I'm missing out on the art of baking.
AQ: Let's talk about the projects you have going on. You do so many different things…
OE: Thank you for noticing!
AQ: You host NPR's Ask Me Another, you do stand-up, you're a storyteller, you wrote a book. What's it like having different outlets to express yourself in different ways?
OE: Sometimes I just wish I was someone who could focus on one thing. You know I fantasize about that. I'm like that must be so great to have that one small project that you can just dedicate all of your time toward. But that may not be who I am. I want to tell jokes, and then I want to do more narrative-like things, and I love interacting with people and doing banter and interviewing. Somehow I've cobbled together a career that allows me to do a little of each. So it feels like you're at a gym when you decide you're going to work out all the muscles in my arms.
AQ: If you had to pick one, which would it be?
OE: Impossible! Impossible! Because at different times they serve different purposes. Like, I love storytelling and it's very gratifying and it's very satisfying to an audience, they get this big meal of a story and you have more of a format. But then I'll just crave going to a comedy club basement where everything is fast and frenetic and you can just get out there and throw punches and you're moving from piece to piece to piece.
Writing is hard to get into, but when you get into it and allow yourself to totally escape into the solitude of writing and it works well it's really satisfying. But they don't always work well and also sometimes you're like, "wow, that didn't work," and I can't get into writing and the page is blank and the audience didn't like that joke and that story didn't have an ending (laughs).
AQ: How does your team on NPR's Ask Me Another come up with the trivia and puzzles? Or is that all you?
OE: I deliver the puzzles to our contestants, but we have a team of about a dozen freelance professional puzzle writers. You know, this job is real, and they submit a variety of puzzles, trivia and word games every few months. I'd say we get about 150 submissions every few months. We go through them and go, "okay, this one works and we need something like this. This is a great premise but it needs a little bit of tweaking." That's how we compile the episodes.
Then a special guest celebrity is booked per show, and I write the interview and also the different talks and tales around the games. A lot of it, because I'm meeting our contestants for the first time, and the interview is happening live on a stage with an audience there, a lot of what you hear other than the actual words of the puzzles, is happening in the moment!
AQ: You can add improviser to the list of things you do.
OE: Yeah, it's a lot of listening and reacting. I feel like I have pretty good listening skills.
AQ: You mentioned the celebrity guests you have on the show. You call them VIPs: Very Important Puzzlers. Who was your personal favorite to meet and chat with?
OE: So many great ones. But all-time favorite so far? Probably Sir Patrick Stewart. That kind of meant a lot to me. I'm a huge fan of "Star Trek: Next Generation." I could basically hang on every word he's ever said. He has a pretty amazing way of just speaking.
He lives in Brooklyn and did our show and was so gracious and funny from second one. I think the first thing I said to him, and I was pretty nervous, I said, "you live in Brooklyn so did you walk to the Bell House?" And he said, "Well I am a Sir. We should be carried." So right from the beginning he made fun of himself. He had great humor. He was a total joy.
We had an episode fairly recently, too, where we had both Lili Taylor and Janeane Garofalo on because they were together at the same time on a Broadway show. I would have had either of them on singularly. Together they were both very different so it was nice having them banter. Janeane Garofalo is, of course, hilarious.
Lili Taylor is a totally unique, interesting person; it turns out she's a birder. She loves looking at birds and studying birds. She's part of all kinds of bird preservation and getting the word out about what kind of birds are endangered and how we can control their habitats. At one point the audience started yelling out birds that were annoying in their minds, and she was defending them. She was just being herself, you know, and that's what I really like about what having these people on a game show does. It brings out a different side of them. You know, we are promoting their work. We're making sure that we have an interview that is also helpful for whatever they have out there. The live audience is there to see them and fun things happen!
AQ: Now we're going to flip the script and ask you a trivia question!
OE: Uh oh! Get ready for me to fail!
AQ: Right outside the window here in Bethlehem, Pennsylvania where you're going to play are the old blast furnaces from Bethlehem Steel. Can you name one of the many New York City landmarks built with Bethlehem Steel's steel?
OE: I'm going to suggest the Brooklyn Bridge. How about that?
AQ: No, but we'll give you another guess.
OE: How about the Empire State Building?
AQ: That would be correct! Empire State Building, Madison Square Garden, Chrysler Building, Rockefeller Center all were built with Bethlehem Steel product.
OE: I mean I went for a bridge off the top because I felt I was going to go sideways and not a building just to be interesting.
AQ: Good guess, because the Golden Gate Bridge was Bethlehem Steel, too.
OE: Ok. There you go!
AQ: It's a very historic venue.
OE: I love that venue! I think I first went to it as a part of a packaged show a few years ago. I hadn't spent any time in Bethlehem. It's very pretty. Then I felt like as soon as we came to SteelStacks it was like, "Where am I?!" It's this industrial wonderland. I was there near Christmas and they had lights up and everything. Yeah, it feels like a pretty special thing that happened over there. It's pretty cool.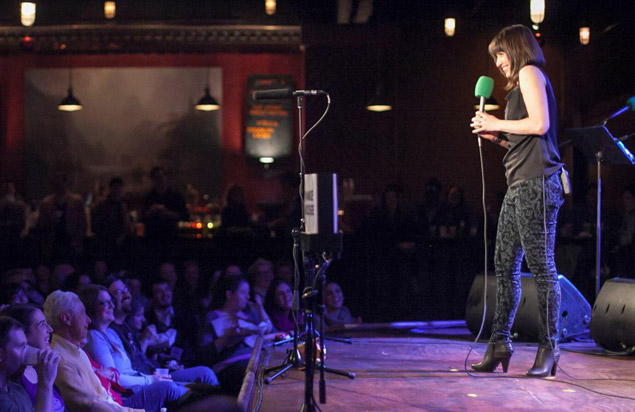 AQ: What can folks in the Lehigh Valley expect from your stand-up set on March 2?
OE: If they heard any of my stuff before, good news, it's all different. In the last couple years my life has changed dramatically. I had a kid, so there will be some chatter about my new identity that I'm failing at a lot. Which is doing everything and trying to pretend that I know what I'm doing in terms of parenting. I always like to do a mixture of stand-up and storytelling, so there's going to be one liners, but they'll be woven into an actual narrative piece. I'll be putting in some new stories that I've been working on that I feel (laughs) are both relatable and people will be super thankful they are not me, which I think is my trademark style.
AQ: Thank you, Ophira! We appreciate the time. Happy Hanukkah!
OE: Happy Hanukkah to you, too! Have a good one!
Ophira Eisenberg
FRIDAY, March 2
8:00 pm
Fowler Blast Furnace Room at SteelStacks