From Toronto to Bethlehem: ArtsQuest Staff Head to Canada Each Year to Curate Films for SteelStacks' Cinemas
By Emily Cummins, Public Relations Coordinator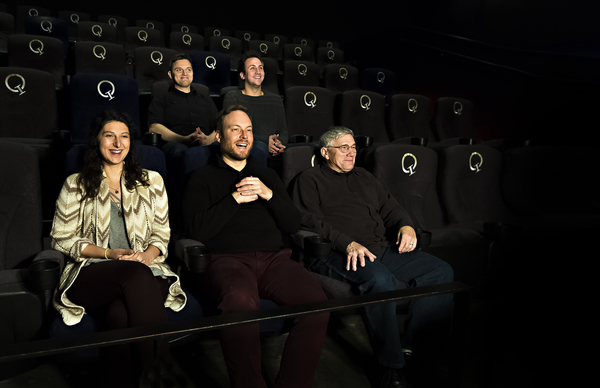 Photo by Olaf Starorypinski
For seven days straight, ArtsQuest Programming Director Ryan Hill shuffles from line to theater watching nearly 40 films at the Toronto International Film Festival (TIFF). The soft glow of the big screen becomes his home, and he starts to see the "bones" of a movie, like the mechanical repetition of a three-act structure and predictably placed love scenes. It takes something truly special to blow him away, but he's not just watching for himself; Hill has his cinema goers at SteelStacks in mind.
What works for the ArtsQuest audience? Hill, who selects and manages film screenings at the Frank Banko Alehouse Cinemas, feels like he's figuring it out.
"Some of the typical arthouse fare will always work. Victoria and Abdul was a no brainer. Dame Judi Dench? Give it to me. Period piece? Tell me more!" he laughs. "We also will get some outliers that won't do well in other theaters, but excel at ArtsQuest because of our members and patrons, like Loving Vincent, the world's first fully painted feature film. Part of that is because of our visual arts programming and our ties to the arts community in the Lehigh Valley, and the same goes for music-focused films like Love and Mercy.
The most successful films at the cinemas benefit from a multiplex's blockbuster blindness.
"There are times when lightning strikes and multiplexes don't latch on to great films, so we'll have sold-out crowds for something like La La Land and Moonrise Kingdom," Hill says.
Attending TIFF each year since 2013, Hill says advance screenings are instrumental when curating ArtsQuest's popular award season lineup. To find the hits and hidden gems, he prepares months in advance of the festival by paying close attention to the online industry publication IndieWire and word of mouth.
"When I first went to Toronto that was tough; it was a lot to navigate and was quite intimidating. Now, my fifth year in, we have very close relationships with the suburban Philly arthouses like the Bryn Mawr Film Institute and Renew Theaters in Ambler and Doylestown," Hill says. "We send emails back and forth to each other comparing what we've seen at trade screenings ahead of the festival, what we want to see, and there are these great conversations that end up happening about what each audience wants. Then essentially, it becomes this thing where I get into Toronto and try to map out and build a puzzle of what I can see and what I need to see."
Among Hill's favorites this year is The Florida Project, Sean Baker's stunning follow-up to the iPhone masterpiece Tangerine. The movie follows a 6-year-old girl living in a motel with her mother in Orlando as they try to stay out of trouble and make ends meet. It stars Willem Defoe in a highly lauded supporting role as the kindhearted motel manager.
"It's a film that toys with patience, but is worth the wait and beautifully shot," Hill says.
Another visually striking film that Hill fell in love with is Guillermo del Toro's The Shape of Water.
"Sally Hawkins plays a mute woman who works as a janitor in a scientific testing facility. It's Cold War 1960s, and the government has found a sea monster in South America," Hill explains. "Hawkins ends up befriending him, while Michael Shannon plays, as he's so good at doing, the villain who's running the facility and wants to tear the creature apart to study it.
This film is fantastic. There's homage to early cinema musicals, and it gives me goosebumps thinking about its gorgeous final scenes… I'd say it's a best picture frontrunner."
Taking home the coveted Grolsch People's Choice Award at TIFF was Martin McDonagh's Three Billboards Outside Ebbing, Missouri. The dark comedy, which follows a mother who personally challenges local authorities to solve her daughter's murder, has since won three Golden Globe Awards including the Golden Globe Award for Best Motion Picture Drama and acting honors for Frances McDormand and Sam Rockwell.
"This film really shows off the acting talents of its three leads. McDormand, Rockwell and (Woody) Harrelson all kick ass in it," he says.
Hill also thinks that Gary Oldman has the best odds to win for best actor as Winston Churchill in The Darkest Hour, but felt the performance was stronger than the film itself. A wildcard may be James Franco, who portrayed infamous filmmaker and Hollywood outsider Tommy Wiseau in his self-directed project The Disaster Artist. Both actors took home major awards at The Golden Globes; however, Hill says that's an award show that has less weight in the industry than the highly predictive Screen Actors Guild Awards.
Sometimes ArtsQuest is an early adopter of a film, Hill says but he recognizes that they are harder sells for an audience. Movies like Moonlight, Birdman and Spotlight only started picking up traction after winning big awards, and were brought back to the cinemas following an initial run. The same may be true for the critically acclaimed Lady Bird, Greta Gerwig's directorial debut, which took home the Golden Globe Award for Best Motion Picture Comedy or Musical and a best actress win for Saoirse Ronan.
ArtsQuest Cinema Coordinator Anthony DeSanctis also attends TIFF and catches the smaller films Hill may not be able to fit into his schedule like Beast, The Square, Brawl in Cell Block 99 and Racer and the Jailbird. One of his favorites this year is The Phantom Thread directed by Paul Thomas Anderson, which tells the story of a renowned dressmaker living and working in the glamour of 1950's post-war London.
"Anderson's contemporary take on a Gothic romance is absolutely incredible. If Hitchcock were alive today, this is the kind of film he'd make. Despite its dark core, the film is wickedly funny, sophisticated and its use of certain colors is breathtaking. Daniel Day-Lewis… why does he have to retire? If this really is his final performance, he goes out with a mic drop," DeSanctis says.
For two lifelong lovers of cinema, this is certainly a dream job.
"At TIFF everyone is passionate about movies; it's a rare treat to watch films with people who love it as much as you do," DeSanctis says.
"And it's that experience that we want to bring to ArtsQuest," Hill adds, mentioning the repertoire films the cinema screens like Rocky Horror Picture Show, A Clockwork Orange and Scott Pilgrim vs. The World selected by DeSanctis and fellow Cinema Coordinator Lawrence Milano. "We strive not to be just an arthouse or an alehouse, but have a mix of fun and serious. We want this to be the cinema that cinema lovers want to come to."
That balanced approach comes in handy for Hill at TIFF. At least once during the festival there is a day packed full of screenings from sun up to sun down, and to stay sane he finds himself watching films he knows he'll never screen at ArtsQuest, like a slasher film about cheerleaders or something staring Nicholas Cage, just as a palate cleanser. Cage's film Mom & Dad was one of the crazier films he saw this year, only topped by Mother, which was easily one of the most divisive movies of the year among critics.
"Mother is a movie I loved, but didn't like," Hill says calling it a daring piece of art. "I appreciated the ambition of it, but when you walk out of that you feel like you've been on this nonstop, hellish ride."
Critic aggregate sites like Rotten Tomatoes don't typically get too much of Hill's attention, and the cinemas have booked plenty of movies over the years that were rated at less than 50 percent.
"I think film criticism is necessary, but I also think film making without regard to film criticism is necessary," he says. "Just as with restaurants and Yelp, if you're making your determination on a film solely on a Rotten Tomatoes score, you are missing opportunities to be surprised."
DeSanctis agrees and points to the "Certified Fresh" grading as unintentionally deceptive.
"There's a false equivalency on Rotten Tomatoes…you can go from saying 'this was a masterpiece' to 'I liked it' and those are both positive marks that build a positive rating," DeSanctis says. "Look at top critics and find someone who shares your taste, and if you really like a movie, take note of the director or who wrote the script, because there is always more to a film than its actors."
As for spoilers, Hill tries to go into a theater as blind as possible before watching a film and tries to abide by a "no trailers" rule.
"I never want to know the surprise of a movie before going in," he says. And, it's that thrill he feels when seeing an outstanding or remarkable film for the first time that he tries to bring back to moviegoers at ArtsQuest.
The Red Carpet Party
Sunday, March 4
6:30 pm
FRANK BANKO ALEHOUSE CINEMAS