SOUTHSIDE ARTS & MUSIC FESTIVAL ANNOUNCES ADDITIONAL FREE CONCERTS FOR EVENT APRIL 20-21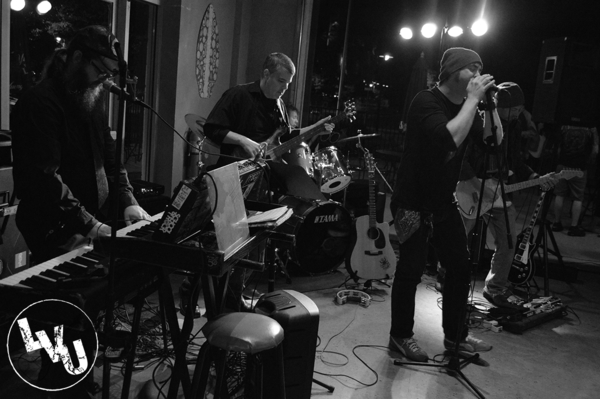 Shows, presented by Lehigh Valley Underground and ArtsQuest, are designed to draw guests to South Bethlehem's restaurants, pubs and businesses
An acclaimed singer-songwriter playing amid the pottery of Color Me Mine, and the alt-country sounds of Acoustic Kitty Project at the Comfort Suites, are part of the diverse music experiences SouthSide Arts & Music Festival (SSAMF) attendees can enjoy for free thanks to a new partnership between ArtsQuest and Lehigh Valley Underground, the region's premier website dedicated to promoting the Lehigh Valley's indie music scene.
During SSAMF, music lovers can purchase a ticket to see acts like 2018 GRAMMY winners The Infamous Stringdusters, indie rockers Delta Rae, singer-songwriter Dar Williams and Talking Heads Tribute "Start Making Sense" performing at five SouthSide music and arts venues. In addition, South Bethlehem will come alive with 10 additional free concerts at venues like Molly's Irish Grille & Sports Pub, Domaci and Sotto Santi. The partnership between Lehigh Valley Underground and the nonprofit ArtsQuest pushes the total number of musical acts at this year's festival to more than 30 in all, with live music taking place in 10 different venues throughout the SouthSide during the two-day event.
"ArtsQuest is our region's premier arts and culture organization, so partnering with them on the SouthSide Arts & Music Festival is a tremendous honor," says Gerard Longo, Founder/Editor-in-Chief of Lehigh Valley Underground. "This partnership will provide 10 local performing artists with a meaningful opportunity to share their passions with new audiences, while increasing the visibility of several South Bethlehem businesses throughout the weekend."
Among the artists attendees can enjoy for free are Julia Sommer, performing at Color Me Mine April 20, 6:30 p.m. The winner of Discover Lehigh Valley's "Discovered" New Artist Award at the 2017 Lehigh Valley Music Awards, Sommer is an 18-year-old singer/songwriter who has performed at Highline Ballroom in New York City, Hotel Bethlehem, The Sands Event Center and Musikfest. In 2016, she auditioned for NBC's "The Voice." This year, she was selected to perform in the finals of the Rock and Roll Hall of Fame's High School Rock Off competition Feb. 17.
Roi and the Secret People, who perform at Comfort Suites' Hill to Hill Grille April 20, 6:30 p.m., are renowned for their exciting live shows, having played clubs like Rockwood Music Hall and Mercury Lounge in New York City and The World Live Cafe, North Star Bar and The Tin Angel in Philadelphia. In 2015, the quintet rocked Musikfest as one of the bands presented by Liberty High School as part of the "Marketing Musikfest" program.
If alt-country sounds are your favorite genre, then check out Acoustic Kitty Project, which performs at Hill to Hill Grille April 21, 6:30 p.m. Whether playing as a solo acoustic act, or as a five-piece band, the Acoustic Kitty Project delivers gutsy, passionate performances every time. This band's sets feature original tunes covering heartbreak, redemption, love and loss, as well as a healthy dose of covers sprinkled in for fun.
ArtsQuest Chief Programming Officer Patrick Brogan, who books the acts for the SSAMF, says ArtsQuest is excited to partner with Lehigh Valley Underground to showcase so many area musicians.
"Gerard and Lehigh Valley Underground have done an excellent job highlighting the Lehigh Valley's local musicians at events like First Fridays in South Bethlehem, as well as via the videos and articles on the Lehigh Valley Underground website," Brogan says. "Showcasing and helping to promote the region's growing music scene has long been a part of ArtsQuest mission, and when we sat down to talk with Gerard, his enthusiasm for local acts and artists was evident from the start."
"This is a great partnership between two groups that have very similar goals, and we hope that working together results in a great experience for our local musicians, our festival guests and especially the businesses that are hosting these performances."
The complete lineup of free Lehigh Valley Underground performances is:
Friday, April 20

Color Me Mine (25 E. 3rd St.)
6:30-8 p.m.: Julia Sommer
Comfort Suites Hill to Hill Grille (120 W. 3rd St.)
6:30-8 p.m.: Roi and the Secret People
Domaci (21 E. 3rd St.)
7-8:30 p.m.: Kayla Avitabile
Molly's Irish Grille & Sports Pub (8 E. 4th St.)
6-7:30 p.m.: Chelsea Lyn Meyer
Sotto Santi (10 W. 4th St.)
8-9:30 p.m.: Rofo Audio
Saturday, April 21

Color Me Mine (25 E. 3rd St.)
5-6:30 p.m.: Jordyn Kenzie
Comfort Suites Hill to Hill Grille (120 W. 3rd St.)
6:30-8 p.m.: Acoustic Kitty Project
Domaci (21 E. 3rd St.)
7-8:30 p.m.: January Noon
Molly's Irish Grille & Sports Pub (8 E. 4th St.)
6-7:30 p.m.: Cass McSparin
Sotto Santi (10 W. 4th St.)
8-9:30 p.m.: theLionhearted
The SouthSide Arts & Music Festival features two days filled with visual arts experiences, live music and family programming, all designed to encourage guests to visit South Bethlehem's shops, restaurants and arts venues. In addition to concerts, the festival includes an ArtsWalk featuring artisans and fine art vendors; art installations and sculpture throughout the SouthSide's business district; a skateboarding competition by Homebase610 and more.
For tickets to shows like Infamous Stringdusters and Delta Rae, as well as complete details on the festival, visit www.steelstacks.org.