Staff Picks: The Year's Best Films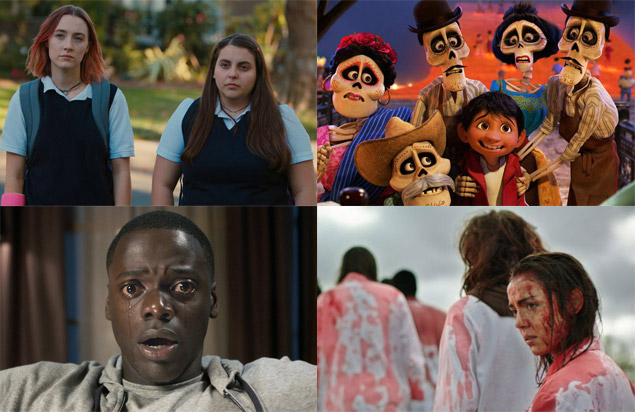 The Frank Banko Alehouse Cinemas staff and ArtsQuest Cinema Committee have seen a lot of great films and eaten a lot of popcorn over the past year. Hollywood will crown their favorite films in a couple weeks (which you can watch on the big screen at The Red Carpet Party presented by Whole Foods Market.) You can also see some of these Oscar nominated films right now at the Frank Banko Alehouse Cinemas.
Ryan Hill, Programming Director
Lady Bird
Florida Project
The Shape of Water
Get Out
The Big Sick
Dunkirk
I Am Not Your Negro
Wonder Woman
I, Tonya
mother!
I am the one compiling all these lists so I can see that no one on my staff even included Sean Baker's incredible Florida Project, let alone put it at #2, so look for job openings soon. As for mother!, I'm still not even sure I actually liked the movie, but I loved that it was made and am still thinking about it, so it squeaks in. I Am Not Your Negro may have made some 2016 lists as IMDB has it as a '16 release while Rotten Tomatoes has it as '17. Doesn't matter; it's one of the best documentaries I've ever seen about one of the most fascinating people the world has ever seen. Call Me By Your Name would have been on this list if the first 45 minutes weren't so incredibly slow. The last 45 minutes, however – incredible; I can't decide whether it or Florida Project has the better final shot. Lady Bird continues my platonic love affair with Greta Gerwig, who masterfully paces her directorial debut while avoiding cliché. As my fiancée said when the credits started rolling: "It's over? I could have watched eight more hours of that!" If I hadn't already proposed, I would have right then and there.
Anthony DeSanctis, Cinema Coordinator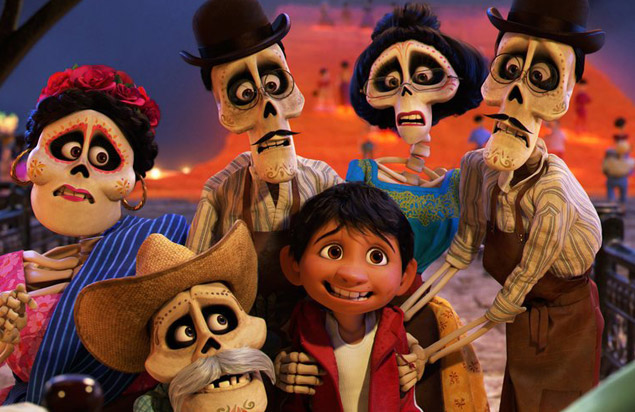 Coco: Pixar once again shows why they are one of the best studios working today. It's been a long time since I've had a reaction to a film quite like this. Coco is both breathtaking and beautiful. One of the most emotional films I've seen in a long time to the point that I was continuously sobbing for the last 15 minutes of it. I don't see how this doesn't win Best Animated Feature at the Academy Awards. I'd have used that vacant 10th Best Picture nomination slot and given it to this film.
The Shape of Water: To put it simply… The Shape of Water is poetry in motion. The film is memorizing from start to finish. Not since Pan's Labyrinth has Guillermo Del Toro poured his heart into a project like this. It's haunting yet enchanting. Easily one of the best romances on film I've seen in recent memory. This is a film that stays with you long after it finishes. And Sally Hawkins will steal your heart.
Dunkirk: Dunkirk is a technical masterpiece. This is a film that will be dissected in film classes for years to come for its craft and technique. There are only a handful of directors who can sell a movie on their name alone, and Christopher Nolan is definitely one of them. And he is very much the star of Dunkirk.
Phantom Thread: Paul Thomas Anderson's contemporary take on a Gothic romance is absolutely incredible. If Hitchcock were alive today, this is the kind of film he'd make. Despite its dark core, the film is wickedly funny, sophisticated, and it's use of certain colors is gorgeous. Daniel Day-Lewis, why do you have to retire? If this really is his final performance, he goes out with a mic drop.
Lady Bird: Who doesn't love a good coming-of-age story? And Lady Bird breathes new life into the genre. I'm so happy Greta Gerwig got Best Director and Best Original Screenplay nominations for this film because she absolutely deserves them. Everything about the film feels honest and genuine. And I'm always a sucker for witty dialogue.
Get Out: With Get Out, Jordan Peele shows he's a creative force to be reckoned with. This is one of the best directorial debuts I've ever seen. The film is already a modern day classic. Frightening, hilarious and thought-provoking all at once.
The Big Sick: The Big Sick does something most romantic comedies fail to do: it actually succeeds in being both comedic and romantic. There are very few films out there that can deliver gut busting laughs and then break your heart minutes later. And The Big Sick does it multiple times!
It: It's been a long time since a horror movie has given me characters so likable, so funny, so… well developed. Half the time I felt like I was watching a Goonies spin-off, except there's a clown that eats children. And Bill Skarsgard as Pennywise is terrifying.
Good Time: The most underrated film of the year. Good Time grabs you from the minute it starts and refuses to let you go. Easily Robert Pattinson's best performance.
Call Me By Your Name: I was hooked from the opening credits. And the opening credits are terrific. But it wasn't until the end credits starting rolling that I realized just how much I loved this film. And the end credits are powerful… like "parade of emotions" powerful.
Lawrence Milano, Cinema Coordinator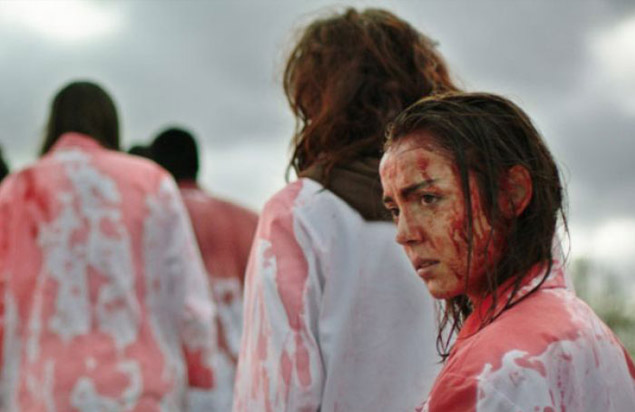 Raw: Raw is an arthouse film from French director Julia Ducournau which focuses on two sisters bonding over one common interest: Cannibalism. This film is absolutely flawless in its writing, acting, and no holds barred subject matter. A must see for anyone and everyone.
The Killing of a Sacred Deer: The director of Dogtooth, Alps, and The Lobster returns behind the camera with this incredibly uncomfortable piece of cinema about revenge.
It: This new adaptation of Stephen King's novel felt like it turned the theater into an immersive haunted house. Absolutely brilliant and horrifying.
Three Billboards Outside Ebbing, Missouri: A realistic story with realistic characters. It's down to earth and yet brutal. It's also one of the best written films in 2017. If this doesn't win an Oscar for Best Original Screenplay, I'll probably riot.
The Shape of Water: Creature from the Black Lagoon meets Beauty and the Beast. A classic love story with unique twist that keeps you emotionally engaged throughout.
Get Out: Hilarious. Dark. Genius.
Colossal: This film spoke to me on a spiritual level in ways no other film has in 2017.
The Void: A throwback to 80's horror. Gory and suspenseful!
Pieles: A Spanish film about people with deformities (physical and emotionally) trying to find acceptance and love. It's also one of the most disturbing films I have ever seen.
Lady Bird: I went to a Catholic high school and can confirm: Most of this film is pretty spot on.
Addyson Young, Cinema & Comedy Assistant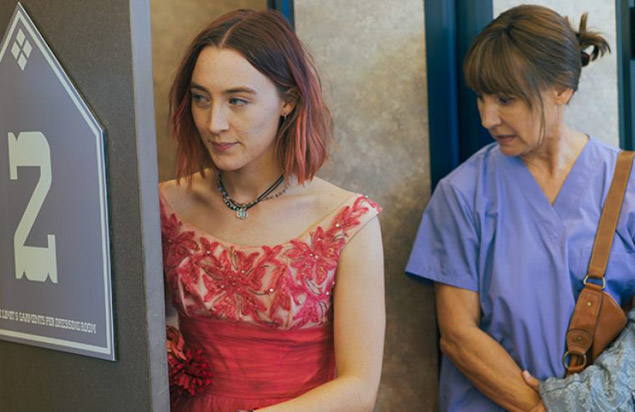 Lady Bird: Not even a doubt that this was my favorite movie of the year. Greta Gerwig writes the most realistic depiction of what it's like to be a teenage girl I have ever seen.
Shape of Water: Sally Hawkins is incredible in this movie, and she doesn't even say a single word.
The Big Sick: This film made romantic comedies cool again.
The Beguiled: I heard a lot of mixed reviews about this film, many claiming it was too slow. For me, that slowness is what made the movie so remarkable. It added to the balmy southern summer that the movie is set in.
Beauty and the Beast: My nostalgic love of the original animated version combined with my love of Emma Watson made this film a pure delight.
Mr. Roosevelt: Written by, directed by, and starring Noel Wells (former SNL cast member); this indie film has a 100% on Rotten Tomatoes and 30 reviews. While this film is currently unknown, I'm predicting it's going to do great when it gets released to Netflix (editor's note: it's on Netflix!).
Dunkirk: I'm amazed with what Christopher Nolan did with an hour and a half and hardly any dialogue. This film's star is definitely its sound and scene design.
Pitch Perfect 3: This movie was crazy. I appreciate that the writers of this film knew they somehow had to heighten the stakes of this film beyond winning a singing a competition.
Get Out: I will fight anyone who says this is a comedy. (verbally)
Three Billboards Outside Ebbing, Missouri: As a piece of art, I can't argue that this is an incredible film. It's beautifully done with an original plot that is both serious and humorous, but it scared me and stressed me out. I highly suggest everyone watch this movie… but I don't want to watch it again.
BOB KILKER, ARTSQUEST CINEMA COMMITTEE/TUESDAY TALKBACK HOST
The Shape of Water
Lady Bird
Get Out
The Florida Project
Dunkirk
Wind River
Phantom Thread
The Big Sick
Colossal
Wonder Woman
ROBERT DANIELS, ARTSQUEST CINEMA COMMITTEE
Raw
Call Me By Your Name
The Florida Project
Lady Bird
Phantom Thread
Columbus
Good Time
Get Out
mother!
Brawl in Cell Block 99
LAUREN TOCCI, ARTSQUEST CINEMA COMMITTEE
The Shape of Water
Dunkirk
Get Out
Big Sick
Lady Bird
Mother!
Coco
The Post
The Beguiled
Star Wars: The Last Jedi
TIM MOLCHANY, ARTSQUEST CINEMA COMMITTEE
Dunkirk
Lady Bird
Three Billboards Outside of Ebbing, Missouri
Baby Driver
The Shape of Water
Phantom Thread
I Don't Feel at Home in This World Anymore
Get Out
The Post
Blade Runner 2049
CATHERINE FORD, ARTSQUEST CINEMA COMMITTEE
Shape of Water
Lady Bird
The Big Sick
The Florida Project
Three Billboards Outside Ebbing, Missouri
Dunkirk
Whose Streets?
Get Out
Call Me by Your Name
Battle of the Sexes
JASON PAULUS, ARTSQUEST CINEMA COMMITTEE
Call Me by Your Name
Lady Bird
Baby Driver
I, Tonya
As You Are
Good Time
The Killing of a Sacred Deer
Molly's Game
Blade Runner 2049
Three Billboards Outside Ebbing, Missouri