Bethlehem Area Vocational-Technical School Students Take Home Top Prize at Girl Scout Cookie Crunch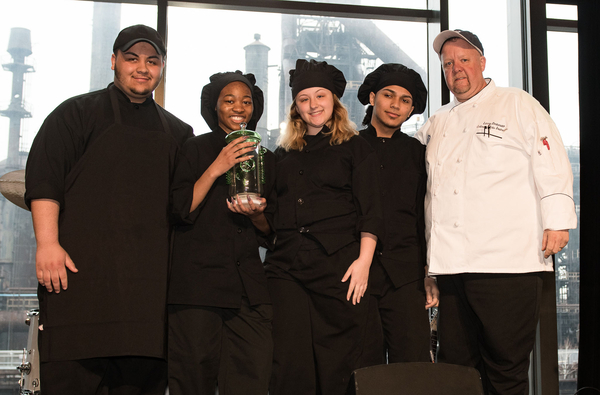 Although they came first and foremost for the experience, the students from the Bethlehem Area Vocational-Technical School's Culinary Arts Program wowed judges at the 4th Annual Girl Scout Cookie Crunch, taking home top honors at the culinary event held Feb. 25 at the ArtsQuest Center at SteelStacks' Musikfest Café in Bethlehem. The culinary students faced off against some of the Lehigh Valley's most creative chefs, ultimately earning the title of "Cookie Crunch Champions" thanks to their Lemonades® Pepper Chicken Bites with Mango Salsa.
The Cookie Crunch crowd had its favorites too. More than 300 guests sampled 19 delicious dishes and then voted for their top choices. Bethlehem Dairy Store's Peanut Butter Patties® Ice Cream was named winner of the coveted Kids' Choice Award, while Aramark at SteelStacks won Best Sweet Dish for its Caramel deLites® Stuffed French Toast and Carmel's Braised Thin Mint® Short Ribs won best Savory Dish. All four winners took home cookie jars as trophies.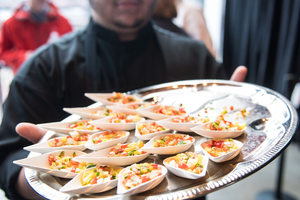 The complete list of winners is:
Cookie Crunch Champion – Bethlehem Area Vocational-Technical School: Culinary Arts
Best Sweet Dish – Aramark at SteelStacks, Bethlehem
Best Savory Dish – Carmel, Allentown
Kids' Choice Award – Bethlehem Dairy Store, Bethlehem
The Cookie Crunch also featured an exclusive pre-event cooking demonstration for Girl Scouts led by four Fearless Female chefs. The Girl Scout Cookie Crunchdown, now in its second year, included motivational talks and dessert workshops with 2017 "Hell's Kitchen" runner-up Heather Williams formerly of OAK Steakhouse and Marblehead Chowder House; Pastry Chef Sarah Sobers of Buddy V's Ristorante at Sands Resort Bethlehem; Girl Scout and "Chopped Jr." winner Lucy Chelton; and Aramark at SteelStacks Executive Sous Chef Ashley Sherman, a 2014 "Hell's Kitchen" Contestant.
"The creative dishes that Cookie Crunch chefs make are undoubtedly the big draw at this event, but it's the incredible partnership between ArtsQuest, the Girl Scouts of Eastern Pennsylvania and our culinary partners that makes this event so successful every year," says ArtsQuest President & CEO Kassie Hilgert. "The past two years we've really focused on providing a unique educational experience through our Cookie Crunchdown pre-event, so we were very excited to see even more Girl Scouts at this hands-on workshop this year.
"We thank the Girl Scouts, the participating restaurants, our volunteers and all of the attendees at Cookie Crunch for coming together for an amazing event. Congratulations to the Bethlehem Area Vocational-Technical School and all of the Cookie Crunch winners – we're already looking forward to seeing what the chefs will make for the 5th-annual Cookie Crunch in February 2019."
This Cookie Crunch fundraiser benefits both Girl Scouts of Eastern PA (GSEP) and the ArtsQuest Art Education Fund, which provides quality arts and education programs for area students. GSEP is the largest girl-serving organization in Pennsylvania and builds girls of courage, confidence and character, who make the world a better place. The organization serves close to 40,000 girls in partnership with more than 15,000 volunteers. For further information about Girl Scouts, visit www.gsep.org.