Staff Music Picks: March 2018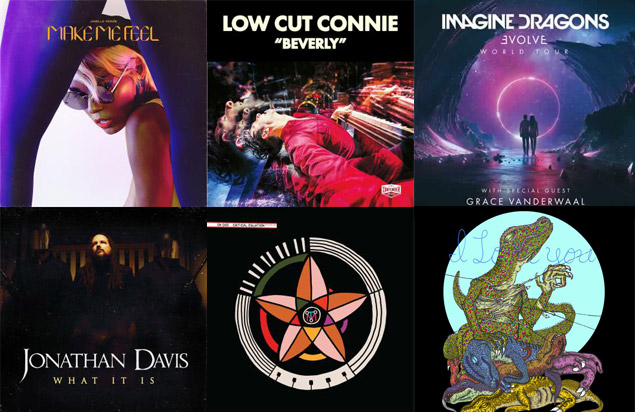 None of the ArtsQuest staff would work here if they didn't live for music and the arts. To share our passion, our programming and social media teams put together a list of new-ish songs they've got on repeat this month. We hope you'll enjoy our eclectic mix of musical tastes and discover some great new tunes!
Emily "The Funk Junkie" Cummins


Public Relations Coordinator
"Make Me Feel" – Janelle Monáe
I will always pick something good to dance to, and "Make Me Feel," fresh off Monáe's upcoming "Dirty Computer" album, is a show stopper. It's pure synth-pop fun with just the right amount of throwback funk. I love the soft energy of it and the playfulness of the guitar. Of course what really stands out is the music video which is eye-popping and electric and features stunning visual tributes to Prince and Bowie. I could watch it on repeat, but I think I'd rather dance.
Ben "The Resident Metalhead" Youngerman


Marketing Manager
"What It Is" – Jonathan Davis
Jonathan Davis, lead singer of Korn, rarely takes a break from making music and has never settled for making the same type of album in successive outputs. Over the course of twelve Korn studio albums, a few movie scores, a stint as a dubstep DJ and a cabaret tour with JDSFA, my favorite front-man is finally putting out a solo record. "What It Is" draws from many elements of Davis' past music, creating a very catchy first offering off of his solo disc. I can't wait to hear this song live on tour this Spring!
Cory "Don't Put Me In A Genre Box" Stelzman


Performing Arts Coordinator
"Listening In" – Dr. Dog
Dr. Dog has been a consistent on my playlists for the past 10 years. Every year or so they release a new album and I have yet to be disappointed. "Listening In" is one of the tracks from their new album Critical Equation that comes out next month. It's the perfect easy listening song with ethereal vocals and an almost haunting melody fitting for a scene with that monster guy from Stranger Things.
Helen "New Wave" Smith


Talent Buyer
"Beverly" – Low Cut Connie
With Low Cut Connie on my mind this week, my first monthly music pick had to be their new single "Beverly" off of their upcoming album Dirty Pictures Pt. II. A lovely string quartet intro and then Adam is off and rocking with Shondra. I'm very ready to hear Low Cut Connie at SteelStacks on March 3.
Matt "Hip-Hop & R&B Boy" Gotzon


Partnership Activation Specialist
"God's Plan" – Drake
A little over a month ago Drake dropped two songs, "God's Plan" and "Diplomatic Immunity," under the title Scary Hours. "God's Plan" went on to break several different streaming records and proceeded to change many fanss Instagram bios to "I only love my bed and my momma, I'm sorry." Drake reconnected with Director X and blessed the world with the visuals on February 16. In the music video, Drake and other members of the OVO crew give away nearly one million dollars to different organizations, schools, and families. Good luck not tearing up watching the heartwarming video below. My favorite part about it all is that it seems like Drake just wants to genuinely do something good for those that deserve it, rather than just trying to show us how nice he is. Either way you should definitely get "God's Plan" into your rotation, if you haven't already!
Ryan "Comedian Who Likes Music" Hill


Programming Director
"Happy Hour" – Weezer
While I like the vibe of Happy Hour, I love the fact that the video I'm including was done by Allentown-raised NYC comic Jim Tews, who made this band-approved animation after half-jokingly responding to a tweet by Rivers Cuomo asking if fans had any ideas for the song's video. Cuomo responded back, and Tews – who has a Weezer tribute band called The Undone Sweaters – ran with it from there.
Dani "I Stil Listen to Radio" Nightlinger


Marketing Intern
"Next To Me" – Imagine Dragons
The intro instantly grabs my attention with the fingerpicked acoustic guitar and strange drum pattern. The lead singer Dan Reynolds has such a smooth, strong voice that I could just close my eyes and escape reality during this song. The choral-style vocals in the background with electronic effects is so different that I have this alt-rock band's song on repeat for the past few days. It's about a women who stays by a man's side no matter how many times he messes up and I love that loyalty.
Anne "The Alternative Solution" Sturm


Senior Talent Buyer
"Silver Lining" – Mt. Joy
Mt. Joy is an emerging indie/folk/rock group based out of my hometown near King of Prussia, PA. Their song "Silver Lining" is appearing to be one of their break through songs with over 3.2 million listens after just a couple of months from its release. "Silver Lining" is a good reminder to grasp the hopeful side of any situation. Even the worst events can have some positive aspect. The song is also just really catchy.
Alicia "Better in Boots" Rohrbach


Senior Marketing & Sponsorship Coordinator
"Asking For A Friend" – Devin Dawson
Devin Dawson released his first album in the early part of this year – and this is my favorite song on the album. My favorite part of any song are the lyrics and the story of the song. This particular song is about a guy who messed up his relationship and is trying to win the girl back – and the melody is also super catchy. Check out the whole album, Dark Horse, as I love a majority of the songs – but I find myself playing this track on repeat the most.
Kimberly "The Wild Card" Koehler


Partnership Activation Specialist
"Master Plan" – Ron Pope
Ron Pope has always been my go-to slow, sweet love song whenever I need to fulfill that musical genre itch and he does not disappoint with "Master Plan" off his new album. "Master Plan" reminds everyone that no matter what, everything will work out in the end because you love each other. Whenever this song comes on in my playlist, it allows me to sit back and relax because of its slow tempo and Pope's voice.
BONUS PLAYLIST!