Oktoberfest Dachshund Races Return to SteelStacks in October with New Wiener Dog Parade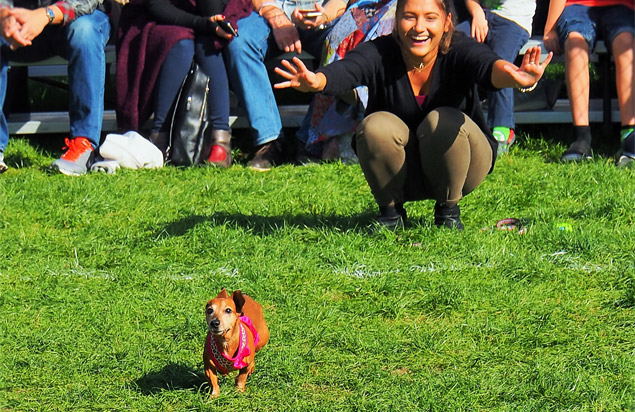 Photo by David Happel BETHLEHEM, PA – On your bark! Get set! Register! The annual running of the wiener dogs is back at Oktoberfest presented by Lehigh Valley International Airport (ABE) with more racing opportunities than ever before. Join in the festivities at SteelStacks by entering your fast, four-legged friends in the popular and absolutely unforgettable Dachshund Races Oct. 6, 7, 13 and 14 at 3 p.m. New for 2018, guests can also enter their dachshunds in ArtsQuest's inaugural Wiener Dog Parade Oct. 6 at 2 p.m. Race registration fee is $15 per dachshund and pre-registered dogs receive a doggie bag featuring pet-themed gifts. To register,
CLICK HERE
. Each event is limited to 50 dogs per race. On race day, check-in begins one hour before the event. To compete in the races, dogs must be dachshunds or closely resemble dachshunds. If the excitement of a bunch of racing puppies isn't enough, the first-, second- and third-place winners of each 50-foot race will win puppy pride, bragging rights and an Oktoberfest dachshund prize package! The Oct. 6 Wiener Dog Parade will begin at the Oktoberfest arena at Levitt Pavilion and march around the festival. Pups can don their favorite costume or simply come as they are. And, just like Munich's Oktoberfest, a queen and king will be crowned! Enter your dachshund for free in the Wiener Dog Parade by
contacting ArtsQuest's Addyson Young at ayoung@artsquest.org
with your name, contact phone number and the name of your dog. Now in its eighth year, Oktoberfest presented by Lehigh Valley International Airport (ABE) is a free festival that features brew samples, authentic German food and beer, live music and schuhplattlers, as well as attractions like the exciting Beer-Lympics competition, Yuengling Oktoberfest 5k, the Karl Ehmer Bratwurst Eating Competition, local artisans and more! Festival dates are Oct. 5-7 & 12-14. Hours are Fridays, 5-10 p.m.; Saturdays, noon-10 p.m.; and Sundays, noon-6 p.m. For more information, visit
www.steelstacks.org/oktoberfest
.