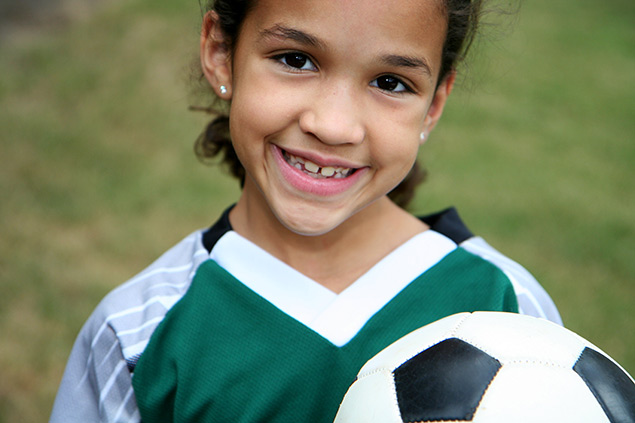 Good Shepherd Pediatrics' Soccer Clinic Offers Fun and Exercise for Children with Additional Needs
By Lynn Gerlach
Good Shepherd Rehabilitation
If you are a parent of a child with additional needs, you understand how difficult it can be to find appropriate opportunities for organized activities. Children with autism, attention disorders (ADD, ADHD, etc.) or physical challenges such as brain injuries, cerebral palsy or cancer can find activities like sports overwhelming, physically difficult and emotionally stressful.
That is why Good Shepherd Pediatrics and Lehigh Valley United are partnering to offer a free soccer clinic for children with additional needs at SteelStacks June 20 at 2 p.m. The clinic is designed for children ages 4-17 to share the fun and excitement of soccer in an inclusive and supportive atmosphere.
Children who participate enjoy a dynamic, hands-on experience as they discover the fun and challenges that make soccer the most popular sport in the world. Lehigh Valley United players and coaches provide one-on-one, personalized instruction with assistance from Good Shepherd Pediatrics staff to teach skills such as dribbling, passing and shooting. Plus, this year the clinic includes a fun arts and craft session. Good Shepherd Pediatrics' Jennifer Schueck, MS, OTR/L, says that events like this are tremendous opportunities for children with additional needs to experience inclusiveness, practice social skills, improve coordination and practice following directions in a supportive environment. The event, she says, is about playing and having fun, not winning or losing.
According to Schueck, she and her fellow therapists at Good Shepherd Pediatrics frequently use games during physical, speech and occupational therapy sessions to keep children interested and engaged. She explains that many children with additional needs can feel overwhelmed by what is going on around them. The presence of bright sun, noise, being touched by other people and trying to pay attention can be difficult for some children to process all at once. When overstimulated, they may express themselves through tantrums, while others may make noises or engage in attention seeking behaviors like crashing into others or seeking hugs.
"This clinic is a way for children with additional needs to enjoy a game they love in a safe, non-judgmental and stress-free environment," Schueck says. "Children who have diagnoses like ADD and autism sometimes prefer to be on their own. Being able to spend time with other children and therapists who understand and can adapt to their sensory needs is an enormous benefit."
Clinics like this also can serve as a springboard, encouraging children with additional needs to participate in other active hobbies and events in the community.
"Children dealing with conditions like cerebral palsy, traumatic brain injuries and cancer sometimes have issues with endurance, strength and fatigue," Schueck says. "Everyone who participates will be moving but in a way that is fun and appropriate for them. Good Shepherd therapists understand the challenges children with additional needs face and can adapt activities on the spot to suit each child's abilities."
All children between the ages of 4-17 with additional needs are welcome and invited to participate.
For more information or to sign up for, the Good Shepherd Pediatrics' Soccer Clinic for Children with Additional Needs, please visit lvsoccerfest.com.