Ethnic Christmas Tree Exhibit Comes to SteelStacks Starting Nov. 22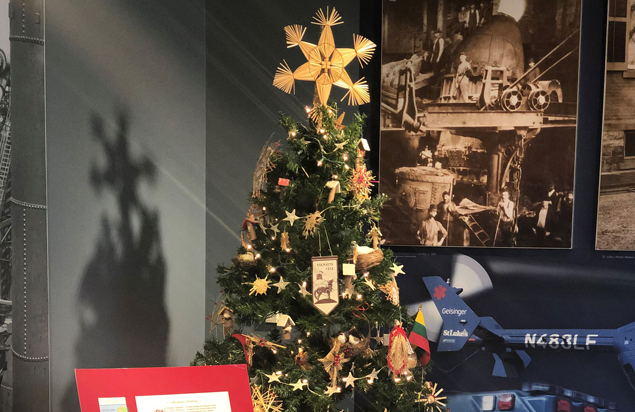 The South Bethlehem Historical Society is pleased to announce that its Annual Ethnic Christmas Tree Exhibit will now be on display at SteelStacks' Visitors Center presented by St. Luke's University Health Network. There are 16 different ethnic trees as part of the display, which opens Nov. 22 with the start of Christkindlmarkt Bethlehem. The ceremonial lighting of the trees will take place on Sunday, Nov. 24, 2 p.m.
This year marks the 28th anniversary of the Ethnic Christmas Tree Exhibit, which this year features trees representing England, Germany, Lithuania, Russia, Greece, Mexico and more. Christkindlmarkt Bethlehem dates are Nov. 22-24, Nov. 29-Dec. 1 and Dec. 5-8, 12-15 and 19-22.
Visitor Center hours during Christkindlmarkt are Thursdays, 10 a.m.-6 p.m.; Fridays-Saturdays 10 a.m.-8 p.m., and Sundays, 10 a.m.-6 p.m. Visitor Center hours outside of Christkindlmarkt are Sundays-Wednesdays, 10 a.m.-4 p.m., and Thursday-Saturdays, 10 a.m.-5 p.m. The Visitor Center is closed on Thanksgiving, Christmas and New Year's Day.
German immigrants brought the Christmas tree to America in the 1800s. Prior to the Civil War, President Franklin Pierce was the first to have a Christmas tree in the White House. Today, American holiday celebrations include many traditions, especially those brought by ethnic groups to South Bethlehem.