SteelStacks Welcomes Community & Einstein 'The Camel' for Annual Three Kings Day Jan. 5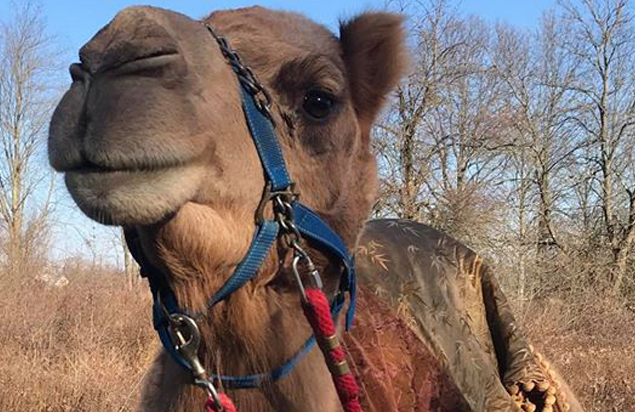 BETHLEHEM, PA—Follow the star to Bethlehem Jan. 5 as ArtsQuest celebrates El Dia de los Reyes, a cherished cultural and religious tradition in many Latin American countries. The Three Kings Day event, which is free and open to the public, takes place from 3-6 p.m. at the ArtsQuest Center at SteelStacks, 101 Founders Way, Bethlehem.
For many Christians, especially in Central and South America, the holiday season continues through the 12th day of Christmas, when it is believed in their faith that baby Jesus was visited by the Three Kings, also known as the Three Wise Men or Magi. Following a star across the desert for 12 days to ancient Bethlehem, the Three Kings —Gaspar, Melchior and Balthazar — travelled by horse, camel and elephant to present Jesus with gifts of gold, frankincense and myrrh.
During the annual Three Kings Celebration at SteelStacks, Gaspar, Melchior and Balthazar arrive to spend time with guests, presenting gifts donated by B. Braun Medical Inc., Carlos Lopez, First Commonwealth Federal Credit Union, PPL, Target, West Side Hammer Electric and Walgreens on 17th Street in Allentown to children ages 10 and younger. Children will also hear the story of the Three Kings in both Spanish and English, read by La MEGA Radio hosts Victor Martinez and Alfa Lopez.
From 3:30-4:30 p.m., Three Kings Day will feature special guest Einstein "The Snow Camel" from Peaceable Kingdom Petting Zoo in Perkasie. The festivities will also include a scavenger hunt, arts & crafts and live music by Herencia Jibara and Los Pleneros de USA, as well as delicious Latin food available for purchase from Holy Infancy Catholic Church.
Sponsors helping to make the event possible include Lehigh Valley Health Network, B. Braun Medical Inc, PPL Corporation, First Commonwealth Federal Credit Union and La MEGA.
For more information on the Three Kings Celebration, CLICK HERE.