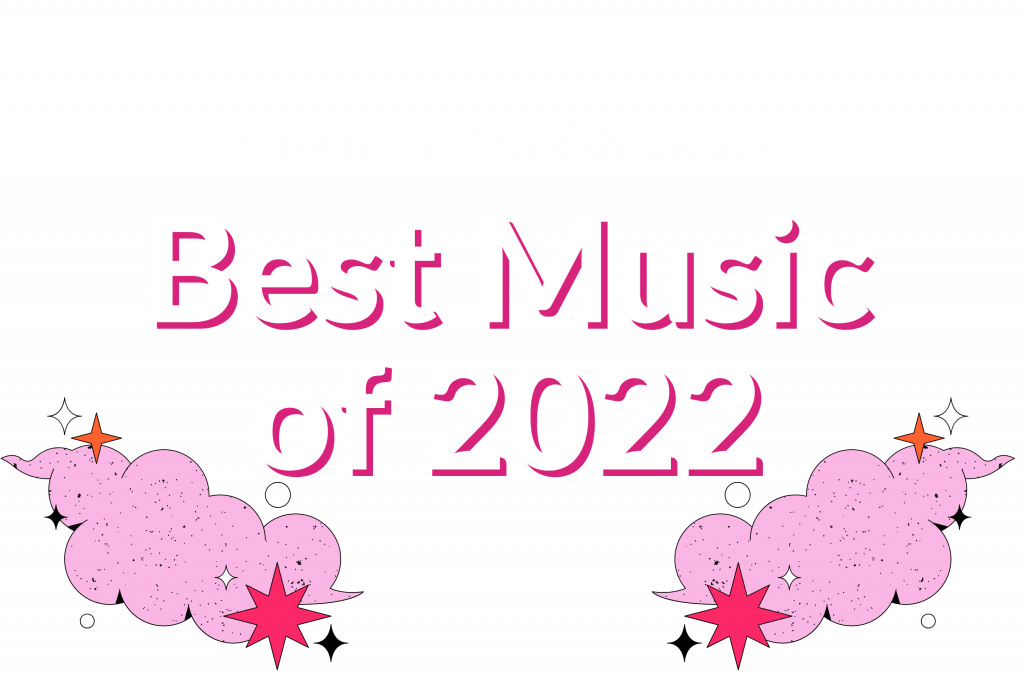 By ArtsQuest
December 28, 2022
When 2022 first began, we (listeners) were treated so nice by the musicians cranking out innovative works of art post lockdown, making long-lasting impressions on our listening ears. The albums kept coming, even up until last week with rap queen Little Simz presenting us with her latest notable release, No Thank You. In the year, we celebrated and mourned the final projects of Brockhampton before they'd disband for good. We sang "First Class" by Jack Harlow too many times to count. Bad Bunny left no crumbs behind, taking us on an an emotional journey through his Latin trap album Un Verano Sin Ti, and we all had our minds blown by Beyoncé's track off Renaissance, "Alien Superstar."
The list of important releases for 2022 runs too deep for one recap blog, with so many other musicians worthy of the same recognition for their achievements this year. To try to cover a broad scope of music for 2022, we asked the staff of ArtsQuest which songs stood out to them as being their "Song of the Year" and this is what they put together...
Listen to all our favorites from 2022, on Spotify here
"Arson" by J-Hope from BTS
Mariel Letourneau | Customer Experience Supervisor
It's a dark look at his usually bright demeanor. I love when artists break their "norm" of what the industry standard expects of them and truly get in touch with a darker more complex side to themselves. I think it presents how malleable we are as humans and artists. Plus the best is Fire and his rap hits so hard.
"B-Side" by Khruangbin & Leon Bridges
Alexis Kuczek | Programming Coordinator
It's so lovely; it's chill, yet fun and uplifting.
"Gift Horse" (Ft Geoff Rickly of Thursday) by Gatherers
Jacob Bodai |Operations Specialist
Gatherers releases what is easily the album of the year for me. A modernized take on early/mid 00s screamo; the album flaunts their ability to take incredibly raw emotional desperation and translate it into continuously interesting and brutally honest harmonic and dis-harmonic pieces that addictively leave you feeling emptier after listening. The album continues to hit melodic highs and slow/solemn low points as it progresses, but no song does it with as much dynamic abruption as Track 5, titled Gift Horse. The song builds up and breaks down a few times before dissecting itself into a desperate self reflective emptiness. then cuts out entirely leaving you deserted and uneasy as an oscillating audio signal plays on a loop. cathartic dissonance.
"What's the Trick?" by Jack White
Cory Stevens | Volunteer Program Manager
I loved every track off of Jack White's first album of the year, FEAR OF THE DAWN, but "What's The Trick?" always gets me with its surging sound and crunchy guitar riffs. I can't help but get caught up in this song's energy and that is how it ended up on repeat for me in 2022.
"About Damn Time" by Lizzo
Lisa Harms | Sr Director of Visual Arts and Education
Lizzo consistently puts out songs that inspire and empower. About Damn Time is no exception. The disco vibe makes you want to get out on the dance floor, while still embracing all the feels.
"Naked in Manhattan" by Chappell Roan
Cavan Mulligan | Human Resources Coordinator
This single has made it onto almost every playlist I've made this year! I've been following Chappell Roan for a few years after I saw her open for Declan Mckenna. It's been great watching her develop as an artist experimenting with her sound and image.
"Ain't No Thief" by Viagra Boys
Saige Sufrin | Marketing Coordinator
I got to see the silly Swedish band Viagra Boys perform at Underground Arts in the Spring before their summer release of their third studio album, Cave World. They played this track for us before it was officially released, and the venue absolutely exploded with energy. After the show I had a very pleasant run-in with front-man Sebastian Murphy (who is also an absolute incredible low-brow tattoo artist you should check out). We briefly chatted about his travels in the States & he gave me his set-list from the evening!
My very close honorable mention is Yung Lean's "Trip." Too funny, yet another Swedish artist also on the label Year0001.
"Crop Circles" by Odie Leigh
Elena Ostock | Visual Arts Manager
It kind of feels like the song version of staying at home on a rainy day in fall.
"Bathroom Light" by Mt Joy
Nicole Gencarelli | Visual Arts Manager
I'll put a quote from songwriter Matt Quinn because I think he does a great job at explaining why the lyrics in the song are so moving: "As we were recording, there was an untimely death of a family member in our crew. It was horribly sad and gave me that sinking reminder of how fragile everything we build is. 'Bathroom Light' is about chasing love however it comes into your life and working to make those around you feel comfortable in their skin. We all have crazy stories, and for the most part there is just no time to be ashamed of them."
"Chaise Longue" by Wet Leg
Jon Lunger | Sr Director of Marketing
I feel like I never stopped listening to this track - really the whole album.
"HEARTFIRST" by Kelsea Ballerini
Juliann Masenheimer | Lead Creative
Kelsea was one of my favorite Artists on the main stage this year at Musikfest. She was so fun and cheerful. Her new album and specifically this song has just stayed with me all year.
"American Teenager" by Ethel Cain
Anonymous
One of the best get in the car and drive to absolutely nowhere - but do so fast as hell - songs ever recorded.
"New Body Rhumba" by LCD Soundsystem
Mark Shively | Front Desk Assistant
Its a sonic roller coaster!!!
"Sweet Nothing" by Taylor Swift
Kimberly Koehler | Sponsorship Coordinator
This song is the absolute sweetest song Taylor has ever produced and I can't help but have it on repeat. The catchy piano riff with the hums of Taylor's voice combined with the lovely lyrics talking about how finding your someone makes everything in the world make sense is PERFECTION. "Sweet Nothing" is so heartwarming and deserves a listen (& hopefully a music video). I also want to give a shout to my most listened to song of 2022, "We Don't Talk About Bruno" because Encanto was fantastic movie with a fire soundtrack!! 🙂
"Maybe (Live)" Miley Cyrus

Kelley Andrade | Public Relations Coordinator
It's a Janis Joplin cover, so already I loved it and mixed with her new vocal style - it's very good.
"Called You Again" by Lizzy McAlpine
Hannah Cummings |Social Media Coordinator
I love to sing and the second I heard this song I instantly wanted to learn all the words so I could sing along with it. I also just find this song super relatable and the more I listened to it, the more I connected with it.
"Natural Born Killer" by Highly Suspect
Morgan Fehnel|Graphic Designer
With so many great songs being released this year from some of my favorite artists it was hard to pick my song of the year. One of my favorite bands is Highly Suspect and they released a new album this year, containing my favorite song of the year, Natural Born Killer. This song is a perfect new rock sounding tune. It starts off slow and then when the chorus comes in, the song has that great rock sound that Highly Suspect is known for.
Songs of Our Year, from the Past
"Crazy Tings" by Tems
Gabrielle Beckford | Front Desk Office Coordinator
There's not a lot of popular female singers with deep voices, and I like the African influences in her music.
"Running Up That Hill (A Deal with God)" by Kate Bush
Kaitlin Brobst | Administrative Assistant to the COO
--Not new, but new to many of us! It manages to be both timeless and fresh at the same time; plus, I'm not super up on current popular music 😊
"House of Memories" by Panic at the Disco
Curt Mosel |COO
My kids played it 1 million times this year!

"Pretty Places" by Aly and AJ
Alli Poczak | Programming Specialist
In 2017, I found one of my favorite female duos of the 00s were releasing music again and since then I haven't been able to get enough. Aly and AJ's latest album "a touch of the beat gets you up on your feet gets you out and then into the sun" kicks off with Pretty Places. This light and airy song sparks the wanderlust we've all been craving since the pandemic. The group showcases their songwriting and musical growth from their days with Disney delivering a delicate, upbeat, roll your windows down and head to the beach indie pop song.
Don't forget to take this playlist with you into the New Year!
If listening on Spotify isn't good enough to scratch your music itch, take a look at concerts we have coming up here!