Cinematic Tribute to Dr. Martin Luther King Jr.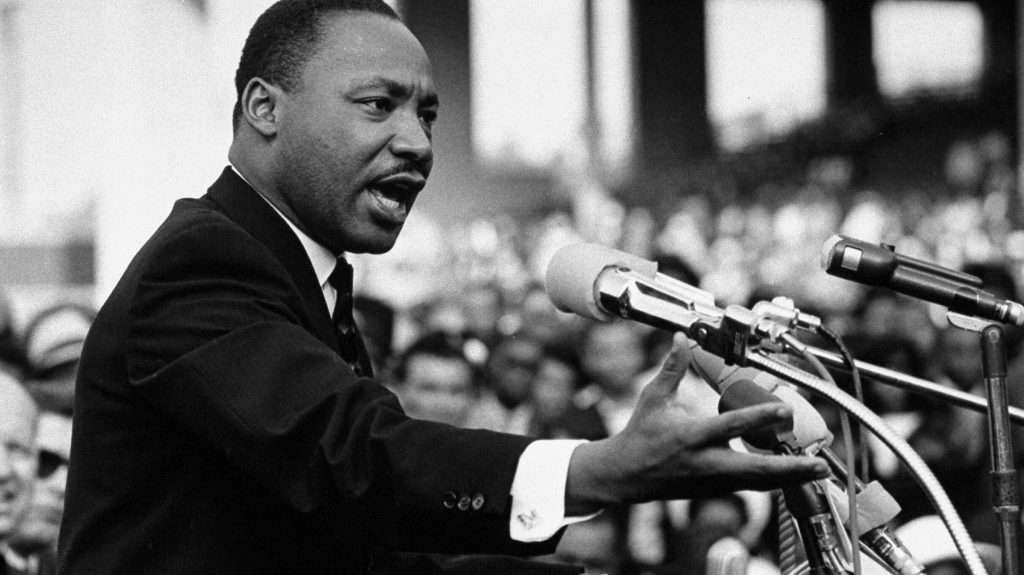 Free film series, discussion slated for Monday, Jan. 16
BETHLEHEM, Pa.— Celebrate and reflect on Dr. Martin Luther King Jr.'s legacy at ArtsQuest on Monday, Jan. 16. Presenting sponsor Air Products and supporting sponsor Volunteer Center of the Lehigh Valley will present three free film screenings, beginning at noon in the Frank Banko Alehouse Cinemas, inside the ArtsQuest Center.
"In honor of Dr. Martin Luther King, Jr. Day, Air Products is proud to partner with ArtsQuest to offer this free film series," said Laurie Hackett, Director of Community Relations at Air Products. "As we pause on January 16 to celebrate Dr. King's life and legacy, these important films are a chance to come together as a community."
The documentary films to be shown in the Red Cinema include "King: A Filmed Record… Montgomery to Memphis" at noon, 1972's "Nationtime" at 4 p.m. and "Selma" at 6 p.m. Tickets are available online at steelstacks.org/films-special-screenings or by clicking here. More information about these films can be found below.
In addition to the cinematic tribute, Dr. Karen Britt, Professor of Business and Economics at Northampton Community College and President of Juneteenth Lehigh Valley, will lead a special discussion about King's legacy and how it applies to today's society. Britt will be joined by colleagues from the Juneteenth Lehigh Valley Steering Committee in the Red Cinema at 3:15 p.m. The discussion is free to ticketholders of any of the three films in the series.
"We're proud to partner with Air Products to present a collection of films curated to celebrate King's legacy as we commemorate Martin Luther King Jr. Day at ArtsQuest," said Curt Mosel, ArtsQuest COO. "King offered such a significant message of nonviolence and equality, so much so that it still resonates today, as society still seemingly struggles come together positively advocating for one another's humanity."
"King: A Film Record… Montgomery to Memphis" is a 185-minute documentary constructed from wealth of archival footage. This documentary follows Dr. Martin Luther King, Jr. from 1955 to 1968, in his rise from regional activist to world-renowned leader of the Civil Rights movement. Rare footage of King's speeches, protests, and arrests are interspersed with scenes of other high-profile supporters and opponents of the cause, punctuated by heartfelt testimonials by some of Hollywood's biggest stars.
The film was originally presented as a one-night-only special event March 20, 1970, at an epic length of more than three hours (plus intermission). Since that time, the film has occasionally been circulated in a version shortened by more than an hour. 
Admitted to the National Film Registry in 1999, KING is a cinematic national treasure that allows viewers to be firsthand witnesses to Dr. King's crusade, and thereby gain a fuller appreciation of both the personal challenges he endured and the vast cultural legacy he left behind. -
Directed by William Greaves, "Nationtime" is an 80-minute report on the National Black Political Convention held in Gary, Indiana, in 1972, a historic event that gathered black voices from across the political spectrum, among them Jesse Jackson, Dick Gregory, Coretta Scott King, Dr. Betty Shabazz, Richard Hatcher, Amiri Baraka, Charles Diggs, Isaac Hayes, Richard Roundtree and H. Carl McCall.
Narrated by Sidney Poitier and Harry Belafonte, the film was considered too militant for television broadcast at the time and has since circulated only in an edited 58-minute version. This new 4K restoration from IndieCollect, with funding from Jane Fonda and the Hollywood Foreign Press Association, returns the film to its original 80-minute length and visual quality.
At 128-minutes, "Selma" chronicles the tumultuous three-month period in 1965, when Dr. Martin Luther King, Jr. led a dangerous campaign to secure equal voting rights in the face of violent opposition. Director Ava DuVernay's tells the real story of how the revered leader and visionary Dr. Martin Luther King Jr. (David Oyelowo) and his brothers and sisters in the movement prompted change that forever altered history.