SLÁINTE RETURNS!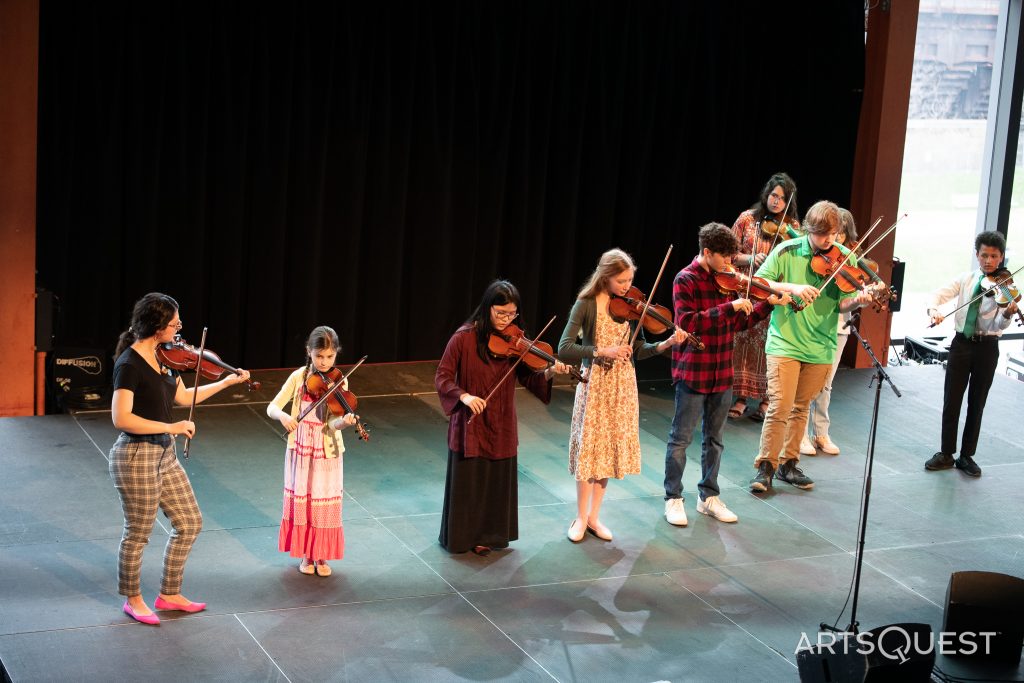 Produced in partnership with Donegal Square/McCarthy's Red Stag Pub, the annual celebration will kick off Thursday, March 16
BETHLEHEM, Pa. — Join us this St. Patrick's Day weekend as the ArtsQuest Center is transformed into the best pub around for the second annual Sláinte, produced in partnership with Bethlehem's Donegal Square/McCarthy's Red Stag Pub. The celebration of Irish Heritage begins Thursday, March 16 and continues through Sunday, March 18 with the weekend featuring several bands from Ireland, Scotland, the Lehigh Valley and beyond, a youth fiddle competition, traditional food and whiskey pairings supervised by Neville Gardner and his team at Red Stag. Sláinte is an immersive experience taking the usual St. Patrick's Day festivities to the next level. Tickets for this event are now on sale at steelstacks.org.
"The first Sláinte Festival brought amazing Celtic music and culture to Bethlehem on St. Patrick's Day weekend last year," Neville Gardner, owner and operator of Donegal Square/McCarthy's Red Stag Pub and Whiskey Bar said. "We hope you can join Donegal Square again at SteelStacks this March to celebrate the Irish High Holy Days – Sláinte!"
In this three-day festival, there are a multitude of different events and activities for those to enjoy throughout St. Patrick's Day weekend. To kick off the celebration on Thursday, March 16, Gardner will host the Red Stag Pub for a pre-St. Patrick's Day dinner. Red Stag Executive Chef Jill Oman will prepare a four-course dinner paired with whiskeys from Ireland and Scotland. Gardner will guide guests through the culinary experience while streaming in a conversation on the history of Saint Patrick by Tim Campbell, Director of the Saint Patrick Centre in Northern Ireland. Ticket holders for this delicious event will also gain access to the two days of Sláinte programming.
Come for the drinks, stay for the music. From Thursday to Saturday the Irish Heritage celebration will feature live bands from the Celtic and Lehigh Valley regions including Poor Man's Gambit, Chivalrous Crickets, Fig for a Kiss, The Young Dubliners, Piper's Request and many more. For a full line-up schedule visit: Steelstacks.org.
Not to be outdone by seasoned performers, the second annual Sláinte youth fiddle competition will be hosted 11 a.m., Saturday, March 18th. This free event will showcase fiddlers in two groups, 13 years of age and younger and 14 to 18 years. The fee to compete is $19 with the top three winners taking home a cash prize. To register visit: steelstacks.org.
"We're excited to be partnering with Neville Gardner again to bring Sláinte to the -SteelStacks campus," Patrick Brogan, ArtsQuest's Chief Programming Officer said. "Last year's festival is a testament to the incredible collaboration we have with Neville and the team at Donegal Square/McCarthy's Red Stag Pub. We couldn't be prouder to present this authentic and immersive celebration of 'all-things' Irish to the Lehigh Valley once again."
Tickets for each day, along with an option for two-day passes with choice of Irish Whiskey Tasting or McCarthy's Red Stag Pub Whiskey and Food Pairing, are on sale now on our website, steelstacks.org.