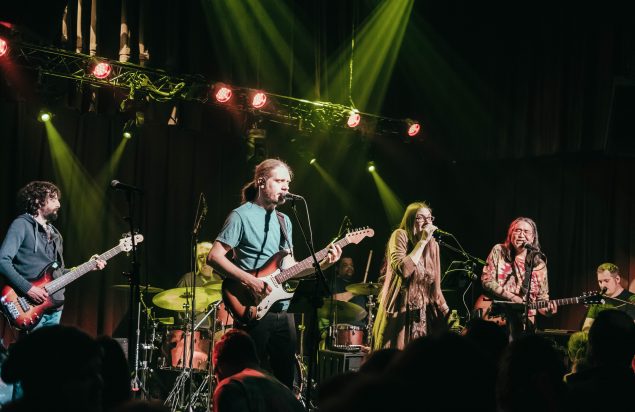 Outdoor Dining at SteelStacks on Halloween with special guest Splintered Sunlight
Saturday, October 31 · view days & times
Price: $75 Air Products Town Square Table | $15 Levitt Pavilion Lawn spot
Venue: Highmark Blue Shield Community Stage on the Air Products Town Square
Dine with us at SteelStacks!
Now that the Lehigh Valley has moved into the Green Phase, we are thrilled to be able to offer a delicious dining experience, outside on the Air Products Town Square!
Seating is limited and reservations are required, so reserve your spot today. We can't wait to show you what our chefs are cooking up for you. In fact, if you keep scrolling, the menu is posted below.
Live Music returns to the ArtsQuest Center!
with Splintered Sunlight - starts at 5:30 p.m.
Come dressed in your spooky Halloween costume (but don't forget your jacket) and dance the night away to the music of the Grateful Dead at SteelStacks!
For the past twenty-five years Splintered Sunlight has been sharing their unique take on the music of the Grateful Dead with music fans throughout the Delaware Valley and Mid-Atlantic region.
C'mon Out and Dance!
You can reserve one table that seats up to four people (tables cannot be combined and larger parties need to make multiple reservations and will have to be seated in groups of 4).
There's a $10 minimum per person.
Yes, you still need to bring a mask. No, you don't need to wear it at your table (keep reading for all the super fun safety guidelines listed below).
Yes! You'll be able to enjoy your favorite adult beverages with dinner (we recommend the new beer "Flight," from our friends at Yuengling).
No outside food or drink is allowed... because that's how restaurants work
The Air Products Town Square and Levitt Pavilion are all weather venues with outdoor seating.
ALL SALES FINAL: No Exchanges, No Refunds.
Health and Safety Guidelines
For the health and safety of all diners, staff, and volunteers - and in accordance with the guidelines of the Commonwealth of Pennsylvania and the CDC - all guests are required to adhere to the following health and safety guidelines while dining with us:
Please self-monitor your personal health and stay home if you are exhibiting any symptoms. In case you haven't already committed them to memory (is that just us who did that?), symptoms include but are not limited to fever/chills, persistent cough, shortness of breath or difficulty breathing, muscle pain, sore throat, loss of taste or smell, gastrointestinal symptoms such as nausea/vomiting/diarrhea (CDC symptoms).
If you begin to feel unwell during your visit, please remove yourself immediately.
Maintain social distancing of 6' from people outside your party at all times.
Masks are required to be worn at all times while traveling through common areas of the town square and the building (to the restroom). While you are seated at your assigned table, the mask requirement is lifted (obviously so you can enjoy your food and beverages)
Any patron not adhering to these policies will be asked to put their mask on or leave the premises.
The Menu
View the Menu
Schedule
Venue Information
Highmark Blue Shield Community Stage on the Air Products Town Square
ArtsQuest Center
101 Founders Way
Bethlehem, PA 18015
610-297-7100
map & directions