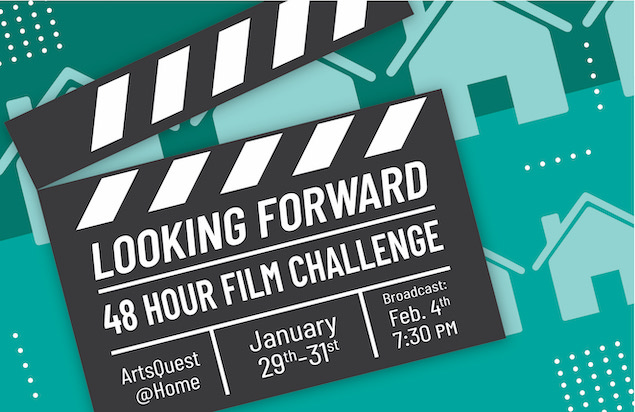 Looking Forward 48-Hour Film Challenge
Friday, January 29 · view days & times

FREE
Submission categories: Ages 6-12, 13-17, 18+, Family (meaning a group of related people of varying ages staying in the same house)
Zoom call with registrants to explain rules: Fri, Jan 29 at 7:30pm
Filming period: Fri, Jan 29 at 8pm to Sun, Jan 31 at 7:59pm
Broadcast: Thurs, Feb 4th at 7:30pm
We all know 2020 wasn't that great, but instead of dwelling in the past, we want to Look Forward! We're calling all filmmakers to share their vision of an optimistic future (or just 2021) via a 3–5-minute short film. What do we mean by "Looking forward?" We leave that up to you and your creative vision!
ArtsQuest is challenging you to make a short movie during this 48-hour period that we'll broadcast on Feb 4th! Register for free using the link above. We'll meet via Zoom with everyone on Fri, Jan 29th at 7:30pm to explain the rules (a big one: all movies must be shot inside your home or where you are staying. Your backyard is okay!); everyone will then get an e-mail from us with individual prompts to make each movie unique!
Only one person from each 'crew' needs to register! Filming starts on Fri, Jan 29 at 8pm; films must be submitted by Jan 31 at 7:59pm.
Not only will we show these movies on Feb 4th, we'll also be giving out awards for Best in Show (for each category) and more awards TBD.
You must register through the ticket link above. Registrations end 30 minutes before the advertised Zoom start time. At that time, everyone who registered will get a Zoom link sent to them. Zoom is free to use and only requires a quick download to run.
Schedule