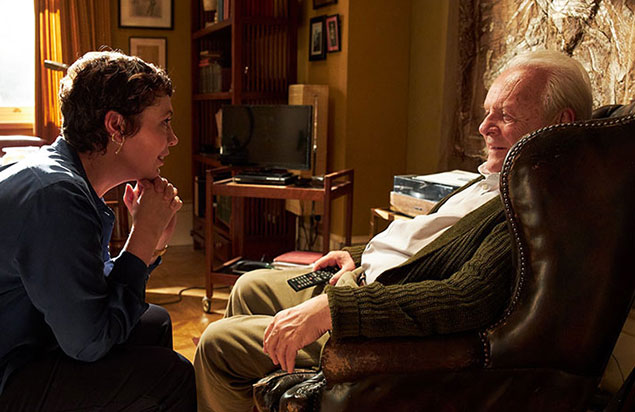 The Father
May 6 – May 13, 2021 · view days & times
Price: $10 | $8 student & senior* | $7.50 ArtsQuest Member
Venue: Frank Banko Alehouse Cinemas
*Student & senior discounts apply at the box office only.
Directed by: Florian Zeller
Starring: Anthony Hopkins, Olivia Colman, Mark Gatiss, Rufus Sewell, Imogen Poots, Olivia Williams
Rated PG-13
Anthony is 80, mischievous, living defiantly alone and rejecting the carers that his daughter, Anne, encouragingly introduces. Yet help is also becoming a necessity for Anne; she can't make daily visits anymore and Anthony's grip on reality is unravelling. As we experience the ebb and flow of his memory, how much of his own identity and past can Anthony cling to? How does Anne cope as she grieves the loss of her father, while he still lives and breathes before her? THE FATHER warmly embraces real life, through loving reflection upon the vibrant human condition; heart-breaking and uncompromisingly poignant – a movie that nestles in the truth of our own lives.
Please note there are no refunds or exchanges. A $2 cleaning service fee will be added to each ticket.
Thursday, May 6
6:45 p.m.
Friday, May 7
(4:00 p.m.)
Saturday, May 8
(2:30 p.m.)
Sunday, May 9
(12:00 p.m.)
Thursday, May 13
(6:45 p.m.)
Health and Safety Guidelines
The health and safety of our patrons, vendors, volunteers, staff, and everyone attending our campus, buildings, and events is of the utmost importance to ArtsQuest and we have established a number of best practices and procedures based on guidelines from the CDC, City of Bethlehem and the Commonwealth of Pennsylvania. Please click here to read all of the safety guidelines and regulations in place for attendance at this event.
Schedule
Venue Information
Frank Banko Alehouse Cinemas
ArtsQuest Center
101 Founders Way
Bethlehem, PA 18015
610-297-7100
map & directions