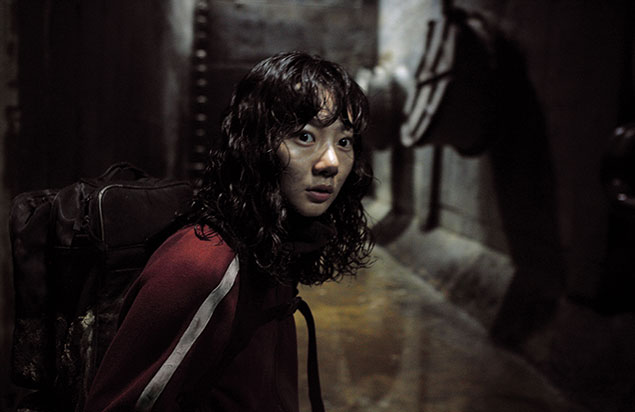 The Host (Gwoemul)
Sunday, October 31 · view days & times
Price: $10 | $8 student & senior* | $7.50 ArtsQuest Member
Venue: Frank Banko Alehouse Cinemas

Buy Tickets
Health and Safety Guidelines
The health and safety of our patrons, vendors, volunteers, staff, and everyone attending our campus, buildings, and events is of the utmost importance to ArtsQuest and we have established a number of best practices and procedures based on guidelines from the CDC, City of Bethlehem and the Commonwealth of Pennsylvania. Please visit artsquest.org/safety to view our current health and safety guidelines.
2006 | R | 1 hr 59 min
Director: Bong Joon-Ho
Starring: Song Kang-ho, Byun Hee-bong, Bae Doona, Ah-sung Ko
Before he swept the Academy Awards with Parasite, Bong Joon-Ho took monster movies to a new level with THE HOST, both a creature-feature thrill ride and a poignant human drama.
Gang-du (Song Kang-ho) works at a food-stand on the banks of the Han River. Dozing on the job, he is awakened by his daughter, Hyun-seo (Ah-sung Ko), who is angry with him for missing a teacher-parent meeting at school. As Gang-du walks out to the riverbank with a delivery, he notices that a large crowd of people have gathered, taking pictures and talking about something hanging from the Han River Bridge. The otherwise idyllic landscape turns suddenly to bedlam, when a terrifying creature climbs up onto the riverbank and begins to crush and eat people. Gang-du and his daughter run for their lives, but suddenly the being grabs Hyun-seo and disappears back into the river. The government announces that the monstrous thing apparently is the Host of an unidentified virus. Having feared the worst, Gang-du receives a phone call from his daughter who is frightened, but very much alive. Gang-du soon makes plans to infiltrate the forbidden zone near the Han River to rescue his daughter from the clutches of the horrifying Host…
*Student & senior discounts apply at the box office only
Schedule
Venue Information
Frank Banko Alehouse Cinemas
ArtsQuest Center
101 Founders Way
Bethlehem, PA 18015
610-297-7100
map & directions