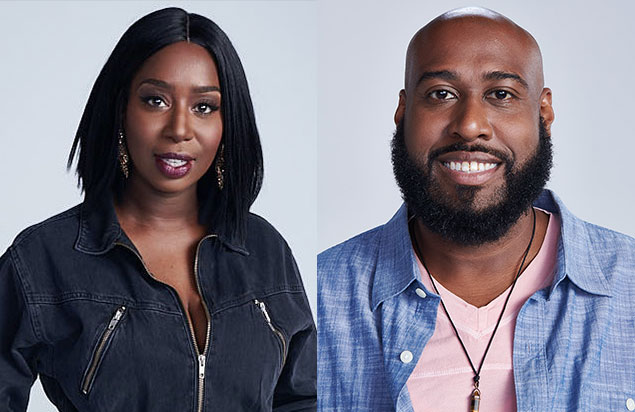 PLAY IT FORWARD (or How to Progress a Scene When You're Feeling Stuck) with Monique Moses and Ray Cordova of The Astronomy Club
Saturday, January 29 · view days & times
Price: $29 | $27 ages 25 and under & senior* | $26 ArtsQuest Member
Venue: Banko Gallery

Buy Tickets
HEALTH AND SAFETY GUIDELINES
Registrants must show proof of vaccination and booster shot* on the day of the workshop in order to take it. Masks will be required during inactive times in each workshop.
*Booster shot not required if second vaccination shot was on or later than June 29, 2021.
The health and safety of our patrons, vendors, volunteers, staff, and everyone attending our campus, buildings, and events is of the utmost importance to ArtsQuest and we have established a number of best practices and procedures based on guidelines from the CDC, City of Bethlehem and the Commonwealth of Pennsylvania. Please visit artsquest.org/safety to view our current health and safety guidelines.
Have you ever been in a scene and just didn't know what to do or say next? In this workshop, students will drill improv core concepts (agreement, point of view, listening and using one's environment) in order to confidently overcome those sticky situations and help move the scene forward. This workshop can serve as a prerequisite to the exploration and heightening necessary in game moves, perfect for recent graduates of Level 101* and anyone new to using game.
Students must be 18 or older on the day of the workshop.
*Prerequisite: Successful completion of any institution's Improv 101 class. Please contact ArtsQuest Sr. Director of Programming Ryan Hill at rhill@artsquest.org if you have questions as to whether or not your experience qualifies you to take this workshop.
Monique Moses is a Canadian born writer, director and actor based in Brooklyn NY. A long time performer and teacher at New York's Upright Citizen's Brigade Theater (UCB), she has directed sketch and taught improv at venues all over NYC, including the PIT, The Magnet Theater, The Academy For Teachers and children's media and literacy company the Story Pirates. She has written for and starred in content for IFC Comedy Cribs, Comedy Central, Netflix, NBC Universal and Peacock, most recently writing for Big Mouth spin off Human Resources, The Kid's Tonight Show and Adult Swim's Teenage Euthanasia.
As a member of all black comedy team Astronomy Club, she co-created 'Astronomy Club The Sketch Show', which premiered on Netflix in 2019 to stellar reviews from Variety, Vulture and Rotten Tomatoes. Astronomy Club The Sketch Show was named one of 2019's best sketch comedy shows by Paste Magazine.
Ray Cordova is an actor, writer and comedian born and raised in New York City. His work can be seen on Netflix (Astronomy Club: The Sketch Show), Comedy Central (Alternatino), Starz (Raising Canan) and many other networks.
He also performs and teaches improv anywhere they will have him including but not limited to theatres such as, the Upright Citizens Brigade, The Pit, Magnet and random places like a subway platform, my mom's retirement party and even Google HQ!
Schedule
Venue Information
Banko Gallery
Banana Factory
25 W Third Street
Bethlehem, PA 18015
610-332-1300
map & directions