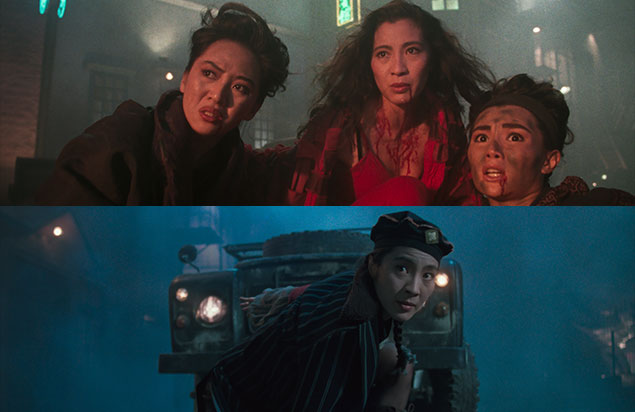 The Heroic Trio & Executioners: A Michelle Yeoh DOUBLE FEATURE
Saturday, August 20 · view days & times
Price: $12 | $10.50 ages 25 and under & senior* | $9.50 ArtsQuest Member
Venue: Frank Banko Alehouse Cinemas

Buy Tickets
*Ages 25 and under & senior discounts apply at the box office only.
This August, join us at the Frank Banko Alehouse Cinemas as we celebrate the 60th birthday of international superstar Michelle Yeoh with an epic action-packed double feature with The Heroic Trio and its sequel Executioners.
Both films feature brand new high-definition restorations by Janus Films.
THE HEROIC TRIO
1993 | R | 1 hr 23 min
Directed by: Johnnie To
Starring: Michelle Yeoh, Maggie Cheung, and Anita Mui
The supernova star power of Hong Kong cinema icons Maggie Cheung, Michelle Yeoh, and Anita Mui propels this gloriously unrestrained action extravaganza from genre maestro Johnnie To, which injects its martial-arts mayhem with a blast of comic-book lunacy. They are the knife-throwing, shotgun-toting, kung-fu-fighting super-heroines who must overcome their dark pasts in order to defeat an evil, baby-snatching eunuch who is terrorizing Hong Kong. Eye-popping motorcycle stunts, brain-exploding skeletons, infant cannibals, and kinetically choreographed wire work are all part of the delirium in this unstoppably entertaining cult favorite (referenced in Cheung's international breakthrough Irma Vep), a kick-butt showcase for three of the coolest women warriors to ever hit the screen. New 4K Restoration.
In Cantonese with English Subtitles
EXECUTIONERS
1993 | NR | 1 hr 37 min
Directed by: Johnnie To and Ching Siu-tung
Starring: Michelle Yeoh, Maggie Cheung, and Anita Mui
The kung fu crusaders known as Thief Catcher (Maggie Cheung), Invisible Woman (Michelle Yeoh), and Wonder Woman (Anita Mui) return in this gritty, postapocalyptic sequel to the blockbuster Hong Kong action hit The Heroic Trio. Following a devastating nuclear attack, Hong Kong's clean water supply has fallen into the hands of a masked maniac intent on seizing political power—forcing the three fearless fighters to settle their differences and once again unite to stop him. Notably darker in tone than its predecessor, Executioners finds director Johnnie To continuing to push his whirlwind action set pieces to new heights of cartoon craziness while adding grungy, dystopian atmosphere and a fresh dose of anti-authoritarian attitude.
In Cantonese with English subtitles.
There will be a 10 minute intermission between films.
Schedule
Venue Information
Frank Banko Alehouse Cinemas
ArtsQuest Center
101 Founders Way
Bethlehem, PA 18015
610-297-7100
map & directions