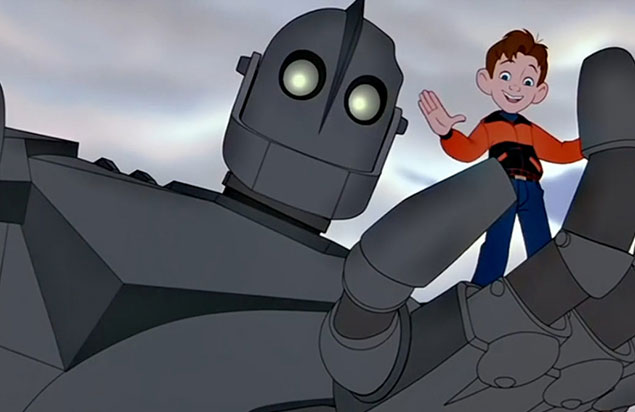 The Iron Giant
Thursday, December 8 · view days & times
Price: $10 | $8 ages 25 and under & senior* | $7.50 ArtsQuest Member
Venue: Frank Banko Alehouse Cinemas

Buy Tickets
*Ages 25 and under & senior discounts apply at the box office only.
1999 | PG | 1 hr 26 min
Directed by: Brad Bird
Featuring: Eli Marienthal, Harry Connick Jr., Jennifer Aniston, Vin Diesel
Imagine you confront your enemy--a giant, scary robot from outer space--and he becomes your best pal. A young boy befriends a monster in the heartwarming animated feature The Iron Giant. October 1957. Nine-year-old Hogarth Hughes (Eli Marienthal) lives in Rockwell, Maine, a seemingly idyllic town. Hearing stories of a UFO that crashed into the sea, Hogarth, always on the lookout for mutant aliens, finds a huge, metal-eating robot (Vin Diesel) with an insatiable curiosity and equally insatiable appetite. But the extraterrestrial's presence unleashes a wave of Cold War paranoia that threatens to engulf Rockwell unless Hogarth and his 50-foot friend can stop it. Acclaimed animation director and writer Brad Bird brings his creative talents to the big screen in this unique tale of two heroes. In times like these, you really find out what your friends are made of ... sometimes it's metal, if your best buddy's The Iron Giant.
This film offers closed captioning, hearing, and visual assistance.
Schedule
Venue Information
Frank Banko Alehouse Cinemas
ArtsQuest Center
101 Founders Way
Bethlehem, PA 18015
610-297-7100
map & directions