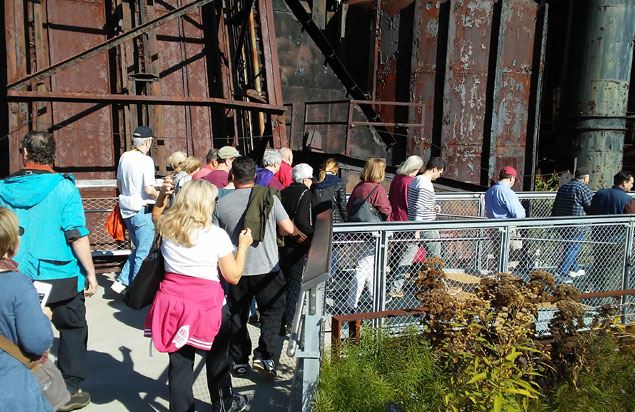 Steelworkers' Archives Walking Tours
December 10 – December 31, 2022 · view days & times
Price: $15 | Free for ages 12 and under
Photo Caption: Steelwalkers on the Hoover-Mason Trestle with guides Mike Dzwonczyk and Larry Neff
April 9–December 31, 2022
"Steelwalker" tours resume in April! On every Saturday and Sunday from April 9 through December 31 (except 12/25), former steelworkers will lead sidewalk and Hoover-Mason Trestle tours through the Bethlehem Steel plant site. The tours start at 11:30 AM, rain or shine, and leave from the National Museum of History plaza (NMIH), 602 E. Second Street, Bethlehem. Free parking is available in the lot across the street from the museum.
The steelworker guides will take guests on a multi-faceted journey – from the evolution of iron making in the Lehigh Valley to the history of the Bethlehem Plant from its opening to closing, including its importance in World Wars I and II. Along the way, guests will learn about the remaining buildings on the plant site, life in the ethnic neighborhoods surrounding the plant, and what life was like working at the plant. The 1+ hour tour concludes with a question and answer session.
Tickets are $15 per person and free for ages 12 and under. Scheduling is available online only at this time at www.steelstacks.org. Tours are limited to 15 guests per tour to maintain social distancing. Face masks covering both the nose and mouth are recommended. For more information, contact the Steelworkers' Archives at 610-861-0600. Thank you.
All sales are final – no refunds or exchanges.
Buy Tickets
Saturday, December 10 | 11:30 a.m.
Sunday, December 11 | 11:30 a.m.
Saturday, December 17 | 11:30 a.m.
Sunday, December 18 | 11:30 a.m.
Saturday, December 24 | 11:30 a.m.
Saturday, December 31 | 11:30 a.m.
Schedule