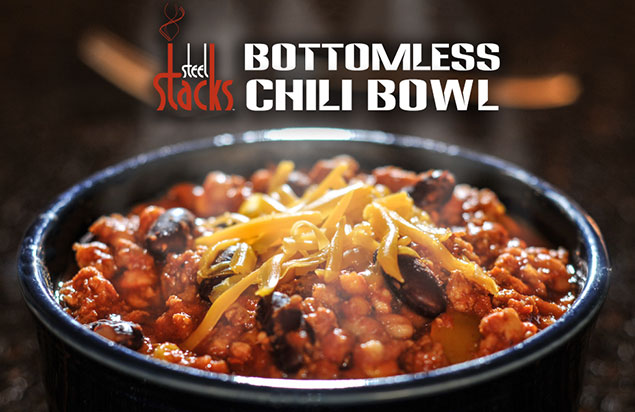 SteelStacks Bottomless Chili Bowl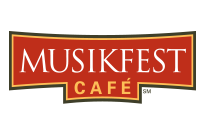 Saturday, February 23 · view days & times
Venue: Musikfest Café presented by Yuengling
 
Price
ArtsQuest
Member Price
Tickets
VIP (11:30 am-3 pm)
$42
$37
General Admission (12-3 pm)
$29
$24
As the cold weather creeps in this fall, ArtsQuest is turning up the heat with the all-new SteelStacks Bottomless Chili Bowl Feb. 23, noon-3 p.m., in the ArtsQuest Center's Musikfest Café presented by Yuengling. Tickets for the fiery event are on sale now at www.steelstacks.org and 610-332-3378. General admission tickets are $24 for ArtsQuest Members and $29 for the public; VIP tasting tickets for the 11:30 a.m.-noon VIP session, which include a complimentary Yuengling Lager, Yuengling Golden Pilsner or soda, are $37 for ArtsQuest Members and $42 for the public.
From mild and tart to a smoke inferno, ArtsQuest Center Executive Chef Barry Sullivan and his culinary team have created a spicy sampling of chilis made from habanero, ancho, serrano, jalapeno and chipotle peppers. During the Bottomless Chili Bowl, an all-you-can-eat affair, attendees can taste all the delicious recipes on hand and circle back for more of each of their favorites. Each chili is ranked on a scale of 1-10 for its hotness, with 10 being the hottest.
The complete list of chilis is:
1 - Wildberry Chili – Strawberries, blackberries, raspberries make for a slightly sweet and mild chili. Garnished with a Chantilly cream.

2 - New England Clam Chowder "Chili" – Super chunky, scratch-made New England chowder with shore fresh Cape May Clams, blanketed with a dusting of chili powder

2 - Smoked Sweet Potato Chili – Tomato-based. Mild and smoky.

2 - White Chicken Chili – Ain't no tomatoes in this cannellini bean and poultry-fueled chili party!

4 - Cheesy Chili Mac – A delicious blend of mac & cheese and traditional ground beef chili.

4 - Lentils, Chickpeas, and White Beans – Oh my! – Vegetarian chili served with an avocado cream.

4 - Yuengling Lager Braised Short Rib Chili – A beer-fueled take on a classic beef and black bean chili.

6 -Turkey Town Smoked Chili – Smoked turkey breast and shredded turkey legs in a mild chili.

8 - Buffalo Chicken Chili – What if cheesy Buffalo chicken dip was actually a chili?

10 - Blow-Your-Face-Off Habanero Chili – Hot as hell. Topped with shredded Monterrey jack and cheddar cheeses. Taste only if you dare!
The afternoon also features a free beer sampling from D. G. Yuengling & Son.
Proceeds from the SteelStacks Bottomless Chili Bowl support ArtsQuest's art and education programs for area students.
Schedule
Venue Information
Musikfest Café presented by Yuengling
ArtsQuest Center
101 Founders Way
Bethlehem, PA 18015
610-297-7100
map & directions