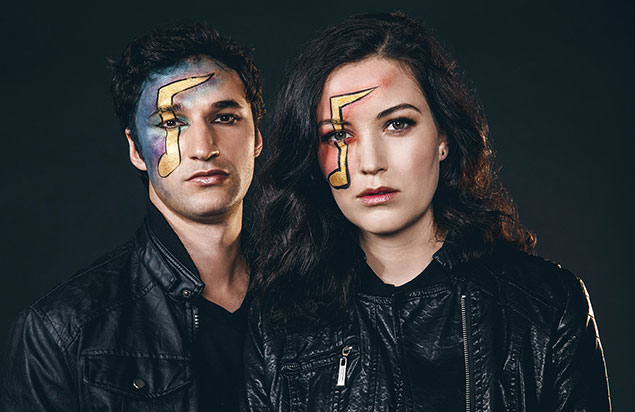 Musical Improv Masterclass with Zach Reino and Jess McKenna
Sunday, January 27 · view days & times
Price: $39 | $36 student & senior | $35 ArtsQuest Member
Venue: Fowler Blast Furnace Room
Sunday, January 27 | 12-2:30 p.m.
Zach and Jess approach musical improv by teaching students to find what's funny and going for it. This masterclass will touch on structure, singing with a point of view, and playing with genre.
Students must be 18 or older on the day of the workshop.
Zach Reino is a performer/writer/composer regularly seen at UCB Los Angeles with Cardinal Redbird and the musical improv teams Baby Wants Candy and Magic to Do. He is also a co-writer/co-composer of Thrones! The Musical Parody, a Game of Thrones musical which has played in Chicago, LA, and two sold out runs at the Edinburgh Fringe. Zach is the star of the College Humor Go90 series Fatal Decision, and has also appeared on Crazy Ex Girlfriend (The CW), A.P. Bio (FOX), Party Over Here (FOX), Conan (TBS), The Life in Pieces (CBS), Hotwives of Las Vegas (Hulu), Comedy Bang! Bang! (IFC), Adam Ruins Everything (truTV) and more. Most importantly, he is the voice of an animated skunk for Sophia the First (Disney).
Jess McKenna has been seen on TV on Party Over Here, Jalen Vs. Everybody, Riot, The UCB Show, The Goldbergs, and Comedy Bang! Bang! Jessica is super pumped to perform at UCB with the musical improv house team, Magic to Do and Baby Wants Candy. Other UCB credits include the long-running Maude team: New Money, ASSSSCAT, We're Gross and the Harold teams: DunkTank and Mister Town City. She is also one half of the musical sketch duo, The Zach and The Jess with Zach Reino. They've written musical sketches for Party Over Here, Buzzfeed, FunnyOrDie, Nickelodeon and "Serious Music," a digital series for ABC.
Schedule
Venue Information
Fowler Blast Furnace Room
ArtsQuest Center
101 Founders Way
Bethlehem, PA 18015
610-297-7100
map & directions