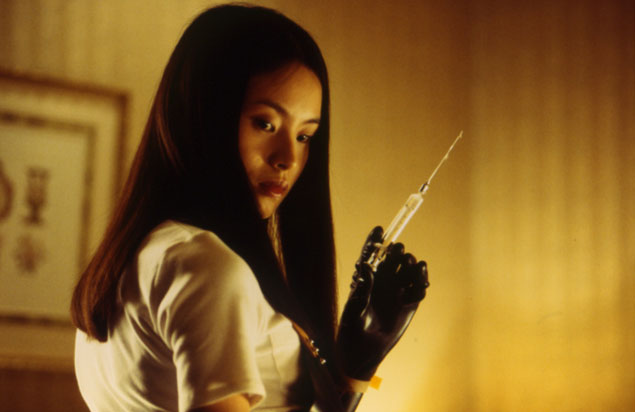 Audition (20th Anniversary)
Saturday, May 4 · view days & times
Price: $10.00 regular | $8.00 student & senior | $7.50 ArtsQuest Member
Venue: Frank Banko Alehouse Cinemas
Student & senior discounts apply at the box office only
1999 | R | 1 hr 55 min
Director: Takashi Miike
Stars: Ryo Ishibashi, Eihi Shiina, Tetsu Sawaki
One of the most well-crafted, impactful and infamous J-horror films ever made returns to the big screen after far too long a break.
AUDITION was the turn-of-the-millenium flash point signaling the talent of Takashi Miike: a film artist twice as prolific as Fassbinder, a provocateur as multifaceted as Von Trier and a genre-bender as bent as David Lynch. Shocking arthouses worldwide with its white-knuckle finale and ingeniously Sirkian slow-burn leadup, AUDITION trailblazed a fresh Asian horror wave across American screens for which we're eternally grateful.
Recent widower Shigeharu is advised by his son to find a new wife. On the advice of a film company colleague, they stage "auditions" for a new girlfriend that masquerade as an acting job. Shigeharu becomes enchanted with Asami: a spooky twentysomething responsive to his charms. But this is no ordinary FATAL ATTRACTION-style thriller, for it carefully pulls the audience through a wrenching exploration of deep male fears and the stereotype of submissive Japanese women.
"Along with PSYCHO, AUDITION is one of the great gearshift movies, starting out as one thing and then transitioning on a dime into something else entirely." -- Scott Tobais, AV Club
"To the majority of the West, AUDITION was their first introduction to director Takashi Miike. After winning various festival prizes, it allegedly made more money on its NYC theatrical run than its entire Japanese release, and gathered almost universal critical acclaim around the world." -- Tom Mes, Midnight Eye
"A lethally poised Venus flytrap of a movie...the best-disguised psychotronic splatter flick in recent memory." – Dennis Lim, Village Voice
Featuring a brand new digital restoration.
Schedule
Venue Information
Frank Banko Alehouse Cinemas
ArtsQuest Center
101 Founders Way
Bethlehem, PA 18015
610-297-7100
map & directions