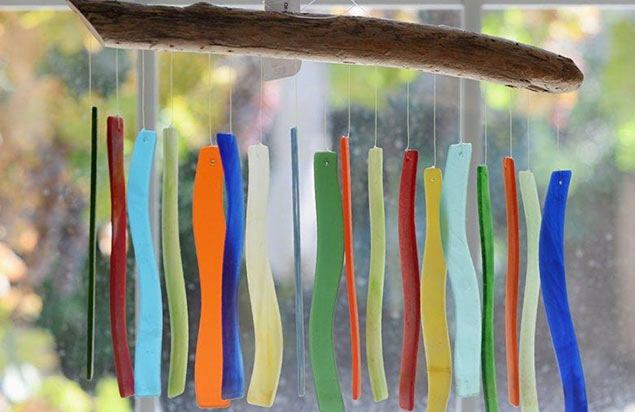 Creative Family Workshop: Glass Windchimes
with Becky Shoemaker
Friday, August 14 · view days & times
Price: $30 | $27 ArtsQuest Member
Fees: $5 Visual Arts Service Fee on all orders
Additional taxes and fees may apply
Venue: Crayola Gallery
1 Day Workshop
Friday, August 14 | 10 a.m.-12 p.m.
Add some color and sound to your urban or home garden. Join us to design your own wind chime using colorful kiln fired glass and assemble with basic wire wrapping techniques.  
Banana Factory Safety Measures for Patrons:
Health & Wellness
All patrons will be asked to monitor their personal health and refrain from attending classes if they are exhibiting any symptoms.
Patrons are asked if they begin to feel unwell during their visit to ArtsQuest, to please remove themselves immediately and inform their instructor of any possible contamination of the building.
Symptoms include but are not limited to fever and chills, persistent cough, shortness of breath or difficulty breathing, muscle pain, sore throat, new loss of taste or smell, gastrointestinal symptoms such as nausea/vomiting/diarrhea (CDC symptoms)
Personal Protective Equipment
Masks are always required to be worn while traveling through common areas of the building and during all interpersonal interactions, including during the entire class session while in any Banana Factory classroom.
Any patron not adhering to this policy will be asked to put their mask on. If non-compliance continues after several attempts, the patron will be asked to leave the property.
Patrons participating in classes will be required to wash their hands and/or use hand sanitizer once every hour for the duration of their time in the building.
Social Distancing
Social distancing shall be practiced whenever feasible. When not feasible, face masks or physical barriers should be in use.
Contact Tracing
The patron or client is required to inform ArtsQuest of a positive COVID-19 test (not by name) if they visited our site within a two-week period of the positive result.
Class registration will allow for an associated name. Class registrations should be kept for a minimum of 30 days.
Compliance & Reporting
All patrons must comply with the guidelines set forth in this document to protect from COVID-19 exposures.
Patrons are encouraged to report unsafe conditions and/or compliance violations to their instructor without fear of retaliation or reprisal.
Non-compliance will be dealt with on a case-by-case basis. A failure to comply with these guidelines and procedures may result in expulsion from the class without a refund.
Communications
Rules and regulations should be made clear during the registration process.
Signage will be placed throughout the site to remind patrons of the guidelines set forth in this document.
Patrons participating in classes will be required to sign a participation waiver.
A waiver will be included in the registration process. By signing the waiver, patrons are acknowledging that they will adhere to the rules/guidelines and that they voluntarily assume all risks associated with exposure to COVID-19.
Signs will be posted denoting that the Banana Factory will remain closed to the public during the green phase.
Permitted guests are as follows:
Patrons registered in Banana Factory classes.
3rd party guests by appointment only.
Schedule
Venue Information
Crayola Gallery
Banana Factory
25 W Third Street
Bethlehem, PA 18015
610-332-1300
map & directions