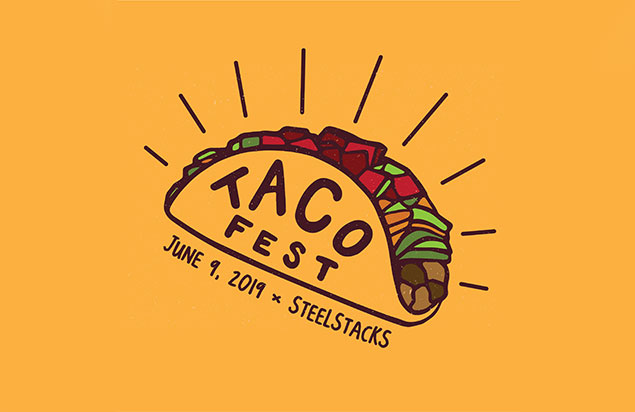 TacoFest
Sunday, June 9 · view days & times
Venue: Air Products Town Square

FREE
Forget "Taco Tuesday." SteelStacks' inaugural TacoFest on June 9 aims to prove that Sunday is the best time to enjoy one of America's favorite street foods. And, it's hard to argue, with several awesome food trucks serving up some of the most tantalizing tacos in the region.
The free admission event, which is open to the public, will take place from 1-7 p.m. at SteelStacks, with patrons purchasing their tacos directly from the vendors.
At TacoFest, attendees can enjoy live music from Zaire, Flowers for Taco and Jimmy the Whale while sampling mouthwatering creations from vendors and food trucks lining First Street at SteelStacks. Participants confirmed so far include Clubhouse Grille, Take a Taco, Fud Truck, Grumpy's BBQ Roadhouse and more. From classic favorites like steak and fish tacos by Take a Taco, to more adventurous items like Korean tacos, jalapeño coleslaw and pork belly nachos by Grumpy's BBQ Roadhouse, there are delicious options for every palate. Between bites, visitors can purchase and sip refreshing margaritas handcrafted with TEQUILA CAZADORES; mojitos made with Bacardi Rum and a fine selection of Mexican beers. Both tacos and beverages are purchased directly from vendors.
2019 TacoFest vendors are:
Bob-B-Q Sliders & Sides Truck
Beef Brisket Tacos, Pulled Pork Tacos, Buffalo Chicken Tacos & MORE!
Cool Treats
Ice Cream Taco & MORE!
The Flying V
Taco Poutine, Poutine Burrito & MORE!
Fud Truk
Pork Tacos, Korean Beef Tacos & MORE!
Grumpy's Bar-B-Que Roadhouse
Brisket Taco, Pulled Pork Taco, Barbacoa Taco, Korean Taco, Pork Belly Taco & MORE!
Happy Hour Dive Cart
Carnitas Tacos, Fish Tacos, Buffalo Cauliflower Tacos & MORE!
NYTERA Foods (Fully Vegan)
"Beef" Tacos, "Chicken" Tacos, "Chicken" & "Sausage" Tostados
Take a Taco
Tacos, Taco Salad Bowls & MORE!
For those looking to enjoy an exclusive experience, there are a limited number of VIP Access Tickets being offered for two TacoFest VIP Sessions in the ArtsQuest Center at SteelStacks - from 12:30-2:30 p.m. and 3:30-5:30 p.m. VIP access includes unlimited margaritas specially-made by local area restaurants and unlimited steak, fish and vegan tacos; rice; beans; chips and salsa served up by the ArtsQuest Culinary Team at SteelStacks. Among the restaurants taking part in the VIP Sessions are Urbano, Mixology Masters and Copperhead Grill. Following sampling, VIP Session attendees can vote on their favorite drink, and the winning restaurant will be named best of TacoFest and receive a glass-blown trophy from the Banana Factory.
Taco-related food trucks interested in participating in the event can email Jason Merola at jmerola@artsquest.org
Proceeds from TacoFest support the nonprofit ArtsQuest's free music, arts and education programming for the region.
Schedule
Venue Information
Air Products Town Square
ArtsQuest Center
101 Founders Way
Bethlehem, PA 18015
610-297-7100
map & directions