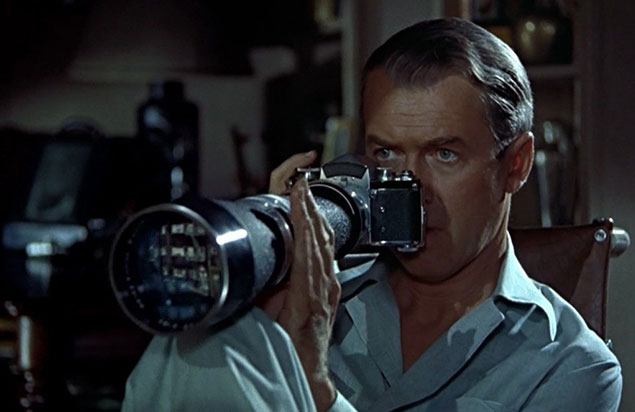 Rear Window
August 12 – August 15, 2019 · view days & times
Price: $10 regular | $8 student & senior* | $7.50 ArtsQuest Member
Venue: Frank Banko Alehouse Cinemas
1952 | PG | Run time: 1 hr 52 min
Director: Alfred Hitchcock
Stars: James Stewart, Grace Kelly, Wendell Corey
Directed by the Master of Suspense, Alfred Hitchcock's Rear Window is an edge-of-your-seat classic starring two of Hollywood's most popular stars. When a professional photographer (James Stewart) is confined to a wheelchair with a broken leg, he becomes obsessed with watching the private dramas of his neighbors play out across the courtyard. When he suspects his neighbor of murdering his nagging wife, he enlists his socialite girlfriend (Grace Kelly) to help investigate the suspicious chain of events, leading to one of the most memorable and gripping endings in all of film history. Honored in AFI's 100 Years ... 100 Movies for excellence in film, Rear Window has also been hailed as "one of Alfred Hitchcock's most stylish thrillers" (Leonard Maltin's Classic Movie Guide).
*Student & senior discounts apply at the box office only
Tuesday, August 13 | 7-10:15 p.m.
Price: $20 | $15 Student & Senior* | $7.50 ArtsQuest Member
Film Appreciation Seminars offer a fun and eye-opening approach to further understanding cinema's most popular films. These seminars take place at the Frank Banko Alehouse Cinemas and one registration includes a preliminary in-depth lecture before the film, a ticket to the film itself, and a talkback after the film.
Alfred Hitchcock once complained that most films were merely "pictures of people talking." In the Hitchcock Appreciation Seminar, you will see how this iconic director uses visual language to say more than his characters ever could. You'll learn about the recurring themes that fascinated the director and his fans throughout his 50+ year career. Finally, you can discover how Hitchcock's personal life produced those fascinations and some of the most beloved films in the history of cinema. Come to the Frank Banko Alehouse Cinemas for a seminar on great films, stimulating conversation, and as Hitch would call it, a good eeeeeevening.
Buy Tickets
Monday, August 12 | 3 p.m.
Tuesday, August 13 | 7:45 p.m.
Wednesday, August 14 | 5:15 p.m.
Thursday, August 15 | 5:15 p.m.
Schedule
Venue Information
Frank Banko Alehouse Cinemas
ArtsQuest Center
101 Founders Way
Bethlehem, PA 18015
610-297-7100
map & directions